Note: Hugo Lloyd's final show as Billy in Billy Elliot the Musical (BETM) in Ithaca, New York, presented by Hangar Theatre, was on July 15, 2023.
Debut: July 6, 2023 (Ithaca, NY)
Total Performances as Billy: 11 (No partial shows)
Hugo Lloyd, from Ithaca will star as Billy Elliot. He is a student at the city's Boynton Middle School.
He has been receiving dance training for the past four years with the Ithaca Ballet, appearing in that Ballet's production of The Nutcracker, dancing the role of "Fritz".
Hugo has also been previously active in other local theatre productions, including in the Running to Places presentations of Frozen, as "Steward" and in The Little Mermaid as "Flounder".
Hugo is no stranger to Hangar Theatre audiences, as well. Previous appearances there have included playing "Tiny Tim" in the theatre's 2019 production of Charles Dicken's A Christmas Carol and he was in the ensemble of the theatre's 2022 production of Cabaret.
He has also brought the role of "Ren McCormack" alive in his middle school's recent production of Footloose.
The show's choreographer, Aimee Reals (from Ithaca College – IC), pointed out during one of the two nights of technical rehearsals, that this is Hugo's first time performing tap dancing in a production, as his training has been primarily in ballet. "He's an immense talent," Aimee says. "An open young person that always is bringing something to the table."
Director Courtney Young (also IC faculty), who's known Hugo since he was in kindergarten with her daughter, gives a delighted laugh when asked about working with him, "Oh my gosh. It's a dream: he's such a good actor. So authentic and so genuine, no pretence. It's so exciting to get to know him as a young artist."
Asked what message audiences should take away from the show, Hugo says ""I feel that the moral of this story is push for your dreams…"
When Hugo debuts as Billy, he will become the 342nd young actor/dancer in the world to bring the role to life in a professional, regional or community theatre production of the musical.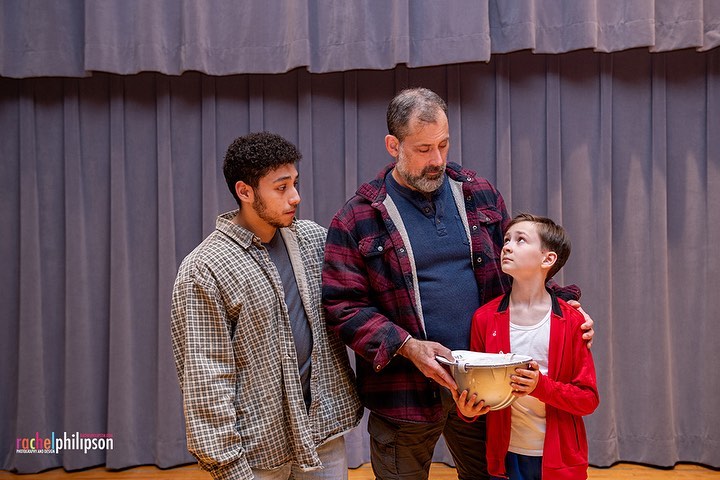 Note: Billy Elliot production photos in this article by Rachel Phillipson Photography.
For more information about Hugo Lloyd, visit:
______________________________________
To This Production's Main Page
To A Complete Listing of All BETM Articles