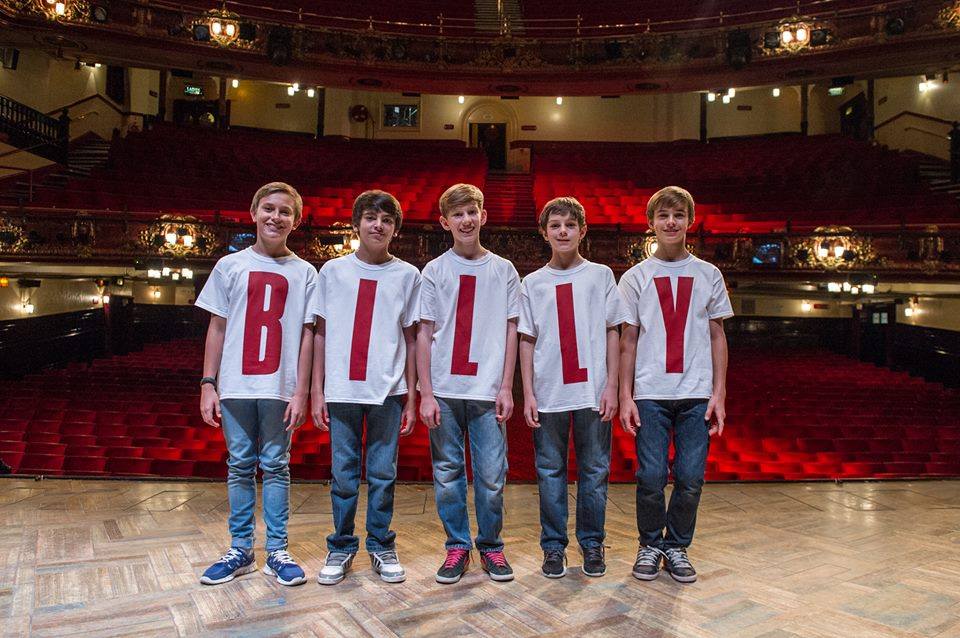 Last Updated: 5-Jul-2023
A message from the site Administrator:
In 2010, I began writing a profile (bio) for all the Billys in Billy Elliot the Musical (BETM) who were currently in the role at that time (London and Broadway) and then subsequently for each new Billy who debuted after that to the present day — in all professional, North American regional and community theatre productions of the show world-wide. In August of 2014, I added profiles of the early Billys in London who debuted from 2005 to 2010. In August of 2016, theskykid.com's BETM editor, Emily, researched and wrote profiles for the six Australian Billys who had brought the role to life in Sydney and Melbourne prior to the time I began to write these profiles. For seven years, these six talented young men had been without a profile here. That was rectified due to Emily's splendid efforts.
Of course no article about the boys who have played Billy would be complete without singling out the three young men who originated the role in the very first production of this wonderful show. It has been said that it's the most difficult role ever created for a boy in musical theatre, described by Director Stephen Daldry as "playing Hamlet while running a marathon". We can only imagine what that process had been like with no prior examples to draw from. So kudos to the boys who started it all:
London Production (2005-2016) The Original Three BETM Billys (l-r Liam Mower, George Maguire, James Lomas)
And they set the standard for excellence for all who would follow them.
This page is under continual construction, always being updated as time and new information becomes available and, of course, as new Billys debut. In total, on this site there are currently profiles for the 344 boys who have starred in one production or another of the musical to date.
-porschesrule
So how do I find the profile of a particular Billy on the site?
There are a couple of ways you can access the profiles of each Billy…
Profiles By Location
If you'd like to just see the Billys who appeared in a particular production of BETM, go here and then click on the production for the group of Billys you'd like to see.
Profiles By Last Name
The second way to access Billy profiles on the site is via the table, below, which lists the Billys alphabetically by last name.
Life After Billy
Beginning in 2020, we began to research and add to some of the Billy profiles a segment called Life After Billy. These segments pick up from where the original profiles left off — after a boy played Billy for the last time. For those who continued in the performing arts, these added sections of their profiles highlight the performance careers of a Billy from when he took his final bows in the role through the present day. The research for this new endeavor is being headed up by a mother of a former Billy — Rebecca Batchelor who, whenever possible, is in contact with past Billys or their parents to fill in the information about these post Billy careers not available through online resources. This is a gradual process and we slowly hope to add such segments to all the boys who have continued in the performing arts after their time in BETM.
In the Profile Index, below, the name of the boys who have a Life After Billy segment added to their profiles will appear in red.
________________________________
Profile Index
________________________________
This is a listing of all Billy profiles on TheSkykid.com site. They are listed in alphabetical order by last name. By clicking on the proper letter tab (below) and then on the name of the Billy below his picture, you'll be taken to his profile.
Broadway Production (2008-2012): The First 4 Broadway Billys (l-r Tommy Batchelor, Kiril Kulish, Trent Kowalik, David Alvarez)/Photo by David Barker

| | | | | | | |
| --- | --- | --- | --- | --- | --- | --- |
| | | | | | | |
| BACKSTRØM | BAKER | BAKONYI | BARYSHNIKOV | BATCHELOR | BATĚK | BATES |
| | | | | | | |
| BATSON | BAUSILIO | BEATTIE | BENEŠ | BENNETT | BERRINI | BIESINGER |
| | | | | | | |
| BIRDSONG | BJORKLUND | BLANKE | BOUCHER | BRACKI | BRAVO | BRIMACOMBE |
| | | | | | | |
| BROTHERUS | BROUILLETTE | BROWN | BURR, B. | BURR, C | | |

Village Theatre Production (2016) L-r Nikita Baryshnikov, Bito Gottesman, Philipp Mergener, Vincent Bennett

| | | | | | | |
| --- | --- | --- | --- | --- | --- | --- |
| | | | | | | |
| CARLSON-HUBER | CARRICO | CASTELL | CAVALIERE | CECILIO | CHAPMAN | CHENG |
| | | | | | | |
| CHUN | CICCARELLE | CIULLA | CLEMENTE | COLLINSON | COOK, B. | COOK, J. |
| | | | | | | |
| COOKE | CORRAL | CORRALES | CSÁSZÁR | | | |

Hexagon Players Production (Menham, NJ) (2016) James Ciccarelle (left) and Parker Fullmore (right) Rehearse "The Letter" Scene

| | | | | | | |
| --- | --- | --- | --- | --- | --- | --- |
| | | | | | | |
| DAHL | DAMESKI | DANIELS | DANTES | DEAN, J. | DEAN, M. | DE BENITO |
| | | | | | | |
| DEL CASTILLO | DENHOLM | DENYER | DESSERT | DIENSTFREY | DIETZ | DI MARCO |
| | | | | | | |
| DONOUGHER | DOWZELL | DREWITZ | DRUHAN | DUBUC | ƊƳRFJÖRƊ | |

Australian Production (2007-2009) The Original Australian Billys (l-r Rarmian Newton, Lochlan Denholm, Nick Twiney, Rhys Kosakowski)

Toronto Production (2011) The Billys: (L-R Marcus Pei, Myles Erlick, J.P. Viernes, Cesar Corrales)

| | | | | | | |
| --- | --- | --- | --- | --- | --- | --- |
| | | | | | | |
| FAHEY | FAULKNER | FEDRICK | FELDPAUSCH | FERNANDES | FERNANDEZ | FERRÁEZ |
| | | | | | | |
| FIKAR | FITO | FLAHERTY | FONT | FORHAN | FOSTER, C. | FOSTER, E. |
| | | | | | | |
| FOVAEUS | FRASER-MONROE | FRIDHOLM | FROLA | FRÝDL | FULLER | FULLMORE |
| | | | | | | |
| FULTON | FURUTA | | | | | |

Italian Production (2015-2016) L-R Alessandro Frola, Christian Roberto

London Production (2005-2016) The Final Four West End Billys Pose With Other Past Billys & Elton John on Closing Night (l-r front row: Brodie Donougher, Thomas Hazelby, Nat Sweeney, Euan Garrett)

| | | | | | | |
| --- | --- | --- | --- | --- | --- | --- |
| | | | | | | |
| HAGEN | HALÁSZ | HALFORD | HAMPTON | HANNA | HARING | HARRINGTON |
| | | | | | | |
| HARTMAN | HASANUSTA | HAUGAN | HAZELBY | HERMANSSON | HERRING | HETHERINGTON |
| | | | | | | |
| HIGGINS | HINKLE | HIVONEN | HJELLNES-MOSENG | HOLLAND | HOLLINGSWORTH | HUGET |
| | | | | | | |
| HUTT | | | | | | |

The Finland Production (2015) The Helsinki Billys (l-r Henrik Björklund, Amos Brotherus, Lassi Hivonen)

North American Tour Production (2010-2013) Tour Billys: (l-r Kylend Hetherington, Lex Ishimoto, Ty Forhan, Ben Cook, J.P. Viernes)

London Production (2005-2016) London Billys Visit 10 Downing Street (L-r Dean-Charles Chapman, Ollie Gardner, Fox Jackson-Keen, Tom Holland)

The Netherlands Production (2014-2015) The Original Six Dutch Billys (l-r Svenno van Kleij, Jillis Roshanali, Tydo Korver, Stijn van der Plas, Roan Pronk, Carlos Puts)

| | | | | | | |
| --- | --- | --- | --- | --- | --- | --- |
| | | | | | | |
| LAMELAS | LANDEGGER | LANKSTON | LEE, JI-MYUNG | LEE, WOO-JIN | LEPORANTA | LIM |
| | | | | | | |
| LLOYD | LOHK | LOHMAN | LOHMANN | LOMAS | LÓPEZ | LORAW |
| | | | | | | |
| LORENZ, KALLE | LORENZ, SILAS | LUKÁCS | LUMME | LUNA | LYONS | |

Seoul Korea Production (2010-2011) The Five Seoul Billys (L-r Ji-myong Lee, Joon-hyung Park, Se-yong Kim, Jin-ho Jung, Sunu Lim)

| | | | | | | |
| --- | --- | --- | --- | --- | --- | --- |
| | | | | | | |
| MACÉUS | MAEDA | MAGUIRE | MALOLOS | MANN | MANSKE | MARDESIC |
| | | | | | | |
| MARINO | MARKOVIC | MARLOWE | MARQUES | MÁRQUEZ | MASCHMEIER | MAY |
| | | | | | | |
| MAZUROWSKI | MCALLISTER | MCCANN | MCCARTHY | MCKENZIE | MEANOR | MERGENER |
| | | | | | | |
| MILLÁN | MINARD | MIRAI | MIROWSKI | MOIR | MÖNKKÖNEN | MORENO |
| | | | | | | |
| MORRISON | MOSS | MOWER | | | | |

Maltz Jupiter Theatre (FL) Production (2015) The Billys: Jamie Mann (left) and Nicholas Dantes (right)

London & Australian Productions – The Australian Billys visited with their London counterparts and met Elton John (1st Row l-r: Rarmian Newton, Corey Snide, Elton John, Rhys Kosakowski, Lochlan Denholm — 2nd Row l-r: Layton Williams, Travis Yates, Sam Angell, Nick Twiney)

Ogunquit Playhouse Production (2014) Billys Noah Parets (left) and Sam Faulkner (right) Pose on Opening Night with Choregrapher Adam Pelty

| | | | | | | |
| --- | --- | --- | --- | --- | --- | --- |
| | | | | | | |
| PALM | PARETS | PARK | PASTOR | PEARLMAN | PECORARO | PEI |
| | | | | | | |
| PELLETIER | PÉREZ | PERKIÖ | PERRET | PFLUEGER | PICARIELLO-HEIGHES | PIERANTOZZI |
| | | | | | | |
| PIERRAKOS | POPE | POWELL | PRONK | PUCZKÓ-SMITH | PUTS | |

Greek Production (2015-2016) The Athens Billys (l-r Andreas Kartsatos, Sotiris Pierrakos, Petros Zampakas)

There are no Billys whose last name begin with this letter.


Royal Manitoba Theatre Centre Production (2016) The Winnipeg Billys (l-r Eamon Stocks, Ethan Ribeiro)

| | | | | | | |
| --- | --- | --- | --- | --- | --- | --- |
| | | | | | | |
| RAJALA | RANALLI | RANCE | RASUL | REDFORD | REDHEAD | REED |
| | | | | | | |
| RENAUD | RENFROW | REUREKAS | REY | RIBEIRO | RIBET | RIIHELÄ |
| | | | | | | |
| RINEY | ROBERTO | RODRIGUEZ | ROGERS | ROMUALDI | ROSHANALI | RUSSELL |
| | | | | | | |
| RYAN | | | | | | |

Regional US Production in Marblehead, MA (2016) The Marblehead Billys (l-r Christopher Renaud, Miles Tardy)

| | | | | | | |
| --- | --- | --- | --- | --- | --- | --- |
| | | | | | | |
| SÁNCHEZ | SCHEELE | SCHUELER | SERNO | SEYMOUR | SHENTALL-LEE | SHIEFF |
| | | | | | | |
| SHINYEI | SIGURDARSON | SILLS | SILVA | SIM | SISWICK | SJÖGREN |
| | | | | | | |
| SMALLMAN | SMITH | SNIDE | SOUSA | SOWA | SPRENGEL | STEPHENS |
| | | | | | | |
| STOCKS | SUNG | SWEENEY | | | | |

UK/Ireland Tour Production (2016-2017) The Tour Billys (l-r Lewis Smallman, Matthew Lyons, Adam Abbou, Haydn May)

| | | | | | | |
| --- | --- | --- | --- | --- | --- | --- |
| | | | | | | |
| TABAKA | TAKESHITA | TARDY | TAVARES | TAYLOR, ERIC | TAYLOR, OLIVER | THISTLE |
| | | | | | | |
| THORARENSEN | TOBIN | TOLAR | TOSHIDA | TROSINO | TWINEY | |

The Iceland Production (2015-2016) The Reykjavik Billys (l-r Baldvin Alan Thorarensen, Sölvi Viggósson Dýrfjörð, Hjörtur Viðar Sigurðarson, Bjarni Kristbjörnsson)

Swedish Production (2016) The Malmö Billys (l-r Jacob Hermansson, Grim Lohman and Oliver Lohk)

| | | | | | | |
| --- | --- | --- | --- | --- | --- | --- |
| | | | | | | |
| VALENTINI | VAN DER PLAS | VAN DER STROOM | VAN KLEIJ | VANSELOW | VASS | VERNAL |
| | | | | | | |
| VESPERMAN | VIERNES | VILARRASA | VIZLENDVAI | | | |

The Netherlands Production (2014-2015) Second Cast Billys: (Lying in front: Faas Jonkers; Second Row: l-r Samuel Reurekas, Wisse Scheele, Laurian Serno, Nick van der Stroom, Sammy Kuit)

| | | | | | | |
| --- | --- | --- | --- | --- | --- | --- |
| | | | | | | |
| WAISS GATES | WALKER | WARD | WATANABE | WATSON | WELSH | WHITCOMB |
| | | | | | | |
| WHYTE | WILLIAMS | WILSON | | | | |

Australian Production (2007-2009) The Melbourne Billys (l-r Michael Dameski, Joshua Waiss Gates, Rhys Kosakowski, Joshua Denyer and Dayton Tavares)

London Production (2010 – 5th Anniversary Special Curtain Call) The Billys Shown (l-r Fox Jackson-Keen, Tom Holland, Brad Wilson, Ollie Gardner, Dean-Charles Chapman, Rhys Yeomans)

Israeli Production (2016) The Tel Aviv Billys (front row l-r Arnon Herring, Shon Granot Zilbershtein)