Note: Rhys's final show as Billy in the Melbourne production of Billy Elliot the Musical (BETM) was on 19-Apr-2009.
Debut: 13-Nov-2007 (Sydney)
Total Performances as Billy: Unknown (Data for Sydney show was not recorded) Recorded data: 21.5 (Includes 3 partial shows credited @.5 each)
Rhys Kosakowski was 13 years old (D.O.B = 18-Oct-1994) when he debuted as Billy in the Sydney production of BETM. He is from Newcastle, New South Wales, and, before auditioning for BETM, was a student at St Philip's Christian College.
Rhys started dancing at the young age of five, and he trained in many styles of dance including ballet, tap, jazz, modern and hip hop. His dance training was taught by Miss Karen A. Thomas, and then at the Marie Walton Academy. Rhys was also a competitive gymnast.
The first performing experience that Rhys had was with the Queensland Ballet Company, when he performed in their touring production of The Nutcracker.
Rhys's first audition for the role of Billy Elliot was in his hometown of Newcastle. He then underwent many months of intense dancing, singing and dialect training before finding out that he had secured the role.
A similarity that Rhys shares with Billy is that Rhys's father also worked in the coal mining industry. He drove coal trains in Newcastle, which, like the English city of the same name, was a coal mining town.
Rhys debuted as Billy in the very first performance at the Capitol Theatre in Sydney on 13-Nov-2007. This made Rhys the 14th Billy worldwide, and notably the first actor to play the role outside of London.
Furthermore, Rhys was then chosen to lead the Sydney cast at their official opening and press night on 13-Dec-2007. He rose to the occasion and one reviewer described his performance as follows: "Rhys Kosakowski certainly did not shy from the challenge of playing Billy on opening night. Enthralling to watch, his dancing was more than technically adept. From grief and frustration to outright joy, the emotions underpinning his movement also ran deep. And what an all-rounder! Just as his dancing is sleek and potent, Kosakowski's singing is tender and his acting true."
Credit: Photo by eltonjohn.com
Here's a video giving a glimpse of Rhys's excellent performance skills. It is from Australian television and shows him performing "Electricity":
On 21-Jan-2008 at the Sydney Theatre Awards, Rhys and the other three original Sydney Billys – Rarmian Newton, Lochlan Denholm and Nick Twiney – won the 2007 award for Best Actor in a Musical. They also went on to win the same award at the 2008 Helpmann Awards.
Rhys continued to perform in the role of Billy when the production was moved from Sydney to Melbourne in December 2008. He eventually performed his final show on 19-Apr-2009 and was the last of the original Australian Billys to leave the cast.
As noted above, the original profile article was authored by emcpow. The Life After Billy segment, below, was researched and written by rsbatchelor.
Life After Billy
2009 – After BETM, Rhys moved back home to Newcastle to train in ballet and contemporary full time at National College of Dance.
2010 – Rhys made it to the final eight competitors for the McDonald's Ballet Scholarship, which is a prestigious award worth 18,000 Australian dollars.
2011 – At age 16, he joined MOD Dance Company as their youngest member. He toured Australia with the company, performing Graeme Murphy's Suite Synergy. After a Houston Ballet Summer Intensive, Rhys auditioned in Sydney for the Houston Ballet Company (the fourth largest ballet school in America) and was offered an apprenticeship. He danced in such ballets as Cinderella, The Nutcracker and La Bayadere. He worked with choreographers Alexander Ekman in his ballet Cacti and William Forsythe in Artifact Suite. He really enjoyed performing opening night in Wings of Wax by Jiri Kylians, replacing the injured Principal.
2012 – Rhys became a member of Houston Ballet II, which is Houston Ballet's second company and is a part of the Houston Ballet Academy. He danced in Stanton Welch's Rite of Spring and Christopher Bruce's Intimate Pages.
Rhys was also known for his role as Company Dancer in Dance Academy, a television series drama from 2010 to 2012.
2013 – A favorite experience for Rhys was performing in the Switzerland Prix De Lausanne ballet competition in 2013, an international ballet competition for pre-professional dancers.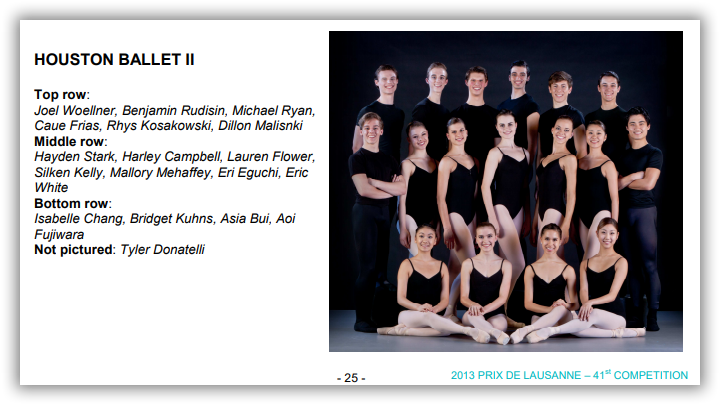 2014 to 2016 – Rhys was promoted to Houston Ballet's main company in 2014 and continued performing with them to 2016. Among the productions with Houston Ballet, he performed in The Sleeping Beauty as "Puss in Boots" in February/March 2016 and in Melbourne's Romeo and Juliet for the Houston Ballet in June 2016.
https://youtu.be/REFsNMSXVks
Credit: Video by Houston Ballet
2016 – Rhys was featured in an interview article in the March/April edition of IRIS Covet Book, called Emerging: Rhys Kosakowski. One of the questions asked of him during that interview was:
Any dream collaborations (photographic or otherwise) that you would love to do?
Rhys: "I think my dream would be, to be on the cover of Vogue magazine, and a spread showcasing and telling people of my ballet qualities. That would be life-changing!"
2018 – In April 2018, Rhys choreographed and danced in Levitate to My My My by Troye Sivan and filmed and edited by Brent Bailey.
https://youtu.be/s3yN6iXKHAA
Credit: Video by Rhys Kosakowski
2019 – Rhys joined The Sydney Dance Company in January. He also split his time with modeling for an agency in Sydney. For Rhys, dance and fashion are his two favorite passions. Rhys was featured in the June article SPOTLIGHT: Mr. Rhys Kosakowski – The Rakish Gent. In December, Rhys performed in Tunnel Vision, a three-part story for VMAN, choreographed by Rhys himself.
https://youtu.be/QYi72wb1cUw
Credit: Video by V Magazine
In an April 2019 extensive interview article in his hometown newspaper, the Newcastle Herald, he talks about his decision to move back to Australia and his aspirations for the future. Among other things in the interview, Rhys talked about the fact that in 2016, while still with the Houston Ballet, the American magazine, Vogue, had indeed offered him the cover of the magazine along with an in-depth photo spread. He explains why it didn't happen:
"One time," he says, "my agency contacted me about this job – American Vogue wanted to fly me to New York to shoot with Irina Shayk [supermodel and partner of actor Bradley Cooper]. But we had a show. The company (Houston Ballet) wouldn't let me go."
2020 – In April 2020, Rhys created a three-part series showing his morning routine, workout and cool down. He was in the May 13 edition of Numero Netherlands in the article At Home with Ballet Dancer Rhys Kosakowski. In August, he and Emily Seymour of Sydney Dance Company taught how to plant a garden "oasis of calm" in your home. Here you can Meet Company Dancer Rhys Kosakowski.
Credit: sydneydancecompany
2021 – In 2021, Rhys starred in The Crafting, a short film. He performed in Impermanence, a new creation by Rafael Bonachela in February with Sydney Dance Company. The Impermanence/Disintegration album won Best Classical Record at the 2022 A2IM Libera Awards. Here is Impermanence/Disintegration.
Credit: sydneydancecompany
2022 – Rhys was featured on Midiem – Podcast for Dancers early 2022. In the Fall, Rhys was on the cover of TAustralia Issue #8. Here is the Behind-the-Scenes video to the song In a Room with No Windows.
Credit: TAustralia
Rhys was featured in the September 2nd issue of the New York Times Style Magazine: Australia in Cover Story: The State of the Arts by Andrea Tchacos.
For more information about Rhys Kosakowski visit:
Billy Elliot the Forum, Instagram, Facebook
______________________________________
To A Complete Listing of All BETM Articles