Note: Oliver's last show as Billy at the Malmö Opera House in Malmö, Sweden, was on May 31, 2016.
Debut: February 18, 2016 (Malmö Opera House in Malmö, Sweden)  
Total Performances as Billy :  15  (No partial shows)
Oliver Lohk was 14-years-old (D.O.B = 29-Nov-2001) when he debuted as Billy Elliot at the Malmö Opera House on 18-Feb-2016, the 123rd boy in the world to play the role professionally. He is the eldest of the three Swedish Billys.
Oliver lives in Östermalm, a district in the city of Stockholm, Sweden. He attends the Pops Academy, also in Stockholm.
Prior to his BETM experience, Oliver has done voice over work for cartoons on TV and has acted/danced in two musicals.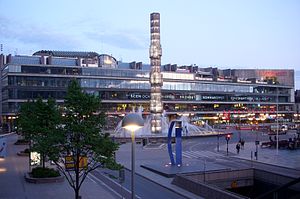 He's said that before Billy Elliot came along, he really didn't consider himself a dancer, though he had appeared in a couple of musicals.  He added that it was his grandmother who suggested he try out for Billy.  Talking about the audition process, Oliver relates that they were held in early 2015 at Kulturhuset (translated means The House of Culture) which is located in central Stockholm. He said there were about 70 boys there auditioning for the roles of Billy and Michael.
Says Oliver, "In the beginning I was really an underdog. Some of the other guys went to ballet school while I sucked. But I quickly learned when I got to dance with others who are so talented."  That experience took place over the past year, as a "Billy School" was established at Base 23 in Stockholm (Stockholm Dance Academy). The boys studied tap, jazz, hip hop, ballet and acrobatics. And when all was said and done, three Billys were selected from the group, Oliver among them. 
For more information about Oliver visit:
Credit: Photo by Malin Arnesson
______________________________________
To A Complete Listing of All BETM Articles