Note: Brennan Brave Hampton's final show as Billy in Billy Elliot the Musical (BETM) in Moline, IL, presented by The Spotlight Theatre, was on October 27, 2019.
Debut: October 18, 2019 (Moline, IL)
Total Performances as Billy: 6 (No partial shows)
Brennan Brave Hampton was 14 years old (d.o.b. = 8-May-2005) upon his debut as Billy in the Spotlight Theatre production of BETM. Brennan calls Rock Island, Illinois his hometown where he is home-schooled (Whitmore Online High School) as an ninth grade student.
Besides performing, Brennan has shared the following things he enjoys: The Flash, Steven Universe, my pug Ralph, and hanging with my friends and brothers.
Brennan's dance training has been acquired primarily at the Ballet Quad Cities School of Dance (Ballet Level 6B) in Rock Island. He also takes tap lessons at Kim's School of Dance & Tumbling in Moline.
Previous stage experience includes:
November/December, 2018 The Nutcracker (Party Boy/Ginger Bread Boy) Ballet Quad Cities (Rock Island, IL)

December, 2018 Pinocchio (Pinocchio) Circa '21 Dinner Playhouse (Rock Island, IL)
June, 2018 Mame (Young Patrick Dennis) Quad City Music Guild (Moline, IL)
January, 2018 Disney's Freaky Friday – A New Musical (Fletcher) Circa '21 Dinner Playhouse (Rock Island, IL)
November, 2017 Elf The Musical (Michael Hobbs) Circa '21 Dinner Playhouse (Rock Island, IL)
March, 2017 The Music Man (Winthrop) Circa '21 Dinner Playhouse (Rock Island, IL)
June, 2016 Chitty Chitty Bang Bang (Toby) Quad City Music Guild (Moline, IL)
August, 2015 Mary Poppins (Michael Banks) Quad City Music Guild (Moline, IL)
2019 projects that Brennan has appeared in include:
March, 2019 Peter & The Wolf (Peter) Quad Cities Ballet (Rock Island, IL)
April, 2019 Big! the Musical (Young Josh) Spotlight Theatre (Moline, IL)
June/July, 2019 Holiday Inn: The Musical (Charlie Winslow) Circa '21 Dinner Playhouse (Rock Island, IL)
August, 2019 Matilda (Bruce Bogtrotter) Spotlight Theatre (Moline, IL)
This homemade video clip, made by Brennan and his brother Liam, shows them wrapping up a series of videos called BLT, which they've made over the past several weeks. While not a public stage presentation, it's offered here as an illustration of Brennan's personality and acting ability.
https://youtu.be/s71wqRAPJNo
Credit: Video by B. Brave Productions
Billy Elliot The Musical
Brennan was very familiar to the artistic team at the Spotlight Theatre, and has appeared in two previous productions there this season. That team, husband and wife Sara and Brent Tubbs, offered Brennan the role of Billy based on their previous knowledge of his skills and abilities — and the rest, as is said, is history. That took place in May, 2018 after Brennan had participated in Opening Night at the Spotlight, the event which opened the doors of The Spotlight Theatre and Event Centre to the public for the first time.
Says Brennan of being cast in that fashion, "I was really honored. That had never happened before. I (later) attended the call backs to read and sing with other prospective cast mates."
After being offered the role, Brennan immediately began taking twice a week ballet classes, in August of 2018, not having formally studied that form of dance before. That was a year before cast rehearsals for BETM would begin. And like the boy he would portray on stage, Brennan found that he loved ballet once he began taking lessons.
Auditions for other roles in the show took place in April, 2019 and rehearsals began in September, five nights a week from 6:30-9:00pm.
Brennan relates, "I have a Performing Arts Class in school that I have to keep a Performance Log for. I logged 128 hours of Billy Elliot rehearsal total!"
Brennan says that over the rehearsal period, the cast has become family — a very tight-knit group. It's made all the more so by the fact that his theatrical mom is played by his real mom, Cynthia Hampton. In an article appearing the day before the opening of the show in Moline, in the local newspaper, The Dispatch-Argus, Cynthia talked about how special the relationship on stage with her son is. "The relationship that's shown in this show, with Billy and his mom, is so powerful. I knew if there was ever a role I could share a stage with Brennan, this would be too incredible an opportunity not to go for. It's been years. This has been really, really fun."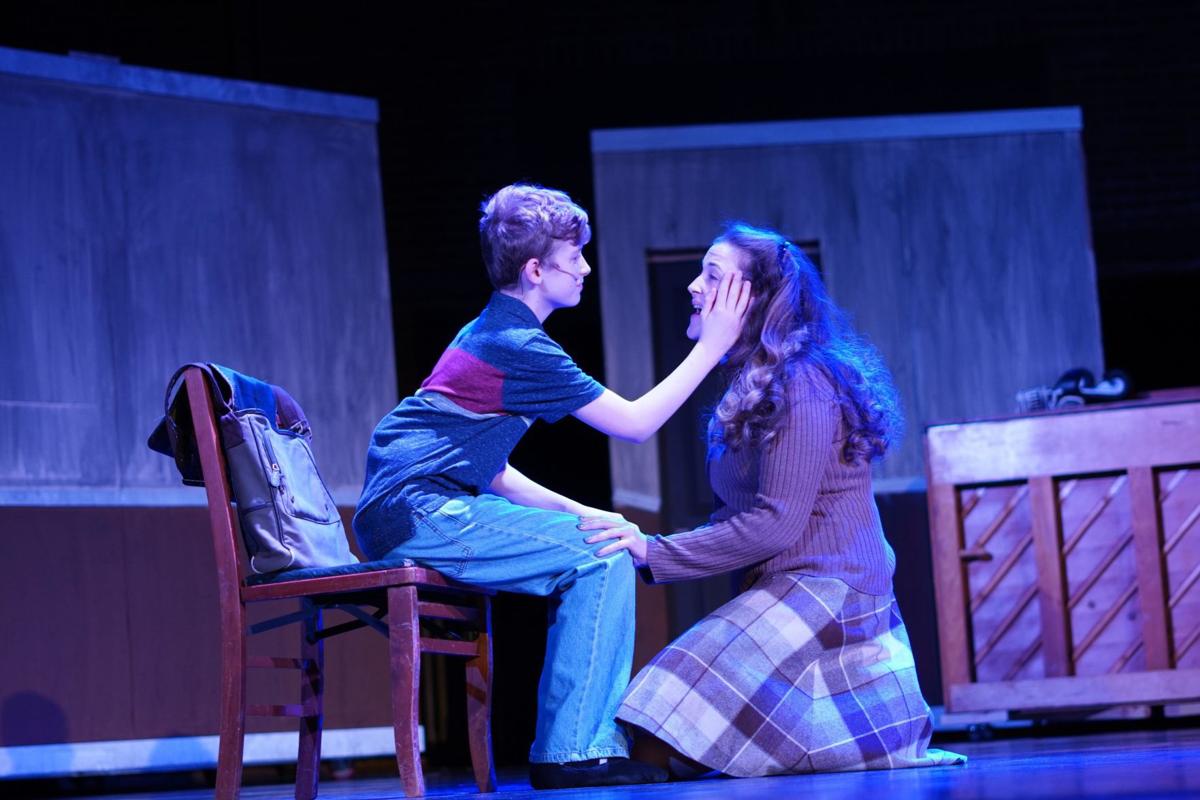 Summing up his experience in preparing to bring Billy to life on stage, Brennan says, "It has been so much work, but it's so worth it. It's the hardest show I've ever done. The dancing is hard-core. When I finally get it down, I feel so good. I'm so tired afterward, but when I feel tired, I feel so much better than when I'm not tired. I love this part, I love this show."
With his debut on 18-Oct-2019 in Moline, Brennan becomes the 289th boy worldwide to bring the role of Billy Elliot to life on stage, in a professional, regional or community theatre production of the musical.
For more information about Brennan, visit:
Billy Elliot the Forum, Brennan on Backstage.com
______________________________________
To The Spotlight Theatre's Main Page
To A Complete Listing of All BETM Articles