Note: Giuseppe's Final Performance as Billy on Broadway was November 6, 2011
Debuts: April 3, 2010 (Chicago) October 30, 2010 (North American Tour – Durham, NC) July 3, 2011 (Broadway)
Total Performances as Billy: 149.5 [Chicago = 46] [North American Tour = 64.5 (includes 1 partial show credited @.5)] [Broadway = 39]
Giuseppe Bausilio was born on June 20, 1997 in Bern, the capital of Switzerland, where his family continues to maintain a home. It's not surprising that he has such excellent dancing skills. He comes from a family of dancers (his parents and his brother are all ballet dancers) and Giuseppe started dancing at the age of four. He says while he started taking ballet for fun, it's become his passion. He has also studied other styles of dance including jazz, flamenco, hip hop, and tap.
Giuseppe's mom and dad, Sonia Melo and Alphonse Bausilio, run two ballet schools in Switzerland and have just opened a branch of the school in New York City. Sonia claims Giuseppe even danced before he was born because "I danced when I was pregnant with him."
His most recent ballet training in Switzerland came mainly from the AS Ballet Schule in Boll, Switzerland. But he has also recently received training from attendance at the Young Dancer Summer Intensive Program at American Ballet Theater and at the Billy Elliot Broadway Summer Camp.
He has performed in "Coppelia" with the the State Theatre of Bern and has appeared in the operas "Mazzepa" and "Falstaff". Here's a look at Giuseppe's early ballet technique:
http://https://youtu.be/jdMaVJAF-l0
Credit: Video by Bausilio Alfonso
Giuseppe has competed and won awards around the world including in his native Switzerland, in France, Italy and the United States. In 2008, Giuseppe, along with dance partner Aurora Di Rocco, placed second while performing Pas de Deux from Harlequinade at the 2008 YAGP Semifinals in Ravenna, Italy. In April of 2009, Giuseppe competed in the YAGP New York City finals, winning the Bronze medal in the Junior Men's Division and a scholarship for the Summer Intensive program at the American Ballet Theater, which he attended this past summer in New York. While he was in New York for the YAGP, he also was invited to audition for Billy Elliot the Musical and as a result won the role of Billy in the Chicago production of the show, which was to open in March, 2010. He has since said that his BETM audition was his first audition ever. Giuseppe also won the Bronze medal once again in NYC in the March, 2011 YAGP finals.
In September of 2009, the Chicago Billys were announced to the world in the Windy City. In addition to Giuseppe they were: Broadway veteran Billy Tommy Batchelor, Cesar Corrales and J.P. Viernes. The Boys were given a world-wind tour of the city they would call their home for several months beginning after Christmas, 2009.
In November, the boys went to New York and, up until Christmas, worked with the Billy Elliot creative team and other Billys-to-be who would appear on Broadway in the future. It was long days filled with the intense training and rehearsals needed to build the skills and stamina necessary to perform the strenuous role of Billy Elliot in the almost three hour show. Other Billys have said that one of the toughest parts of the role is learning to speak the unique northern England Geordie accent. But for Giuseppe, who by the age of 13 had mastered five languages, that's one aspect of his training that figured to be a piece of cake!
There were a couple of delays as the creative staff worked to get all four Billys ready to debut. Giuseppe's technical rehearsals were finally completed after the second week of previews. On April 3, 2010, at the matinee performance, Guiseppe's dream came true as he performed as Billy Elliot in his Chicago debut on the Ford Center stage. Below is a picture of the Playbill from that first show.
Once the show officially opened in April, Giuseppe performed as Billy at the second performance after Opening Night, on Tuesday, April 14, 2010.
In July, 2010, it was announced that Giuseppe would move from the Chicago cast to again originate the role of Billy with four other boys in the newly announced North American Tour of the show. After 46 performances as Billy on the Oriental Theatre stage in Chicago, Giuseppe's final show there was on Sunday, September 12, 2010. He then joined the rest of the Tour cast rehearsing in New York City.
Just before his final show in Chicago, on September 9 & 10, Giuseppe traveled to Cleveland, Ohio to promote the Tour stop there which would take place in November. He was interviewed by a local TV outlet, had photos/video taken of him in various places around the city and performed Electricity in front of an enthusiastic audience made up of press and Playhouse Square Theatre supporters.
Here's a video clip of his performance:
http://https://youtu.be/WU5W5Qw3dAU
Credit: Video by Bausilio Alfonso
In Durham North Carolina, where the North American Tour would kick off, unlike in Chicago, there would be no delay in getting Giuseppe ready to perform. In fact, he was Billy at the first preview on October 30, 2010 and again on the official Opening night of the Tour on November 3rd.
His performances earned him rave reviews from the North Carolina press. Here's a sampling: Indy.com exclaimed: "On Wednesday night, Billy was acted, sung and danced by the remarkable Giuseppe Bausilio, who recently played the lead in the Chicago production of the show. At 13, he is already a highly seasoned performer, and he gave a captivating performance, fully in command of a wide range of emotion and an amazing array of dance skills" ; the Duke Chronicle said "Bausilio …expresses a sincerity and rawness in his performance"; the News Observer commented "At Wednesday's official opening, Giuseppe Bausilio proved a winning combination of all requirements, confidently engaging the audience's sympathies"; the Herald Sun said "Giuseppe is convincing as the young boy who reluctantly finds, then embraces his passion for dance. Giuseppe's dancing is most impressive, and an example of what heights youth can reach when they are supported and encouraged"; and Broadwayworld.com added "Giuseppe Bausilio's Billy seemed especially up to the challenge last night, delivering a superb performance both singing and dancing with perfection."
Giuseppe would go on to do 64.5 shows on the tour. Then, in May of 2011, it was announced he would be moving to yet another production of BETM — this time to the Great White Way — Broadway! His last tour show was in Denver on May 21, 2011. After the show, the cast said goodbye to Giuseppe in the traditional theatre way — by singing "Happy Trails" to him once the final curtain had come down at the end of the show.
Giuseppe's mom recorded it for him. It is sure to be a cherished memory.
http://https://youtu.be/JdIEkDJKDXg
Credit: Video by alfonsoprimo
Giuseppe reported to the Imperial Theatre on Tuesday, May 24 to begin the process of learning the differences between the Tour production/set and those of the Broadway show. He made his Broadway debut at the matinee performance on July 3, 2011, becoming just the second of 60 boys who have played Billy to appear with three different casts of BETM (the other being Michael Dameski who appeared in Australia, New York and the Tour).
It was announced that Giuseppe's final show as Billy would be on Sunday, November 6, 2011 at 7:30pm. At that show, his 39th on Broadway, Giuseppe performed as Billy for the 149.5th (one partial) and last time.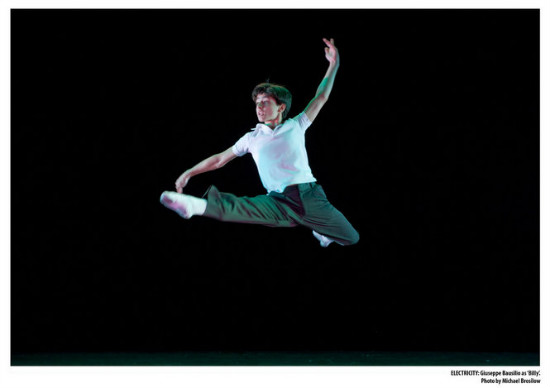 ____________________________
Life After Billy
Giuseppe's "Life After Billy" has been a very busy time — full of excitement and performances.
From October 8 to November 6, 2012, he performed as "Melchior" in The Barrow Group Theatre's Spring Awakening in New York City.
From there he went on to perform as "Race" and "Davey" in the Broadway production of Newsies the Musical, from October 7, 2013 to December 1, 2013, at the Nederlander Theatre on Broadway.
Also in 2013, Giuseppe was involved in Dead Man Down, a neo-noir crime thriller film directed by Niels Arden Oplev. He played the "Teen with Sun Glasses".
In 2014, from June 3rd to August 22nd, he reprized his role in Newsies the Musical. Simultaneously he co-starred in the Off-Broadway production of Irving Berlin's America (June 15 – July 10, 2014).
Giuseppe played the role of the "Royal Page" in Aladdin at the New Amsterdam Theatre from December 29, 2015 to April 3, 2016.
In the 2016 film Tango on the Balcony, Giuseppe was "Abdullah", an Iraqi teenager killed in combat.
Giuseppe played the part of "Alfie" for 36 episodes on The Next Step TV Series on the Family Channel/ NBC during 2016 & 2017.
In July 31, 2016 to January 29, 2017, he had the opportunity to play "Carbucketty" in Cats at the Neil Simon Theatre on Broadway.
On March 15, 2017, Giuseppe joined the ensemble of Hello, Dolly! At the Shubert Theatre on Broadway, departing April 8, 2018.
When May 20, 2018 came around, he started performing with Hamilton Chicago as "Samuel Seabury".
Guiseppe joined Hamilton on Broadway as "Charles Lee" in 2019, continuing in that role to the present.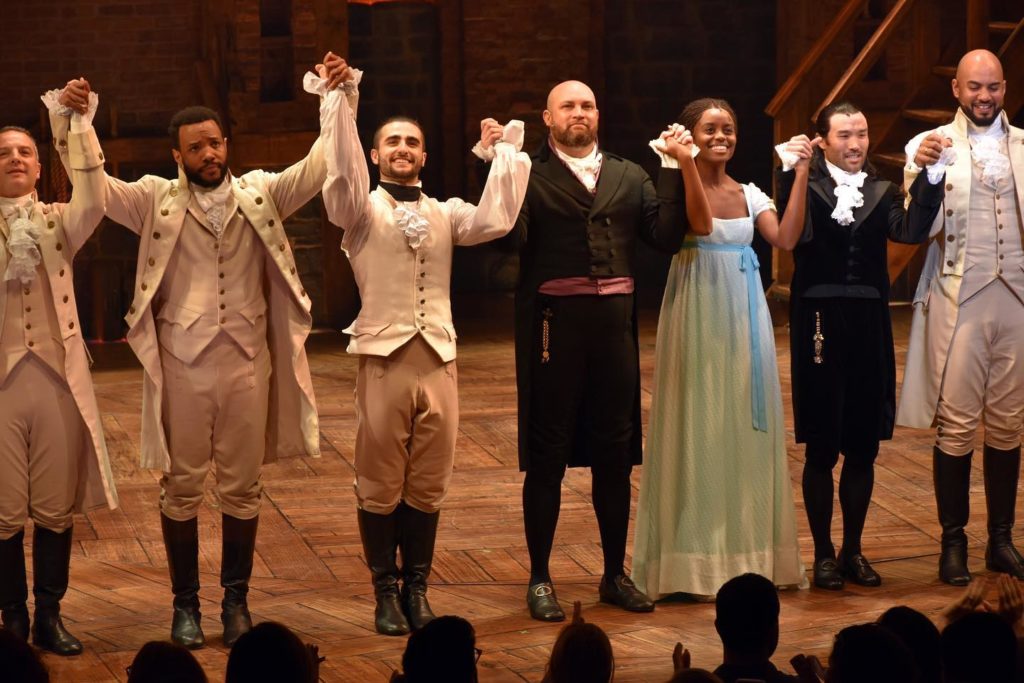 Ongoing, he's been involved in creation workshops including: The Boy Who Danced on Air, The Prom and Pretty Woman. He often times can be seen performing at 54 Below, Bird Land, and Broadway Sessions.
To be released soon, Giuseppe stars in Ode to Passion — a musical film by writer/Director Jack Danini.
Here's the trailer to Ode to Passion:
https://youtu.be/BDaDEeWza4U
Credit: Video by Jack Danini Productions
For more information about Giuseppe Bausilio, visit:
Giuseppe's Website, Billy Elliot the Forum, Instagram, Twitter, IMDb
________________________________________________________________
To The Alphabetical Profile Index