Note: Michael's final North American Tour performance as Billy was in Charlotte, NC on January 29, 2011
Debuts:    October 16, 2008 (Sydney)      January 31, 2010  (Broadway)      November 6, 2010 (North American Tour – Durham, NC)
Total Performances as Billy: Unknown (Because data for Sydney shows not recorded) Recorded data:  119 [Melbourne = 43] [Broadway = 57.5 (includes 1 partial show credited @.5)][North American Tour = 18.5 (includes 1 partial show credited @.5)] 
When the then 15-year-old Michael Dameski stepped onto the stage at the Durham Performing Arts Center (DPAC) in his North American Tour debut on Saturday, November 6, 2010, he became the first of all the boys who have played Billy Elliot to perform the role in three different productions of the show. He had already been Billy in Australia where he debuted on October 16, 2008. He then came to America and debuted on Broadway on Sunday January 31, 2010 at the matinee performance. Michael is from Sydney, Australia, where he lives with his mom, dad and two sisters. 
Since 2005, his skills have led to considerable success in dance competitions around the world. In 2005, Michael was named a Top 10 Dance Idol finalist by Australia's National Institute of Dramatic Art (NDIA). In 2006, he received the Under 13 first place in the Music and Performing Arts Junior Challenge, which is a national talent search in Australia. In 2007, he represented Australia in the world championships of Performing Arts in Los Angeles. He received gold, there, in all categories, and was named Junior World Dancer.
Michael has also been recognized for his singing ability. In 2007, he was a guest at the Zlatno Slavejce (Golden Nightingale) children's singing festival in Macedonia, at which he recorded a song written especially for him entitled 'One Dance'. Here's a video of that performance, in which a much longer haired Michael showcases his vocal and dance talent:
Credit: Video by bogdanovski1
Michael's theatrical training has been at Brent Street, Australia's prestigious school for the performing arts, where his studies have included many dance styles including jazz, tap, ballet, acrobatics, hip hop, contemporary drama and musical theatre, as well as academics. After his stint in Billy Elliot the Musical in Australia, Michael returned to Brent Street. In this video, Michael and his fellow students from Brent Street perform a number they called "A Tribute to Billy"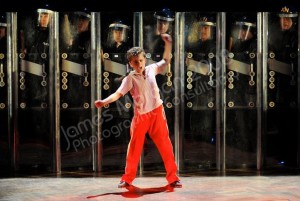 In the late Fall of 2009, the BETM creative team realized that potentially they could be down below the minimum number of boys needed to comfortably maintain the Broadway Billy rotation required to do the show eight times per week. They knew that one of the three originating Broadway Billys, Kiril Kulish, was leaving the show in early October, and that another would soon follow (David Alvarez on Jan. 3, 2010). The decision that Tommy Batchelor would star in the BETM road company production beginning in Chicago meant he would be leaving the Broadway show on December 11th to prepare for his debut in the Windy City. Alex Ko had debuted right after Kiril left, but he went down, after just three performances, with a knee injury that would keep him off the stage for an extended period.
The next Billy in the pipeline, Liam Redhead, was still in training and not quite ready to debut. And still another Billy-in-training, Jacob Clemente, had just started his training and was even further away from being ready.
So the creative team needed to bring in some additional Billys quickly to fill the temporary void. They turned to Australia, where a very successful run of the production had just finished in June of 2009. Luckily there were a couple of very talented boys who had played Billy in that production, Dayton Tavares and Michael Dameski, who were still of the right age, stature and still had unbroken voices. Most importantly, they wouldn't require all that much training as they both had already performed the role for several months.
On November 9, 2008, eight of the Billys (all except Corey Snide) who performed in the Sydney production took to the stage during the finale (including Michael Dameski and Dayton Tavares — first two from left)
Dayton came to NYC in early November and debuted on Broadway on December 19th. Like Tavares, Dameski was one of the five final Australian Billys, joining that cast in Sydney on October 16, 2008. His final performance as Billy in Australia was the next to last show there on June 13, 2009, in Melbourne. He had been studying, in the interim, at the Talent Development High School at Fox Studios in Sydney. Ironically, Michael arrived in NYC to begin his rehearsals/training for the Broadway show the same weekend Dayton debuted.
Here's a glimpse of Michael as Billy, performing "Angry Dance" from the Australian show:
Credit: Video by elliotfan1
Popular afternoon host Chris Smith, of Australia's radio station 2GB, did a phone interview with a very articulate Michael in late February. The far ranging interview, during which Michael talks about being Billy on Broadway and his enjoyment of the city of New York, can be heard by clicking on the audio file at the very top of this article, right under the article's title.
On March 27, 2010, Michael did an interview on Australia's Channel 7. He talks about life as Billy and how he perceives his life after Billy:
Credit: Video by Sonicrockz18
On April 28, 2010, Michael performed at the sixth annual Garden of Dreams Foundation Spring Talent Show, at Radio City Music Hall. More than 100 children from 11 of the Foundation's partner organizations including Make-A-Wish Foundation, NYU Medical Center, Hackensack University Medical Center, Children's Aid Society, Children's Village, and WHEDCo staged over 20 special performances over the course of the evening.
Dayton and Michael were initially meant to be temporary performers while several of the boys who were training to become Billy on Broadway got ready to perform the role. But they both got rave reviews and their contracts were renewed. Then, in June 2010, it was announced that Michael would anchor the new 2nd North American tour as the senior Billy. His last performance on Broadway as Billy was Sunday evening, September 5, 2010. All reviews and reports of that evening were that it was an emotional, energy charged performance, during which Michael put on one of, if not THE, best performances in his career as Billy, puncuated in several places throughout the show by standing ovations and wild applause. He then went into rehearsals with the rest of the 2nd Tour cast. Despite his longetivity in the role, between both Australia and New York, Michael had to begin learning working with a slightly different set than he's used to, which necessitates some new blocking and choreography and, of course, a new group of fellow cast members.
Like his friend, Dayton, Michael has made his impact on BETM in America, demonstrating the skills that Aussie fans of the musical raved about during the show's run there. He continued representing his country well for the remainder of his time as Billy, as audiences around the US got the opportunity to enjoy his great talent. He performed the role for the final time in Charlotte, North Carolina at the Blumenthal Performing Arts Center on Saturday evening, January 29, 2011.
Michael then returned to Australia, rejoining his family there. He has said he will continue to be educated in the performing arts, adding to his already great skills. There is no doubt we haven't heard the last of this young man from Oz.
Photo Credit: Catherine Pappas
For more information about Michael Dameski visit:
Wikipedia, Billy Elliot the Forum
___________________________________________________________
To The Alphabetical Profile Index