Note: Shon's final show as Billy in the Israeli Tour of Billy Elliot the Musical was on August 30, 2017
Debut: June 2, 2016 (Tel Aviv, Israel)
Total Performances as Billy: 52 (No partial shows)
Shon Granot Zilbershtein was 15 years old (D.O.B = 23-Apr-2001) when he debuted as Billy in the Tel Aviv production of BETM. He lives in the city of Hod HaSharon.
Shon was first inspired to start dancing at just six-years-old when he watched his cousin performing in a dance show. He then began taking dance lessons in the town of Even Yehuda, where he lived at the time. In the years since then Shon has taken part in lots of dance competitions and won many awards.
Although this is Shon's debut in the part of Billy Elliot, it is not his musical theatre debut, as he performed in the musical Hans when he was 10-years-old.
He was so keen to take part in BETM that Shon even postponed starting at Talma Yalin High School of the Arts, which is a school that specialises in dance.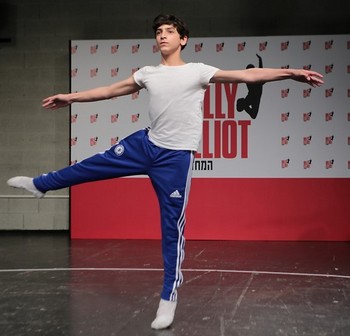 Shon has really enjoyed the rehearsals with the professional BETM cast. He says that he has learned so much from them and that they always know when to give him tips. He also says that he couldn't choose a favourite cast member as he has connected so well with all of them.
As for Shon's relationship with Arnon, with whom he shares the role of Billy, Shon says that there is absolutely no competition between the two of them and that they fully support each other. He admits that they both want to be successful but that they want both of them to be good, not just one.
When asked what message he felt BETM conveyed, Shon replied, "I think the show conveys a message of acceptance and especially that you should go against the flow and do what you want and not listen to what those around you say."
Shon is not sure what the future will hold for him. He can't decide whether he wants to join a ballet company or a modern dance company, or maybe even become a choreographer.
When Shon made his debut as Billy on 2-Jun-2016, he became the 145th actor in the world to do so.
During the show's run in Tel Aviv, Shon sustained as injury and so had to leave the production before it finished, with his final show being on 24-Feb-2017. Now fully recovered, Shon will return to the production when it reopens as a tour from Aug 2-31, 2017.
For more information about Shon visit:
______________________________________
To A Complete Listing of All BETM Articles