Note: Shon's final show as Billy in the Israeli Tour of Billy Elliot the Musical was on August 30, 2017
Debut: June 2, 2016 (Tel Aviv, Israel)
Total Performances as Billy: 52 (No partial shows)
Shon Granot Zilbershtein was 15 years old (D.O.B = 23-Apr-2001) when he debuted as Billy in the Tel Aviv production of BETM. He lived in the city of Hod HaSharon.
Shon was first inspired to start dancing at just six years old when he watched his cousin performing in a dance show. He then began taking dance lessons in the town of Even Yehuda, where he lived at the time. In the years since then Shon has taken part in lots of dance competitions and won many awards.
Although this was Shon's debut in the part of Billy Elliot, it was not his musical theatre debut, as he performed in the musical Hans when he was 10 years old.
He was so keen to take part in BETM that Shon even postponed starting at Talma Yalin High School of the Arts, which is a school that specializes in dance.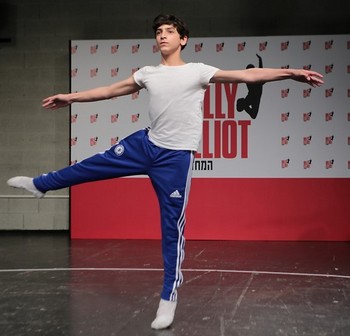 Shon really enjoyed the rehearsals with the professional BETM cast. He said that he had learned so much from them and that they always knew when to give him tips. He also said that he couldn't choose a favorite cast member as he has connected so well with all of them.
As for Shon's relationship with Arnon, with whom he shares the role of Billy, Shon said that there is absolutely no competition between the two of them and that they fully support each other. He admitted that they both want to be successful but that they want both of them to be good, not just one.
When asked what message he felt BETM conveyed, Shon replied, "I think the show conveys a message of acceptance and especially that you should go against the flow and do what you want and not listen to what those around you say."
After Billy, Shon wasn't sure what the future would hold for him. He couldn't decide whether he wanted to join a ballet company or a modern dance company, or maybe even become a choreographer.
When Shon made his debut as Billy on 2-Jun-2016, he became the 145th actor in the world to do so.
During the show's run in Tel Aviv, Shon sustained as injury and so had to leave the production before it finished, with his final show being on 24-Feb-2017. After fully recovering, Shon then returned to the production when it reopened as a tour from Aug 2-31, 2017.
___________________________
As noted above, the original profile article was authored by emcpow. The Life After Billy segment, below, was researched and written by rsbatchelor.
Life After Billy
2017 – After Billy Elliot, Shon, "Sean" as he's known, went back to Thelma Yellin High School of the Arts, training in the Dance department. He played in a few student films and music videos, including a short thriller movie in 2017. Sean was the main dancer in music videos for Israeli artists like Miri Mesika and more. Here is Sean in Miri's video to the music of Ofir Cohen and directed by Ronnie Brown.
https://youtu.be/DHhTAYK2Cg8
Credit: MiriMesikaOfficial
Sean won Best Young Actor (under age 18) Broadway World Israel. Later in 2017, Sean sustained an injury, which changed many of his plans.
2018 – While in school, Sean had little time for outside performances. He made time, however, to compete in Israel Got Talent making it to the semi-finals in a tap number seen here.
https://youtu.be/uSoGdVtpAPo
Credit: Isreal Got Talent
He also modeled for Danceshop – a big dancewear company in Israel. When Sean was 17, he was supposed to shoot two teen TV series, and one Disney series, but his injury resulted in surgery.
2019 – Sean returned to dance Nadav Zelner's choreography in Queen in early 2019. In May 2019, He choreographed Stop for he and dancer Orin Zvulun who are dancing here.
https://youtu.be/TJKZAJxy_R0
Credit: Videographer and Editor Adam Milstein
Sean also choreographed and danced in his piece, Human Nature to Is There Anybody Out There? by Pink Floyd. He graduated from High School in 2019.
2020 – In 2020, Sean received a second surgery, and was unable to practice dance at that time.
2021 – Sean started the Bachelor of Arts Program in Theatre Directing at Tel Aviv University. In April, Sean played in the production of Six Characters in Search of an Author by Luigi Pirandello and directed by Ofira Henig.
2022 – Sean is in his second year at Tel Aviv University and working toward his B.A. in Theatre Directing. He will graduate next year. He worked as an assistant director in the production of The Goat, or Who is Sylvia by Edward Albee, Fringe Theatre Productions at Habima. Sean was the choreographer of The One – an Original Gay Musical, directed by Rom Reznik at the Triangle Theatre (LGBTQ+ theatre of Tel Aviv). He choreographed for The Pillow Man, written by Martin McDonagh and directed by Yair Shapira. Sean premiered as a dancer in the opera Aida directed by Stathis Livathinos at the Israeli Opera on June 24th. Here is a picture from Temple of Love in Aida.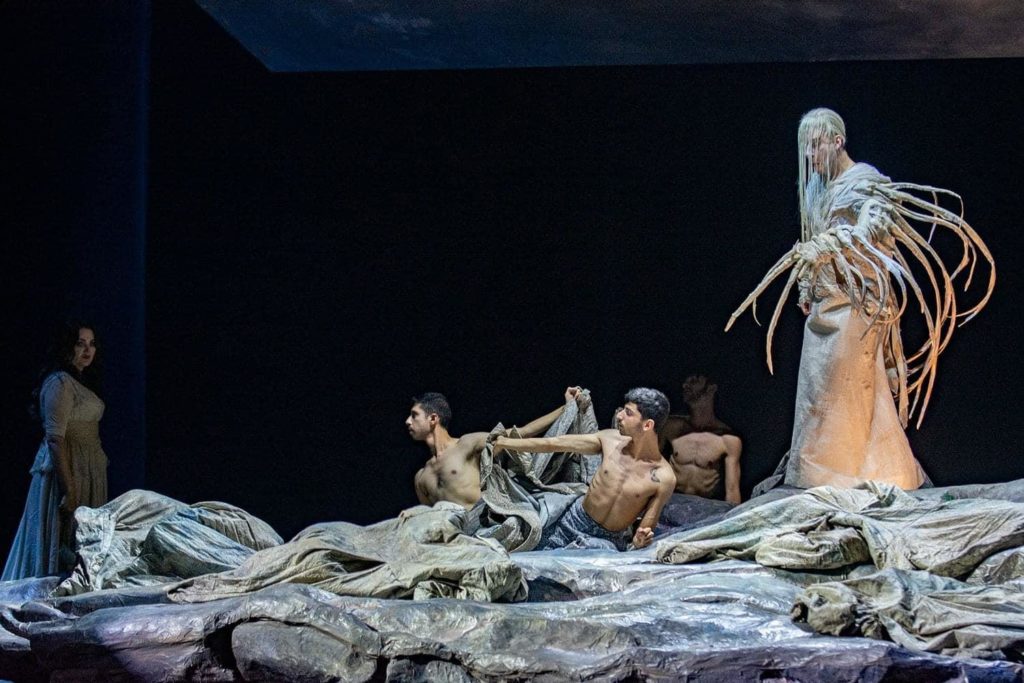 Credit: Photo by Yossi Zwecker, Maya Iltus and Sergey Demyanchuk
July 22nd, he appeared as a dancer at the Israeli Opera in La Traviata, directed by Alessandro Talevi. He choreographed a music video for singer Lior Zakai for Mivzta Savta "Operation Grandma." He just started as Assistant Director in a production of Uncle Vanya at Tel Aviv University.
For more information about Shon, visit:
Billy Elliot the Forum, Sean's YouTube, Sean's Facebook, Sean's Instagram
______________________________________
To A Complete Listing of All BETM Articles