Note: Lucas Moir's final show as Billy in Billy Elliot the Musical (BETM) in Breckenridge, Colorado, presented by the Breckenridge Backtage Theatre (BBT), was on September 3, 2017.
Debut: August 25, 2017 (Breckenridge, CO)
Total Performances as Billy to Date: 6 (No partial shows)
Lucas Moir was 14 years old (d.o.b. = 24-Feb-2003) when he debuted as Billy Elliot at the Riverwalk Center in Breckenridge, Colorado. Lucas hails from Greeley, Colorado where he'll be a student at the Central High School in his hometown this Fall.
At his former school (Chappelow K-8 Arts Magnet), Lucas was a student leader while attaining a perfect 4.0 GPA. He lists his favorite subject as Science. His other activities besides performing include camping/backpacking, travel and visual arts.
An interesting side note… Lucas says his favorite book is My Billy Elliot Story: From Iowa to Broadway by former Broadway Billy Alex Ko.
Lucas has had extensive performance training including:
Dance
Ballet, Tap, Contempory, Hip Hop and Jazz, both private instruction and at the Colorado Dance Collective, Northern Colorado Academy of Dance Arts, Midtown Arts Center and A Dance Place, from a variety of instructors.
Vocal
Midtown Arts Center (Jalyn Courtney Webb – instructor)
Lucas's previous theatrical experience, prior to BETM has included:
Mary Poppins (Michael Banks) Midtown Arts Center
A Christmas Story (Ralphie/Boy Swing) Midtown Arts Center
Peter Pan (Lost Boy) Candlelight Dinner Playhouse
Tarzan (Young Tarzan) Greeley West High School
Singing In The Rain (Cosmo Brown) Chappelow Arts Magnet
Seussical (Jojo the Who) Chappelow Arts Magnet
A Christmas Carol (Turkey Boy Stand-in) Candlelight Dinner Theater
Children of Eden (Children's Ensemble) University of Northern Colorado
Miracle on 34th Street (Harry Finfer) Candlelight Dinner Theater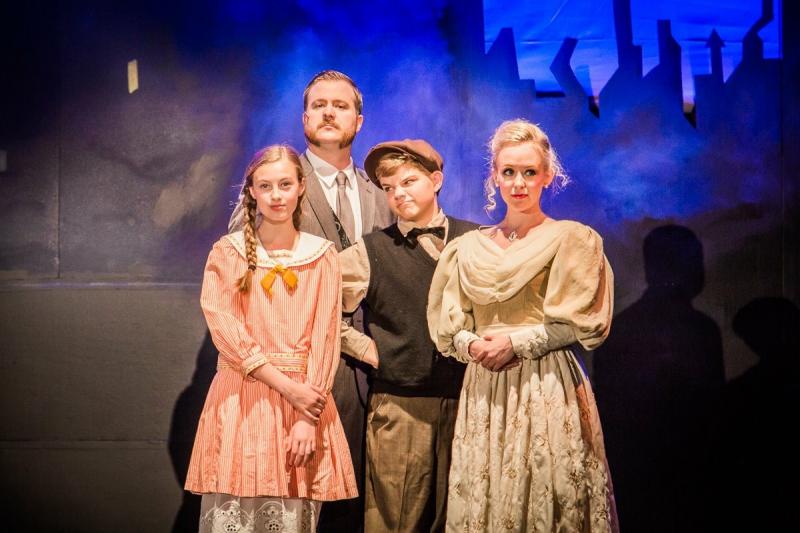 Lucas heard about the BETM audition from a friend and auditioned in Denver in November 2016. Shortly thereafter he received the call that he had been cast as Billy.
Rehearsals began in April 2017 and were held several times per week. Rehearsal sessions were 3-6 hours dependent upon the scenes/musical numbers being rehearsed.
Lucas becomes the 214th boy in the world to play the role of Billy in the musical on a professional, regional or community theatre stage.
Credit: BBT photos in this profile by Michael Ascher.
For more information about Lucas Moir, visit:
______________________________________
To the Breckenridge Backstage Theatre Main Page
To A Complete Listing of All BETM Articles