Note: Sam's Final known Performance as Billy in London was March 29, 2008.
Debut: September 3, 2007 (London)
Total Performances as Billy: Unknown (Unreported data from the period he was Billy) (Recorded data: 54 — includes 2 partial shows credited @ .5)
London's 12th Billy, 13 year old (d.o.b. = 6-Apr-1994) Sam Angell debuted on 3-Sep-2007. He's from Cambuslang, Scotland (near Glasgow) — the first Scottish boy to play the role of Billy Elliot on stage.
When he auditioned for BETM in October of 2005, Sam had little dance training. He'd been going once a week to Lynne Millar's Academy of Theatre Arts in Glasgow, taking mainly singing and drama there. He'd also starred in the title role of the Apollo Players production of Oliver Twist at Glasgow's Theatre Royal, but he didn't do any dancing in that show. So when it came time to try out for BETM, a show about a boy who dances, Sam had to go up against hundreds of boys at the audition, many of whom undoubtedly had much more dance experience than he did. In fact, he had to borrow his sister Molly's ballet shoes for the Billy audition.
Here is a video clip which illustrates Sam's abilities in his pre-BETM days. The format is a talent show in which he performs various skits/musical numbers:
http://https://youtu.be/p3ED5f55v9E
Credit: Video by beatdacy
Luckily for him, the creative team running the BETM audition in Leeds that October day was looking for boys with energy, singing ability, raw talent and a toughness too. Says Sam "There were hundreds of boys. Most of them had trained in ballet for years so I thought I had no chance. There I was, standing in the queue in my tracksuit without my own ballet shoes. I couldn't believe it when they invited me back for the second day of auditions."
A few days later Sam got a phone call telling him he'd been chosen as a potential Billy. If he wanted the role, he needed to become an expert at singing, tap, ballet, jazz, gymnastics and street dance. He went from that once a week class, to spending 15-20 hours per week at the school, covering what most performers take a lifetime to learn. In late May of 2006, Sam was off to London for an intensive six-week summer school where potential Billy recruits were put through their paces. In October, he was part of a group of five boys who were invited to audition for Director Stephen Daldry, who would make the decision as to which boys would be offered a six month contract to perform in the show at the Victoria Palace Theatre. Sam was chosen and shortly thereafter moved into the Billy House in London where he began his final training leading up to his debut.
His stint as Billy lasted seven months, ending when his voice broke just days before his 14th birthday. During that time, he performed as Billy over 50 times.
Here is a fan-made tribute video made for Sam when he finished in BETM. It includes audio of him singing Electricity:
https://youtu.be/XRUjAL5p7ns
Credit: Video by BETMUK
For more information about Sam, visit:
_________________________________
Life After Billy
When his days in BETM were over, Sam attended

Motherwell College, studying Acting and Performance.

In 2011, he played the role of Michael in The Magical Adventures of Peter Pan at Glasgow's Pavilion Theatre.
On March 6, 2011, Sam demonstrated that he had clearly become a formidable dancer since his pre-Billy days as he performed two numbers at the Variety Club of Scotland's 'Young Variety' show at the King's Theatre, Glasgow. The first is a tap number danced to Wiseguys' Ooh La La and the second was Electricity from BETM, which he had performed so many times in the West End.
http://https://youtu.be/9TYzfmewC4k
Credit: Video by Angus Simpson
On March 14, 2014, Sam helped open a new dance facility at Creative Stage Performing Arts School in Selkirk, Scotland.

2015 – Sam participated in the May 2015 10th Anniversary Celebration of Billy Elliot London at the Victoria Palace. In June of 2015, Sam played "The Writer" in the comedy short Room 17 directed by Richard Platt. It was about "a writer looking for his muse, a heartbroken bride, her no-nonsense mate, a cheating groom, a love struck receptionist and a handful of roses."
Credit: Video by LAMDA (London Academy of Music & Dramatic Art)
2016 – In June, Sam played "Chris" in the comedy short, Murdery Myster directed by Dylan Cargill. In it a young woman suspects her best friend is planning her murder and investigates.

2017 – After performing to a sell-out crowd at the Edinburgh Fringe Festival, Sam moved with the Exploding Whale Theatre production of Heroes to their new facility, the Bridge House Theatre, for a late October to early November performance which included many of David Bowie's hits. Also, in November of that year, Sam performed in the Lidless Theatre presentation They Have Long Arms and in They Can Find Me at Katzpace, London.

2018 – From February 18th through the 21st, Sam performed in Istandbul: You'll Never Walk Alone, "one of sport's greatest stories through the eyes of those that willed it to happen; the fans" at Katzpace, London. In March and April, Sam performed in the revival of Moonfleece produced by the Lidless Theatre at the Pleasance. In May and June of 2018, Sam was in the title role in Peter Pan at the Regent's Park Open Air Theatre directed by Timothy Sheader and Liam Steel. During that run, on May 29th, Sam was on BBC Radio London talking about his role and visiting Neverland, fighting pirates.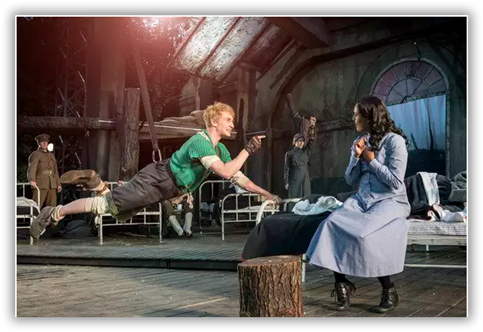 2019 – From January to April of 2019, Sam performed as "Boy" in The Cat in the Hat with CURVE Productions, Rose Theatre, UK. Also in 2019, Sam was involved with From the Gut's Scratch Night & Roundtable (a well-being and making work retreat for actors and artists) hosted by the Gut Theatre in London.
___________________________________________________________
To The Alphabetical Profile Index