Note: Liam Redford's final show as Billy in Billy Elliot the Musical (BETM) at the Grand Theatre in Williamstown, NJ, presented by The Road Company, was on November 4, 2017.
Debut: October 19, 2017 (Williamstown, NJ)
Total Performances as Billy: 11 (No partial shows)
Liam Redford was 11 years old (d.o.b. = 12-Jan-2006) when he debuted as Billy Elliot in Billy Elliot The Musical at the Grand Theatre in Williamstown, NJ. Liam resides in North Hanover, NJ, where he is a student at the Upper Elementary School (U.E.S.).
Liam's dance training has come via Dansations School of Dance, in Hainesport, New Jersey. He studies all styles of dance there, especially Musical Theatre, Contemporary, Ballet, and Jazz.
Liam is also accomplished in gymnastics, having studied for seven years at Envision Gymnastics in Easthampton, NJ.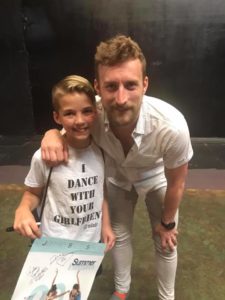 Liam has also studied Musical Theatre with Max Baud and Matthew Prescott at the Joffrey Ballet 2017 summer intensive. Max, of course, played the role of Older Billy in the US/Canadian tour and several regional productions of BETM.
Liam also spent a year under the tutelage of Elizabeth Janney studying performing.
Most of Liam's performance experience has been in the area of dance, though he's also done some musical theatre, mostly at U.E.S., including playing "Young Simba" in the school's 2017 production of Lion King Jr. in March.
Other productions in which he appeared include Annie and Once Upon a Mattress, both at the Bordentown Summer Theatre.
Here's a video clip of Liam performing in one of his many dance competitions. It's from the 2017 Inferno Dance Competition:
Liam's dance studio received an email explaining The Road Company was looking for young male dancers for their upcoming production of BETM. His mom and dad discussed having him audition and decided to let him try out.
Liam attended auditions at the Grand Theatre for the child roles of BETM in early July. The show's director, Scott Angehr, relates this funny story from Liam's audition. It seems that "when Liam was reading Michael's lines, at the part where the script says for Michael to try a split, Liam decided to go for it. When he slammed down to a full split…all you heard was "rippppp" as he split his pants! Everyone laughed like crazy!"
After weeks of agonized waiting, the cast was finally announced at the end of July and intensive rehearsals for Liam began soon after. They consisted of every Sunday for four hours and every Monday and Wednesday for three hours each. For the week and a half prior to opening the show, rehearsals were pretty much daily, culminating with "Tech Week" beginning on Sunday, October 15, 2017 leading up to the opening of the show on October 19th.
Here's a video which displays Liam's skills in the Contemporary and Jazz dance genres:
Credit: Video by Dansations School of Dance
Upon his debut, Liam becomes the 227th young actor to bring the role of Billy Elliot to life in a professional, regional or community theatre production of the musical.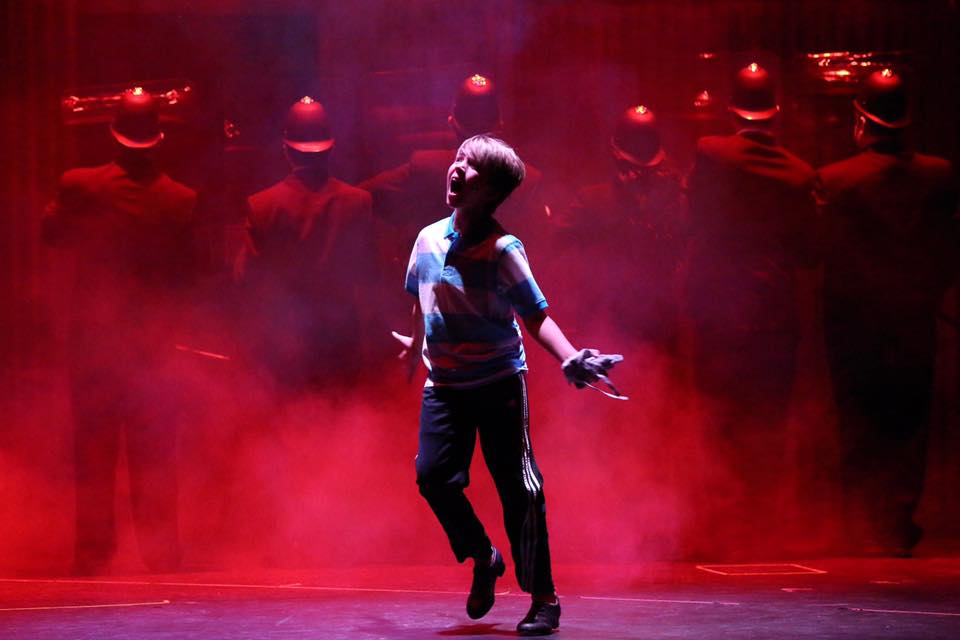 Credit: Photo by Dave Gruen
For more information about Liam, visit:
Billy Elliot the Forum, Liam The Dancer Website
______________________________________
To the Road Company's Main Page
To A Complete Listing of All BETM Articles