Note: Parker's final show as Billy in the Garden Theatre's production of Billy Elliot The Musical (BETM) in Winter Garden, Florida, was on June 2, 2019.
Debut: May 13, 2016 (Mendham, NJ) February 18, 2017 (Berkeley, CA) October 12, 2018 (Allentown, PA) April 26, 2019 (Winter Garden, FL)
Total Performances as Billy: 59 (Mendham, NJ = 4) (Berkeley, CA = 14) (Allentown, PA = 10) (Winter Garden, FL = 31) No partial shows
Photo credits: Title Photo by the Garden Theatre and Parker's headshot (below) by Guido Venitucci Photography
At the time of his debut as Billy, in the Hexagon Players production of Billy Elliot The Musical in New Jersey, Parker Fullmore had just turned 10 years old (D.O.B. = 10-May-2006), making him the youngest boy ever to debut in the role, at that time (Editor's Note: Parker's reign as the youngest to debut was surpased in May of 2023 — see more at the bottom of his profile).
Parker is originally from the Silicon Valley in California, living there with his mom (Ann-Marie), dad (Mike) and younger sister (Payton). In addition to dancing, Parker's other interests include video games and swimming. He also enjoys playing the piano and gymnastics.
As passionate as Parker is about performing, he has an equal passion about his academics. Parker is one of several scholars who studies online using Compass Charter Schools (CCS). CCS is a virtual independent study charter school serving grades TK-12 with a scholar enrollment of over 1,700. CCS is dedicated to offering scholars like Parker access to quality online and homeschool educational programs to meet their unique needs. Parker has said that following his dream to be a performer wouldn't have been possible without Compass Charter Schools. "I have to travel a lot, but with CCS I can make my own schedule. I can log on and work in between my training and performances. I am grateful to have found CCS!"
On the performance side, Parker has trained and has danced competitively for Dancyn Studios (San Jose, CA) and Ballet San Jose School, and at Dance City & The Arts (Southington, CT). He's also taken acrobatics lessons at Paramount Tumbling & Acro Gymnastics in San Jose. NYC training includes private ballet lessons with Matthew Prescott (formerly of the North American Tour of BETM), private vocal lessons with Andrew Drost (founder of the Institute for American Musical Theatre) and he's studied acting with Clifton Samuels. As his schedule has permitted, Parker has also taken tap classes from Thommie Retter and Gayle Greenbrook.
In March of 2016, Parker learned that he had been accepted into the Joffrey Ballet School Musical Theater summer program on a scholarship. In 2018, he received a second invitation to attend the summer intensive, this time in Las Vegas. And, in 2019, Parker received offers of merit scholarships to several summer dance intensives. He accepted the one to attend the Joffrey/Cirque intensive in Las Vegas and attended it in July of that year.
Parker says that, from an early age when he first became aware of the musical, he's dreamed of playing Billy Elliot. With a performance of Electricity at age five, he won the California State Talent competition in his age division.
Hexagon Players (Mendham, NJ)
Parker's first production of BETM took place in Mendham, NJ. The entire cast of the Hexagon Players production began rehearsals late in February, 2016. The very first meeting of the cast was a Geordie dialect practice session. The Billys, of course, also trained separately in many rehearsals in which they practiced their musical numbers, including intensively learning and practicing those requiring dance.
Parker made his debut as Billy on 13-May-2016, and in doing so became the 134th boy to play the role of Billy worldwide.
Parker's family gives a lot of credit for Parker's early success — both on stage and in the film and TV appearances he's made — to the private acting coaching by Mark Schneider. Among Mark's credentials is the fact that he was the resident director of the Broadway production of BETM. Mark first began coaching Parker when the Fullmores were living in NYC.
In the final week of 2016, Parker made a video which he entitled Highlights and lowlights of a 10 year old actor. The viewer can get a good idea of Parker's personality from it. It includes a sub video of Parker receiving his 2016 Perry Award and giving his acceptance speech for it. He also talks about playing Billy and how hard he worked to get the role, over several years, and how much he enjoys playing the character.
vimeo.com/198069564
Parker's Perry Award
In late July, 2016, the Fullmores learned that Parker had been nominated for a Perry Award for his performance in the Hexagon Players production of BETM. The Perry Awards are bestowed annually by the New Jersey Association of Community Theaters (NJACT). The category that Parker was nominated for, Outstanding Youth Actor in a Musical, is one of 11 categories for which the Hexagon Players received nominations.
In July of 2017, Parker won the 2017 London Independent Film Award as Best Young/Child Actor for the 2016 short film Tradition.
In September of 2017, Parker completed his first ever music video called Dreams Come True. In it, his singing and dance skills are on display in a medium very different from his previous accomplishments.
Credit: Video by Parker James Fullmore
Berkeley Playhouse, CA
In the summer of 2016, Parker received the news that he had been cast as one of two Billys in the Berkeley Playhouse production of BETM in California, which ran from February 16 to March 25, 2017. He co-starred as Billy in that production with fellow veteran Billy Matthew Dean.
After his second stint as Billy, in the Berkeley, CA, production, Parker took a "time-out" from stage work and concentrated on camera work, moving full time back to California. Parker's resume includes time in front of the TV camera, commercials and this music video:
youtube.com/watch?v=jTZLjmFZQdY
For that music video, Parker was nominated for a Young Artist Academy Award. He has also done several commericals.
Parker attended Magnolia Science Academy during the 2017-18 academic year and he earned high honors, completing his 6th grade year and was ranked #1 out of 42 kids in his class. He also kept up his dance studies, training in Contemporary with Tasha Hamilton at Millennium and in Ballet and pas de deux at Marat Dukayev's School of Ballet.
Civic Theatre of Allentown, PA
Despite all the success Parker was having in front of the camera, his mom noticed he was sad in his room one day after having a friend over. She asked him what was wrong and he said "I just realized I'll never play Billy again" (still at just the age of 12 years old). So the family investigated the upcoming BETM shows to see if perhaps there was one looking for a Billy. In late April of 2018, when they emailed the Director of the Civic Theatre production, William Sanders, he was delighted to hear from the Fullmores as he had decided to launch a production of Billy Elliot without a Billy in mind.
Per his direction, they sent him some videos of Parker singing and dancing and doing scenes, which Sanders subsequently shared with staff and his creative team. Shortly thereafter Parker was offered the part.
After a summer spent in California, the family moved to Pennsylvania in August to begin rehearsals. Parker wouldn't be the only Fullmore involved in the Civic Theatre production of BETM, as his younger sister Payton made her BETM debut as the ballet girl Susan Parks. At first, Parker was rehearsing daily for seven hours each day. Then, once school had started (in 2018-19, Parker would again be home schooled), he rehearsed 3-4 hrs per night and all day on Sundays.
He says that, in many ways, the Civic Theatre production had been his most challenging thus far, citing the fact that the company had to use makeshift rehearsal spaces in various locations around town due to the theatre renovation.
Garden Theatre, Winter Garden (FL)
In September of 2018, before the Allentown production even opened, the Fullmores received an inquiry from Rob Anderson, the Artistic Director at the Garden Theatre in Florida. He said that Parker had been referred to him by Kylend Hetherington, who was in BETM on Broadway before later starring as Billy in the US Tour production of the show. Rob said that they were actively seeking a Billy for their upcoming Spring production of BETM and would very much like to discuss this in more detail if it was something Parker would be interested in and available for.
Well, yes, Parker was interested and available, but was concerned that he may have grown too tall. So his mom, Ann-Marie, sent Rob some videos and Rob called back and said he would rather have a strong Billy than worry about a few inches — so Parker was hired!
In March of 2019, as they have done several times over Parker's career as Billy Elliot, the Fullmores temporarily moved from their California home to another part of the country — in this case Florida — so that Parker could again play the title role in the musical.
According to Ann-Marie, this time around the rehearsal period, which began on April 4th, would be for a shorter period of time — three weeks. She said it's been their experience that for most of the previous productions in which Parker has played Billy, rehearsals have taken place over an 8-10 week period, at least for the principal child actors.
In Winter Garden, rehearsals over the three weeks were 6-11 pm Tuesday through Friday and Saturday and Sunday from 1-10 pm, with Mondays off.
The final performance at the Garden Theatre was on 2-Jun-2019 and marked Parker's very last time playing the role of Billy, just over three years after his first performance in the role. Parker has loved being back on stage in the role that he's coveted from a very young age.
Parker reigned for seven years as the youngest boy to ever debut as Billy as mentioned above. But in May of 2023, a younger boy debuted in Rochester, New York as one of the two Billys headlining the OFC Creations production of the musical. Jack Hartman was just nine years and 10 1/2 months old when he debuted (13-May-2023) exactly seven years to the day after Parker's debut on 13-May-2016.
___________________________________
Life After Billy
2019 –

Parker continued h

is schooling in the San Francisco Bay area after Billy and is currently a high school Freshman and straight A student. He is interested in the Science Technology Engineering and Math (STEM) program and is considering Carnegie Mellon in the future. In September of 2019, Parker played the role of Dougie in 2 Minutes 2 Kill, a short comedy about an inept pizza deliveryman named Bud whose last minute order places him in the middle of a horrific crime taking place in Hollywood Hills. Parker also won the 40th Annual Young Artist Awards (TV Special) for Best Performance in a Commercial –

Youth Actor

for his portrayal of Steve Gold in a promo, Million Dollar Listing, New York.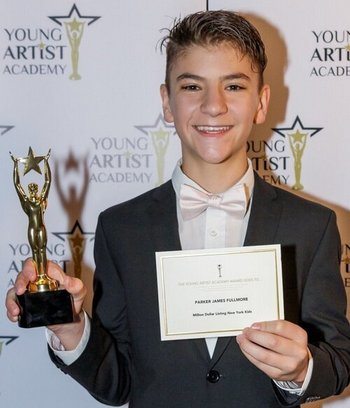 https://youtu.be/fhmXmYcA-VQ
Credit: Video by Parker James Fullmore
All Rights Reserved by Bravo TV
2020 & Beyond – Parker recently released a singing cover of Come Alive from The Greatest Showman. One of Parker's favorite acting jobs was during a Hot Wheels web series. In June, Parker was a part of an International youth recording of We Are The World.Parker currently live streams gaming on Twitch three days a week. He will be featured in the upcoming dance documentary Why Dance! Parker is excited to be a part of this documentary about what it takes to be a dancer and actor. Parker also auditioned for and was cast in the Berkeley Playhouse production of Newsies for the role of Tommy Boy. The production was originally scheduled to be staged this past summer (2020), but now has been postponed awaiting the end of Covid-19 dangers to be presented.
For more information about Parker, visit:
Billy Elliot the Forum, Parker's Website, IMDb, Facebook, Twitter, Instagram, Youtube
______________________________________
To the Garden Theatre Main Page
To the Civic Theatre of Allentown Main Page
To the Berkeley Playhouse Main Page
To the Hexagon Players Main Page
To A Complete Listing of All BETM Articles