Note: Kaden's final show as Billy in Vintage Theatre's production of Billy Elliot the Musical (BETM) in Aurora, CO, was on March 19, 2017.
Debut: February 3, 2017 (Vintage Theatre, Aurora, CO)
Total Performances to Date: 19 (No partial shows)
Kaden Hinkle was a 13-year-old eighth grader (D.O.B. = 15-Jul-2003) when he debuted as Billy at the Vintage Theatre in Aurora. Kaden is from Boulder, Colorado, about an hour northwest of the theater's location in Aurora (a suburb of Denver).
Kaden has a very long resume of prior dance and theatrical experience that has been supported by the impressive training in the performing arts he's already received in his relatively short life.
His dance training has been with Streetside Dance (Hip Hop), Ballet with Marlana Qualls (a professional dancer, choreographer and teacher of master dance classes), and Tap and Jazz with Caroline Younger. The picture to the right is of Kaden (left) and his twin brother at age two, when both began taking tap and ballet classes.
Kaden was also involved in competitive gymnastics in the past, taking classes and competing over a four year period. He was very successful at it, as is depicted in this picture of Kaden at a competition in which he won first place in what turned out to be his final gymnastics season.
But four years ago he had to give up gymnastics as he had become very busy with musical theater, by that time working professionally for nine months or more of the year on various musical theater stages. He simply couldn't find time for gymnastics any longer.
Once he turned his concentration solely on musical theater, Kaden stepped up his training. His other performance training includes:
All of the above hard work has led Kaden to acquire a long list of performance credits, including:
A Christmas Story National Tour (Ensemble) – Denver Cast at the Buell Theater
Credit: Video by Denver Center for the Performing Arts
Tarzan The Musical (Young Tarzan) – The Arvada Center (CO)
A Christmas Story (Ralphie) – Town Hall Arts Center (Littleton, CO)
Credit: Video by TownHallArtsCenter
Scrooge as a boy in "A Christmas Carol" Photo by P. Switzer

Mary Poppins (Michael Banks) – Boulder Dinner Theatre Stage

A Christmas Carol (Boy Scrooge) – The Arvada Center (CO)
Miracle on 34th Street (Ensemble) – The Arvada Center
Peter Pan (Michael Darling) – Starkey Theatrix at The Pace Center (Parker, CO)
BIG FISH (Will's Son, Scout) – Aurora Fox Arts Center
Wizard of Oz (Lollipop Guild) – Boulder Dinner Theatre Stage
La Bohème (Featured Boy Soloist) – Boulder Symphony
In addition to the above, Kaden has also appeared in many Children's Theater productions, a detailed listing of which is impossible in this short space, but they have included Oliver!, Les Misérables, Legally Blonde, Seussical, Fiddler on the Roof and Alice in Wonderland.
It's a resume many an actor, years older than Kaden, would be proud to have.
No profile about Kaden would be complete without mention of his work in supporting charities for those in need. He is especially passionate about the Denver Actors Fund and Broadway Cares Equity Fights AIDS. This is a video in which Kaden and his friends are seen performing their rendition of the Cell Block Tango at a Denver Miscast performance in support of the Denver Actors Fund:
Credit: Video by John Moore
Kaden was cast in the Vintage Theatre production of BETM following his initial audition for the show in October, 2016. Following a callback, he learned he had landed the role. Due to the very large cast and complexity of the show (especially the choreography), the rehearsal period was nine weeks, which Kaden relates is an unusually long period for a Denver show. It averaged 20 hours a week of rehearsals. Kaden found the first four weeks of rehearsal especially tough as he was simultaneously appearing in A Christmas Story: The Musical across town (six shows a week). So, he would often get videos of the scenes from BETM and work on them with his dance instructors early on weekend mornings.
About the rehearsal period he says, "The rehearsals have been grueling, but fun. This show is just such a beast. Solidarity is 12 minutes of choreo! We have one week until we open, and I am confident it will be amazing!"
When asked what people would be most surprised to learn about him, Kaden replied, "Most people are shocked to find out that my favorite subject is math. I guess quietly solving equations in the corner doesn't fit the stereotype that everyone is expecting from a theater kid."
On Friday 3-Feb-2017, Kaden became the 181st boy in the world to portray Billy on stage in a professional, regional or community theater production of BETM. With his training and experience, it will come as no surprise to audiences when this triple-threat performer brings the character of Billy Elliot to life so ably on the Vintage Theatre stage.
*Photo credit: Some photos in this profile were provided by Shannon Hinkle.
____________________________________________
Life After Billy
2017 – Kaden was almost 14 when he played Billy, and the last weekend of performances his voice started to crack during the song "The Letter". So that was pretty much, he thought, "the end of playing kids' roles". He went back to school, now at Fairview High School in Boulder, Colorado following Billy. While at Fairview, he was with the Jackson Dance Crew/Flyer in Bring It On. Then in October, he performed as Evan in 13: The Musical, a benefit for the Denver Actors Fund, Kaden's favorite local charity that supports the medical needs of Colorado actors much like Broadway Cares/Equity Fights AIDS.
And here's a "Meet the Cast" featuring Kaden as Evan:
Credit: Video by The Nightly Met
Kaden trains in both voice and dance in Colorado. He dances at Dance2b Studios Conservatory Program. He was also Zooming with monologue and vocal coaches in NYC, he said, "before it was cool". Also in 2017, Kaden received the Broadway World Award for child actor for Billy.
2018 – Kaden received the Broadway World Award for his portrayal of Evan in 13: The Musical in 2018. He was in several productions in 2018. He performed as Steve in She Kills Monsters. Kaden played Scary Stockboy/ensemble in Be More Chill. He performed the role of Norman in The Boys Next Door. During the Summers of 2018 and 2019, Kaden trained at Interlochen Performing Arts Camp in Michigan in the Musical Theatre Production Program where he played Winthrop In Music Man.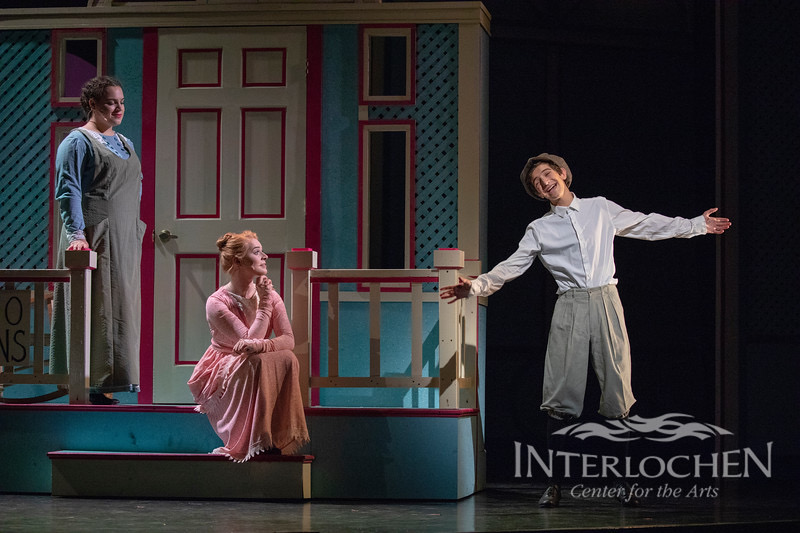 He also joined the cast of feature film A Feral World in the role of Eli. The film is about a boy trying to navigate a dystopian world. It was filmed over a 4 year time period. Kaden joined the cast during years 3 and 4. It was supposed to have its premiere in April 2020, but due to Covid-19, it has only been available via streaming on Amazon Prime. He can be seen about a minute into this trailer of the movie:
Credit: Video by David Liban
2019 – Kaden was TJ in Sister Act in 2019. He was also in the ensemble at Interlochen Arts Camp in 9 to 5 the Musical.
2020 – In 2020, Kaden played the Baker in Into the Woods. He sang in A New World Benefit video for Denver Actors Fund in April. He also Zoomed a great many dance, voice and acting classes.
2021 – Kaden played the role of Adam in Theory of Relativity. He then graduated from high school in May. In July he performed in the 25th Annual Putnam County Spelling Bee through a community theatre troupe called Centerstage in Colorado. Kaden continues to dance every day, and trains in voice and acting. He began a four year program at Pace University in NYC in the Fall and aims to obtain a BFA in musical theatre. He recently started workshopping a new musical to help evolve his character with the writers. In the future, Kaden "really just wants to tell stories that educate or provides the audience with a new perspective where they feel different and maybe question their current belief structure on the stage or screen". He continued with "if I get to tell one story where I get to use a light saber, that would be cool, too".
For more information about Kaden visit:
Billy Elliot the Forum, Kaden on Instagram, Kaden on Facebook
______________________________________
To the Vintage Theatre Main Page
To A Complete Listing of All BETM Articles