Note: Eamon's final show as Billy was at the Royal Manitoba Theatre Centre in Winnipeg, Manitoba, Canada, on February 6, 2016.
Debut: January 13, 2016 (MTC – John Hirsch Theatre Mainstage – Winnipeg, Manitoba, CAN)
Total Performances as Billy: 15 (No partial shows)
Eamon Stocks, who had been singing, dancing and acting since the age of six, was 15 years old (D.O.B. = 4-Jan-2001) when he debuted as the 120th boy in the world to play Billy Elliot professionally on stage. A native of Whitby, Ontario, his academic education has been at the John Dryden Public School in Whitby. As far as his early dance training goes, Eamon first did Break Dancing and Hip Hop.
Long before his involvement with the Winnipeg BETM production, Eamon originally auditioned for the Toronto production of BETM alongside former Billys Myles Erlick and Julian Elia in 2009 when he was just eight. As he had no prior ballet training, he was actually auditioning for the role of Michael. He made it to the end of the callbacks at the first audition and was personally invited back by Casting Director Nora Brennan for another audition a few months later. Ironically, then, it was going to the Billy auditions that was his first introduction to ballet.
youtu.be/XgclTUYbLdc
Credit: Video by Eamon Stocks
So, at the age of nine, Eamon decided to give Ballet a try, enrolling in Canada's National Ballet School. He was there at the same time as Myles Erlick, Marcus Pei and Liam Redhead (they were all in different grades than Eamon). According to his mom, Sherri, he has since learned to love that dance genre and says he wants to make a career of it.
Here, Eamon performs a ballet solo from Le Corsaire:
youtu.be/rXBWI9uxNmA
Credit: Video by Eamon Stocks
Prior to his involvement with Billy Elliot, Eamon had done small roles in film, television and commercials and had appeared in productions with the Whitby Courthouse Theatre, the National Ballet of Canada and First Act Productions. He had also recently added the title of "motion capture artist" to his resume, playing the character of 'Leon; in the popular video game series, Assassins Creed – Dead Kings. (For a complete list of his performing accomplishments, see Eamon's resume on his website.)
Eamon first auditioned for the role of Billy in Winnipeg by submitting a demo tape to the production's creative team in December of 2014. He was then asked to do a call back the following March and shortly thereafter learned he was one of two boys cast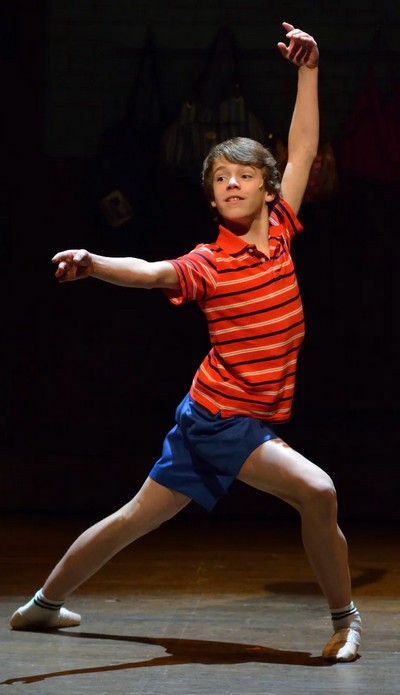 in the role of Billy. The casting announcement for the actors who would play Billy, Michael, Debbie, Tall Boy, Posh Boy and Small Boy was made via a press release in July, 2015.
Then, on 8-Sep-2015, he left his home in Whitby to spend the next five months in Winnipeg. Once there, from September to December he'd be living, training and doing four credits of academic school work at the Royal Winnipeg Ballet.
Rehearsals with the entire cast began in December and continued right up to the opening of the show in mid-January, 2016.
When asked in a radio interview which number from the show he was most looking forward to performing, Eamon replied without hesitation: Electricity. In that same interview he was also asked what it was about dance that attracted him. He said, "Being able to express my emotions through movement is what gets me (about dance)."
For hobbies, Eamon lists dance, piano, guitar, vocals, soccer and hockey.
Eamon displays his voice in this video, singing Morning Glow from the musical Pippin:
youtu.be/H_ClX6dMaAY
Credit: Video by Eamon Stocks
__________________________________
Life After Billy
2016 – After Billy Elliot, Eamon went back to school at Sinclair Secondary in Whitby, Ontario. He danced at the former (now closed) Company B Dance Academy in Oshawa, Ontario in 2016 and 2017. He started at First Act Youth Company in Whitby, Ontario in 2016 and continued to 2019. While with First Act, Eamon played "Nick Piazza" in Fame and also played "Chip Tolentino" in The 25th Annual Putnam County Spelling Bee. In November, he filmed a Home Depot commercial.
2017 – Eamon played "Adam" in the Cradle to Grave TV movie for National Geographic released on January 8, 2017. He attended the One Song Glory Musical Theatre Workshop in Toronto, Ontario. Eamon was "Galileo Figaro" in We Will Rock You, and "Musical Director" in Little Women with the First Act Youth Company.
Eamon was a dancer in the Sweet and Salty episode for The Next Step TV show on the Family Channel. He appeared in an episode of the long running Canadian TVseries Reign on The CW, entitled Blood in the Water, which aired on June 9, 2017. He was "Riley" in Dark Haven High: Class of X — a TV pilot for the Family Channel that aired October 29, 2017.
2018 – Eamon worked in Toronto with LB (Lewis Baumander) Acting Studios in the On Camera Acting for Young Adults program. He played "Archie" in the First Act Youth Company's 13 The Musical. In First Act's Les Miserables, he led the company as "Jean Valjean".
2019 – During this year, Eamon was "Man 2" in Songs for a New World with the First Act Youth Company. With the Oshawa Little Theatre, he played "Garvin" in Footloose in April, and "Riff" in West Side Story in May/June. Eamon was "Romeo" in Newsies in July/August at St. Jacobs Country Playhouse.
youtu.be/JjFjBJ5-rf0
Credit: Video by Drayton Entertainment
Eamon graduated from Sinclair Secondary School in 2019, and started at Sheridan College (Trafalgar Campus) in Oakville, Ontario, seeking an Honours Bachelor of Musical Theatre.
2020 and beyond – As a result of the pandemic, Eamon has been unable to get any work outside of school. He is hoping to get contracts with local theatre companies in southern Ontario when they re-open. Eamon continues to work to complete his degree. After graduating, he hopes to work with the Stratford and Shaw festivals, with a goal of eventually performing in the West End and on Broadway. He will also pursue his interest in playwriting in the hopes of performing in a show he has written.
For more information about Eamon visit:
Billy Elliot the Forum, Eamon's Website, Eamon on Facebook, Eamon on Instagram
______________________________________
To A Complete Listing of All BETM Articles