Note: Tade's Final Performance as Billy in St. Louis was on June 22, 2014
Debuts: May 17, 2011 (Broadway) Feb. 6, 2013 (London) Jun. 16, 2014 (The Muny – St. Louis) Total Performances as Billy: 112.25 [Broadway = 43.75 (includes 1 partial show credited @.5 + 1 partial show credited @ .25)] [London = 62.5 (includes 1 partial show credited @.5)] [MUNY, St. Louis = 6]
Tade Biesinger is from Bountiful, Utah, which is a suburb of Salt Lake City in the United States. He made his Broadway debut as Billy on May 17, 2011. He then became just the second American boy to play Billy full-time on both Broadway and the West End with his debut at the Victoria Palace Theatre on February 6, 2013. He is also the only American to first play Billy in America before taking the role to London where he was the 32nd boy to play Billy in the West End.
Tade's parents first enrolled him in dance classes after watching him mimicking the ice skaters in the 2006 Winter Olympics, sensing his natural athleticism and graceful movements. In an interview with the ABC-TV outlet in Salt Lake City, his dad, Clint, says Tade dances everywhere, "He just wouldn't stop almost. Around our house, in our kitchen, it's just what he does." Sound like a potential Billy Elliot?
He had been dancing for about six years before he auditioned for BETM, beginning instruction at Dance Impressions in his hometown. Tade furthered his dance studies at Ballet West In Salt Lake City. While with Ballet West, he performed in the Nutcracker as Fritz and also in Madame Butterfly. And, as with most young dancers, Tade has participated in many dance competitions along the way, winning several of them. He is the winner of West Coast Dance Explosion "Mini National Male Elite Dancer" for 2009 and New York City Dance Alliance "National Mini Male Outstanding Dancer" for 2010.
Tade first came to the attention of the "Billy Elliot" team during one of those dance competitions and was asked to try out for the show. After auditioning in the Fall of 2010, Tade was told he had been selected for the part in January 2011. He then moved to New York City with his mom and sister, where he trained in all the areas he had to know to be Billy in a three hour Broadway show. Those skills consisted of dance (ballet, tap, modern), acting, vocal instruction, acro and working with a dialect coach to learn and perfect the tough Geordie accent all the actors in the show must use when they speak and sing. And, on top of all that, he had to do an average of three hours of academic tutoring five days a week to keep up his schooling.
As has been the case with so many of the new Billys, Tade found one of his biggest challenges was to build up the stamina needed to perform the role of Billy, having to be on stage constantly in an almost three hour show. Cardio exercises took up a lot of his training day. He has also said he often did all the dance steps in the show from beginning to end as a way of building his stamina.
In the days before his Broadway debut, though often long and tiring as he prepared to be in the show, he kept that ever present goal of performing in front of an audience as his motivation. "The thing that I'm most excited for is just performing with the whole company and doing what I love to do, and performing for all of those audiences," said Tade.
With his Broadway debut, he finally got that opportunity. And those filling the seats at Broadway's Imperial Theatre were the beneficiaries when he "tread the boards."
On November 15, 2011, Tade had the honor of playing Billy on the night the show celebrated the 3rd anniversary of the BETM production on Broadway. He was in the final cast of the Broadway show when it closed on January 8, 2012, having performed the role 43.75 times (the .75 includes one partial show @ .5 and the final show on Broadway in which all four Billys shared the role and for which they were each credited with a .25).
And then, almost a year later, the call came asking if he'd be interested in being Billy in London and the West End was blessed with the Tade's incredible talent.
Over the years, the London BETM creative staff and the cast have produced a series of "behind the scenes" videos so that interested fans of the show could see its inner workings. Soon after Tade joined the London cast, he was featured in one of these videos (released on 12-Mar-2013) in which he talks about what it's like to Be Billy and emcees a brief backstage tour:
http://https://youtu.be/Bm73LoBVIFs
Credit: Video by timeoutlondonvideo
In April of 2013 at the Olivier Awards (the West End equivalent to Broadway's Tonys), Tade and other members of the BETMUK cast were present to receive, on behalf of everyone involved in the London show, the prestigious BBC Radio 2 Audience Award. After several years of being nominated for this award, as voted on by the general public, BETM had finally won.
As part of the Olivier Awards festivities, during the afternoon of the day when the Awards will be presented that evening, various West End shows perform numbers from their productions at the Radio 2 stage in London's Covent Garden Piazza.
Credit: Photo by Keith Millar
On that day (April 28, 2013), Billy Elliot the Musical was one shows to perform. In this video, Tade is shown performing Electricity:
http://https://youtu.be/XDEU7BIkJrw
Credit: Video by Sam4God
Tade played the role of Billy for the last time on Sunday, June 22, 2014. It was his 112.25th performance (62.5 in London, 43.75 on Broadway and 6 at The Muny). That total includes two partial shows @ .5 each and the final Broadway show – shared by all four Billys — @.25.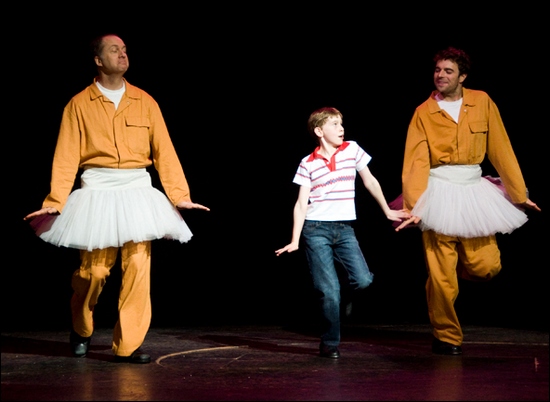 Credit: Photo by Monica Simoes
___________________________
Life After Billy
After performing in Billy Elliot on Broadway, London's West End and at MUNY in St Louis, Tade returned to a "normal" life as a High School student at Bountiful High School in Utah. He trained with the University of Utah Ballet Program the last couple years of High School.
During his Senior year of High School, he took part in a production of Newsies at Pioneer Theatre Company in Salt Lake City, in December of 2017.
Tade attended Marymount Manhattan College, majoring in Dance, after graduating high school in 2018.
Tade took a leave of absence to serve and teach, in a full time mission for The Church of Jesus Christ of Latter-day Saints, which will continue for two years. The position is an Alpine German Speaking Mission and includes Southern Germany, Austria, and part of Switzerland.
Tade's future plans include returning to school in New York and continuing his training in hopes of dancing professionally.
To learn more about Tade Biesinger visit:
Billy Elliot the Forum, The Tade Biesinger Facebook Appreciation Page
_______________________________________
To The Alphabetical Profile Index