Note: Drake's final show as Billy in Billy Elliot the Musical (BETM) in Fargo, North Dakota, presented by Fargo Moorhead Community Theatre (FMCT), was on May 14, 2017.
Debut: May 5, 2017 (Fargo, ND)
Total Performances As Billy: 7 (No partial shows)
Drake Aasen was 13 years old (d.o.b. = 11-Aug-2003) and a student at the Cheney Middle School in West Fargo, North Dakota at the time of his debut as Billy.
In addition to his interest in drama, Drake has an outlet for his love of music as a member of the Cheney Middle School orchestra. Other interests include drawing, reading, playing video games and football.
One can get an idea regarding Drake's creativity and personality from viewing the videos he's created on his Youtube channel. Here's an introduction to the channel:
Credit: Video by Drake Aasen
Unlike many of the boys who have played Billy around the world, Drake had never taken classes in tap dance or ballet before he was cast as Billy. But with intense rehearsals since November led by director/co-choreographer Anna Carol and co-choreographer Matthew Gasper, Drake has been a quick study.
Drake's previous stage experience includes his initial work with FMCT dating back to his first two productions: playing a Munchkin and Nikko the Flying Monkey in The Wizard of Oz and then the role of Benjamin in the FMCT production of Joseph and the Amazing Technicolor Dreamcoat. A more recent role was that of JoJo in FMCT's production of Seussical The Musical in December of 2015.
Drake's debut as Billy makes him the 193rd boy to bring Billy to life on stage in a professional, regional or community theatre production of the musical.
___________________________________________
As noted, the original profile article, above, was authored by porschesrule. The Life After Billy segment, below, was researched and written by rsbatchelor.
Life After Billy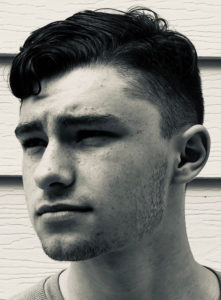 2017 to 2018– After Billy Elliot, Drake took classes at North Dakota Academy of Dance for about a month and a half. He had to stop dance classes while performing in three musical theatre productions simultaneously in the fall. Drake was in Addams Family at West Fargo High School.
At the Fargo-Moorhead Community Theatre he performed in 1940's Radio Hour. He was in a short adaptation of Metamorphosis at North Dakota State University. He also participated in a read through of a developmental show at the Ordway Theatre in Minnesota.
2019 – Drake performed in The Secret Garden, Moon Over Buffalo, The Yellow Boat, Little Shop of Horrors and Damn Yankees in 2019 at West Fargo High School. This was the year, as Drake put it, "I found out that my class was just as passionate about theatre as I was."
2020 – Drake was in the production of Let the Right One In at West Fargo High School until it was shutdown due to Covid 19. He performed in a virtual production for a student at North Dakota State University. In the Fall he performed in the Diary of Anne Frank at West Fargo High.
2021 – Drake completed his Junior year at West Fargo High. Summer 2021, Drake performed in the Trollwood Performing Arts production of Rodgers and Hammerstein's Cinderella, with shows on July 14-17, 21-24, 28-31. He played the starring role of Sweeney Todd in Sweeney Todd the Musical in November at West Fargo High School.
Drake was a Guest Contributor in the article An Ode to the Theatre: A Reflection from Drake Aasen in the November 29, 2021, thePacker: West Fargo High School's Student Newspaper.
He also participated in the Summer Arts Intensive program in town for a few summers, learning and performing full-length productions after a month's rehearsals.
2022– Drake will be performing in Something Rotten as Nigel Bottom at Sheyenne High School.
He plans to attend Savannah College of Art and Design majoring in Musical Theatre this fall.
For more information about Drake visit:
Billy Elliot the Forum, Drake's Instagram, Drake's Facebook, Drake's Youtube
______________________________________
To A Complete Listing of All BETM Articles