Note: Kaine's Final Performance as Billy in London was on February 16, 2013
Debut: November 14, 2011  (London)
Total Performances as Billy: 129 (includes 6 partial shows credited @.5 ea)
On November 14, 2011, the then 12-year-old Kaine Ward (D.O.B = 24-Nov-1998) from Watford, Hertfordshire, England became the 28th boy to play Billy on the Victoria Palace Stage and the 61st to play the role worldwide in Billy Elliot the Musical.  Kaine replaced long-time Billy Dean Charles Chapman in the London Billy rotation.
At the age of two, Kaine began training at The Village School of Dance and Drama with Caroline Simmonds where he performed in a number of plays and musicals, including Annie and Bugsy Malone. Most recently he's studied at the Tring Park School for the Performing Arts.
He first saw BETM in November, 2010 and immediately knew he wanted to be Billy. His first audition for the show was in February of 2011.  After five months of call backs, he was finally told he would play the title role.  He said "I couldn't believe it!"
When asked what his favorite part of the show was, Kaine replied "The finale, not because it's over but because you get to have fun and be yourself in that bit."  And what does he tell people to encourage them to see the show? "'I tell people that Billy Elliot is a musical with so many different bits in it; it's a musical where you don't have to like musicals to enjoy it."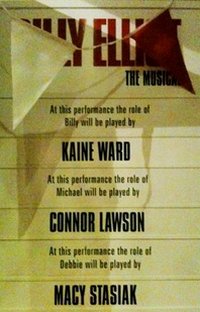 The culmination of all his hard work resulted in his name at the top of the cast board (see photo at right) on Monday, November 14, 2011. So though Kaine found it hard to believe that he had become Billy – it was true, and London audiences got to see the incredible talents of a very impressive ballet Billy.
In April of 2012, Kaine and other cast members of the show participated in an event to welcome the world to London for the 2012 Summer Olympics.  It was called "West End Theatre Welcomes the World".
Below, Kaine poses with BETM Director Stephen Daldry, who was also the Creative Director of 2012 London Olympics ceremonies.
Credit:  Photo by Charlotte Aiston
In June of 2012, the cast of BETMUK, led by Kaine as Billy, again participated in the annual West End Live program at Trafalgar Square:
Credit: Video by Audiolad1976
On February 16, 2013, Kaine performed as Billy for the 129th and final time (includes 6 partial shows @ .5 each).
For more information on Kaine Ward, visit:
Billy Elliot the Forum, Kaine Ward – Billy Elliot Appreciation Society
___________________________