Note: Kaine's Final Performance as Billy in London was on February 16, 2013
Debut: November 14, 2011 (London)
Total Performances as Billy: 129 (includes 6 partial shows credited @.5 ea)
On November 14, 2011, the then 12-year-old Kaine Ward (D.O.B = 24-Nov-1998) from Watford, Hertfordshire, England became the 28th boy to play Billy on the Victoria Palace Stage and the 61st to play the role worldwide in Billy Elliot the Musical. Kaine replaced long-time Billy Dean Charles Chapman in the London Billy rotation.
At the age of two, Kaine began training at The Village School of Dance and Drama with Caroline Simmonds where he performed in a number of plays and musicals, including Annie and Bugsy Malone. Most recently to his playing Billy Elliot, he studied at Tring Park School for the Performing Arts.
He first saw BETM in November, 2010 and immediately knew he wanted to be Billy. His first audition for the show was in February of 2011. After five months of call backs, he was finally told he would play the title role. He said "I couldn't believe it!"
When asked what his favorite part of the show was, Kaine replied "The finale, not because it's over but because you get to have fun and be yourself in that bit." And what does he tell people to encourage them to see the show? "I tell people that Billy Elliot is a musical with so many different bits in it; it's a musical where you don't have to like musicals to enjoy it."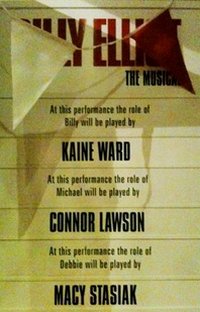 The culmination of all his hard work resulted in his name at the top of the cast board (see photo at right) on Monday, November 14, 2011. So though Kaine found it hard to believe that he had become Billy – it was true, and London audiences got to see the incredible talents of a very impressive ballet Billy.
In April of 2012, Kaine and other cast members of the show participated in an event to welcome the world to London for the 2012 Summer Olympics. It was called "West End Theatre Welcomes the World".
Below, Kaine poses with BETM Director Stephen Daldry, who was also the Creative Director of the London 2012 Olympics ceremonies.
Credit: Photo by Charlotte Aiston
In June of 2012, the cast of BETMUK, led by Kaine as Billy, again participated in the annual West End Live program at Trafalgar Square:
http://https://youtu.be/y0LQB21Fpvc
Credit: Video by Audiolad1976
On February 16, 2013, Kaine performed as Billy for the 129th and final time (includes 6 partial shows @ .5 each).
_____________________________
Life After Billy
2013 – After leaving BETM, Kaine returned to full-time studies at Tring Park School for the Performing Arts where he received his GCSE's and A Levels, RAD/ISTD Qualifications, and the Trinity Diploma in Dance. During this time, he had the opportunity to perform with English National Ballet in The Nutcracker at The London Coliseum, and Swan Lake at the Royal Albert Hall. In the summer of 2013, Kaine joined The National Youth Ballet of Great Britain, playing the lead role in Toad, at The Bloomsbury Theatre, London. Kaine danced with the National Youth Ballet for the next 3 seasons at Sadler's Wells Theatre in London. There he had the opportunity to work with a wide array of choreographers.
2014 – In August of 2014, Kaine competed in Sky 1's Got to Dance and made it all the way to the final. Here is his performance in the final:
Credit: Video by Got To Dance Sky1
Kaine also returned to BETM in 2014 to participate in the special mash up performance during the finale of Billy Elliot Live! He also participated in the similar BETM mash up performance on ITV's Sunday Night at the Palladium. Kaine won the Move It 2014 Freestyle Stage award.
2015 – Kaine was awarded the Bronze Statuette at the gala performance for National Youth Ballet at Sadler's Wells Theatre in London.
2016 – In the Summer of 2016, Kaine was accepted and attended The Juilliard School Summer Dance program in New York City. On Sunday 13 November 2016 at Elmhurst School of Dance in Birmingham, Kaine

was an Imperial Society of Teachers of Dancing (ISTD) Bursary Award Winner. Here's a video clip highlighting his winning performance (begins at 4:18 into the video):
Credit: Video by ISTD
2017 – In 2017, Kaine was a Semi Finalist in BBC's Young Dancer competition in the contemporary category. He later performed a duet alongside Anaya Bolar for the South Asian category final. Kaine graduated from Tring Park School for the Performing Arts. In June, Kaine joined the cast of Holly Blakey's Some Greater Class Tour, performing at London's Southbank Center and on the Waterfront Stage at the Latitude Musical Festival. Kaine was one of 24 dancers selected to join the class of 2021 at The Juilliard School in New York City beginning a four year degree program there. During his time at Juilliard, Kaine performed new creations by a variety of choreographers and also danced to many other pieces by notable choreographers including Martha Graham's Rite of Spring. As a choreographer, Kaine was one of six students selected to create for Juilliard's Choreographers and Composers concert and has also had his choreography performed in Juilliard's Choreographic Honors concert.
2018 – In June, Kaine filmed a commercial in Bangkok, Thailand for Japanese Fashion store ZOZO. Kaine also taught contemporary classes at the Tring Park School Summer Dance Program. In September, He performed in Unknown 9 for Reflector Entertainment. Unknown 9 was an immersive experience at The McKittrick Hotel, NYC in collaboration with Comic Con. Also in September, Kaine performed Improvisation to the song Je Te Laisserai Des Mots by artist Patrick Watson.
Credit: Video by Kaine Ward
2019 – In the summer of 2019, Kaine attended Springboard Danse Montreal, Canada. He worked closely with Kate Hilliard and Shannon Gillen in Vim Vigor Dance Company on two new creations. He was also a Residential and Rehearsal Assistant for the Juilliard Summer Dance Intensive in NYC. Chaos Theory is an example of Kaine's choreography that premiered in the Wilson Theatre at Juilliard on November 23, 2019.

2020 and beyond – Kaine was dancer, choreographer and editor in Space of Your Bed in summer 2020 at Julliard.
Credit: Video by The Julliard School
Kaine has been in New York for the entirety of the COVID-19 pandemic. He is continuing to create and prepare for many exciting upcoming performances that will be streamed online by Juilliard later in 2021! He is scheduled to graduate from Julliard in 2021 with a BFA Degree in Dance.
For more information on Kaine Ward, visit:
Billy Elliot the Forum, Kaine Ward – Billy Elliot Appreciation Society
Kaine's Website, Twitter, Facebook, Instagram
___________________________