Note: Drew's final North American Tour performance as Billy was in Sao Paulo, Brazil on August 18, 2013
Debut: December 15, 2012 (Austin, TX)
Total Performances as Billy: 66 (No partial shows)
Hailing from Clive, IA (a suburb of Des Moines), Drew Minard (D.O.B. 20-Jul-2000) was the 12th boy to play the role of Billy on the North American tour and the 68th actor in the world to play Billy on stage in BETM.
Like most of the Billys, Drew comes from a dance background, having begun at the age of three. Early in his training, he studied at the Iowa Ballet Academy in Urbandale, IA. In the year just before his involvement with BETM, he was coached by Ballet Des Moines artistic director Serkan Usta at the School of Classical Ballet and Dance in West Des Moines.
And like many other young dancers, Drew participated in many dance competitions and has won his share of awards along the way. He has won titles in various Youth America Grand Prix (YAGP) competitions and, in the spring of 2012, Drew competed as an 11-year-old in New York against dancers from more than 55 countries and was recognized as the best in his age division. He has also won the prestigious Hope Award at the YAPG. Says Usta ""I knew Drew would win something because he is a very talented and natural entertainer, but to win the Hope Award is an amazing achievement. We are all just delighted. Our community should be very proud of how well this young man represented his city."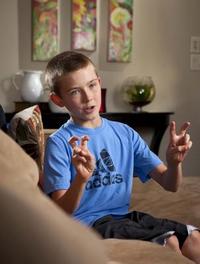 Drew is also a young man with a social conscience. After seeing the documentary film Bully, and having been bullied himself, Drew decided that the problem of bullying required kids to not just stand on the sidelines, but to take action. "There is no such thing as an innocent bystander," he said, as he launched a student-led bullying prevention initiative at West Des Moines' Crossroads Park Elementary School, which he was attending at the time. "I think the whole world needs to watch this (film), so they can see how bad it can really get." Here's a short video he put together to illustrate the problem to his peers:
Credit: Video by West Des Moines Community Schools
Former Broadway Billy Alex Ko and Drew are both natives of Iowa and, after Drew competed for and won a dance scholarship sponsored by the scholarship fund created in memory of Alex's dad (see Aspire Scholarship Program), Alex's mom Tammie suggested to Billy children's casting director Nora Brennan that Drew be invited to try out for the role of Billy. He was 10 when he traveled to New York City for that first BETM audition. At the tryout, though Drew danced and sang well, he was too short at just 4 feet 6 inches and was told to wait a while and try again. Two auditions were to follow and he grew another 4″ by that third audition. As the saying goes, "the third time is a charm", and Drew was offered the role in the touring production of the show.
In October of 2012, Drew and his mom were off again to NYC, this time to begin several intensive weeks of training to prepare him to debut as Billy. There he trained with fellow new Billy Mitchell Tobin. The training consisted of acting, singing, dialect and dance as well as work with a cardio specialist who helps the Billys to build up the stamina they need to be able to perform for the nearly three hour duration of the show. After the core training in NYC, the boys joined the tour at the stop in Omaha, NE (Nov. 27-Dec. 2) to continue the training with the in-house resident director and cast before debuting in Austin, Texas (week of Dec. 11-16).
Earlier in 2012, Drew danced in a VIP Dance competition and finished first in his age group at the Des Moines regionals. Here's a video of him performing his winning performance called "Fever":
Credit: Video by VIP Dance
Drew's Billy journey came to an end on the final day of the Tour's existence in São Paulo, Brazil. He performed the role for his final time (66 altogether) at the matinee performance on 18-Aug-2013.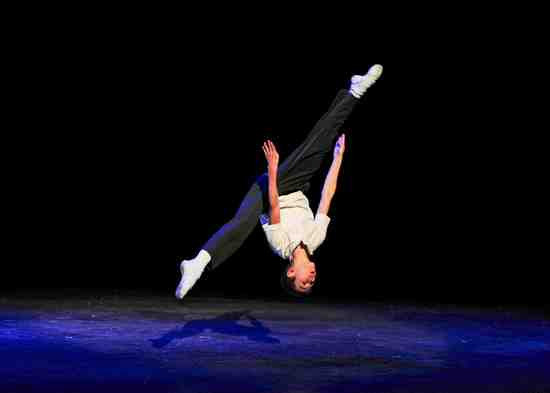 Credit: Photo by Amy Boyle
__________________________
Life After Billy
After his final performance as Billy, in the Spring of 2014 Drew played the role of "Charlie" in the Barrow Group's production of The Beautiful Dark at the TBG Studio Theatre in New York City.
Drew was one of the background dancers on a segment of the Tonight Show starring Jimmy Fallon called "Ew".
He also appeared in the official music video by Oh Land called Cherry On Top:
Credit: Video by Oh Land
Drew then started at the Professional Performing Arts High School in Manhattan, majoring in Musical Theatre. He participated in many school productions including playing the role of "Riff" and was the Dance Captain in West Side Story. He also performed as "Mike" and was the Dance Captain in A Chorus Line and performed in Into The Woods while also acting as the Associate Director.
After graduation from high school in 2018, Drew attended the College-Conservatory of Music (CCM) in Cincinnati, Ohio, majoring in Musical Theatre for one year. While in CCM, he was the featured dancer in Guys and Dolls.
Drew continues to work with Peregrine Theatre Ensemble. In the summer of 2019 he worked on Cabaret the Musical, serving as the production's Associate Director and Choreographer.
Currently Drew is in New York City teaching dance, auditioning and working with various LGBTQ+ organizations in the fight for equality.
In 2020, he plans to get certified in Yoga and to continue to serve as Associate Director for various regional productions around the U.S.
The following video is Drew's "Dance Reel" and it shows off his dance skills in a variety of styles:
Credit: Video by Drew Minard
In October, 2021, it was announced that Drew had been cast in the Broadway revival of The Music Man, which will star Hugh Jackman and Sutton Foster — marking Drew's Broadway debut. Drew is listed on the cast list using his full first name of Andrew Minard.
For more information about Drew, visit:
The Billy Elliot Forum, Drew's Website
______________________________________
To The Alphabetical Profile Index
To The North American Tour Profile Page