Note: Mitchell's final show as Billy was at the Patchogue Theatre on Long Island, NY on 8-Aug-2015.
Debuts: Dec. 16, 2012 (North American Tour) Dec. 9, 2013 (London) Jan. 16, 2015 (La Mirada, CA) Jul. 8, 2015 (Music Theatre Wichita) Jul. 22, 2015 (Patchogue Theatre, NY)
Total Performances: 174.75 [North American Tour = 60.5 (includes 3 partial shows credited @.5)] [London = 68.25 (includes 4 partial shows credited @.5 + 1 partial show credited @ .25)] [La Mirada/Alex Theatres = 24 (no partial shows)] [Music Theatre Wichita = 7 (no partial shows)] [Patchogue Theatre = 15 (no partial shows)]
The state of Florida produced its third Billy Elliot (the others being Tommy Batchelor and Ethan Fuller) when Boca Raton's Mitchell Tobin (D.O.B. 7-Apr-2000) debuted on Sunday, December 16, 2012 in Austin, Texas, a stop on the North American Tour. He was the lucky 13th boy to play Billy on tour and the 69th in the world to do so.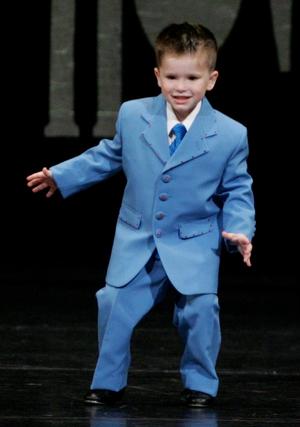 At the age of three, Mitchell was first exposed to dance when he accompanied his mom to take his older sister to her dance classes. He thought it looked like fun and enrolled in his own classes and by the age of four he had begun participating in dance competitions. A year later, he was dancing solos.

At the age of nine, Mitchell saw the Broadway production of BETM and it was love at first sight. He says, "I was speechless. I knew I had to get this role. It was my dream to do it". So he attended an open call to audition for the show in Orlando. It was there that BETM children's Casting Director Nora Brennan first saw him. While at that age he was too small for the role, Mitchell's mom, Valerie, relates, "She (Brennan) saw something in him and would call me every year and would have me bring him back for a follow-up." When he was finally big enough to fit the part, the auditioning began in earnest. It took a total of four auditions, but Mitchell finally was cast as a Billy for the North American Tour.
The tour director, Steven Minning, was based in New York and had responsibility for the training of new cast. He explained that each boy who was chosen to be Billy was encouraged to bring his own personality to the role. Says Minning, "We cast Mitchell because he's Mitchell. He has an impish quality; he's very smart, he's always thinking ahead. And there was just something quite charismatic about Mitchell. His zest for life really jumps out. That's who his Billy is".
So having achieved his goal of being Billy, Mitchell began the intensive training to learn the role. He and his mom went to New York in October of 2012 for that training. "We had about five weeks to learn the part," Mitchell explained. "It was very stressful because we had to learn the role in such a fast period of time, but it was fun at the same time." His days during that training period averaged 12 hours — six days per week. Included was dance (tap, ballet, modern dance and hip-hop), acrobatics, singing, acting and three hours of academic tutoring each day.
Having completed his NYC training, in November 2012, Mitchell traveled to Omaha, Nebraska to finalize his training while working with the tour cast and creative team. This culminated in technical rehearsals and then the final step the week before his debut — his "put-in" rehearsal — where he basically did the show with full cast and music – just without an audience.
When he wasn't away from home preparing to be Billy and traveling around North America with the Tour, Mitchell attended the Bak Middle School of the Arts in West Palm Beach, Florida. If that school sounds familiar, it may be because you recognize it as the school a former Billy (on Broadway and in Chicago) attended — Tommy Batchelor. In addition, Mitch has received instruction in dance and acrobatics from Performance Edge 2 in Ft. Lauderdale, FL and has competed for that studio in many dance competitions, winning several awards; among them was Junior Mr. Showbiz in 2011 in the Showbiz National Talent competition.
To give Skykid readers an idea of Mitchell's dance abilities, here's some video footage of him dancing in 2012. The first is in a contemporary piece:
http://https://youtu.be/p1XYHQ8NOlQ
Credit: Video by valtobin65
The second number demonstrates his expertise in tap:
http://https://youtu.be/v-LsmEX3lwQ
Credit: Video by valtobin65
Mitchell is among the youngest and was definitely the smallest boy to play Billy in North America. But big talent comes in this small package and, after his debut, he thrilled audiences around the US and Canada with his portrayal of the boy who just wants to dance. He played the role for the 60.5th time in the Tour's final show in São Paulo, Brazil, the evening of August 18, 2013.
Shortly after completing his stint with the Tour production of the show, Mitchell was asked to join the BETM rotation at the Victoria Palace Theatre in London. After several months of training and becoming acclimated to life in Great Britain, he debuted as the West End's 36th Billy on 9-Dec-2013. He was the eighth American to play the role on the VPT stage (and the last to do so). With his debut in London, a whole new group of people got to view the extraordinary talents of this talented boy from Florida.
On June 30, 2014 BETMUK released a new "Meet Billy Elliot" featuring Mitchell:
http://https://youtu.be/kfIZzSPzTAc
Credit: Video by Billy Elliot The Musical
Mitchell performed as Billy for the final time on Saturday evening, July 19, 2014 on the VPT stage in the West End. It was his 68.25th time in London and 128.75th overall performance combined (Tour and London). For a breakdown of his performance count, see the top of this profile.
On Saturday, January 10, 2015, the Tobin household received a phone call they never expected. It was Tom McCoy of McCoy/Rigby Entertainment, producers of a Billy Elliot the Musical production due to open at the La Mirada Theatre in California on Friday, January 16, 2015. The original Billy for that show, Noah Parets (who had been in the North American Tour cast with Mitchell), had broken his arm in rehearsal for the show and Mitchell was invited to step in and take his place as Billy for the 21 shows at the La Mirada and three additional shows at the Alex Theatre in Glendale, California.
Mitchell would have four days to rehearse before Opening Night. He accepted and was on a plane the next day for California.
He successfully debuted in California on 16-Jan-2015 and went on to play Billy 24 times at the La Mirada and Alex Theatres on the West Coast.
In April 2015, it was announced that Mitchell had again been cast to play Billy in the Music Theatre Wichita production of the show which ran from July 8-12, 2015, a total of seven shows during that span.
Mitchell also signed to reprise the role July 22 to August 8, 2015 at the Patchogue Theatre on Long Island, New York, where he shared the role with Brandon Ranalli, who had served as his understudy in Wichita.
And with two shows on the final day of the Patchogue Theatre run, Mitchell concluded his career as Billy Elliot, a journey that took him all over the US and the world in just under three years.
Mitchell has expressed, in the past, the desire to study ballet in greater depth after his Billy days are over. All his fans will be watching with great interest to see where his vast talent takes him in the future. Happy Trails Mitchell! And thanks for so many great memories!
Credit: Photo by Amy Boyle
____________________________
Life After Billy
Due to some chronic foot issues, he gave up two dance company offers in order to go to college. Mitchell wanted to pursue all genres of dance, including Broadway, singing and acting. He started School at Pace University Commercial Dance in Fall of 2018.
In the Spring of 2020, with Pace University, Mitchell will be performing in Dance Out Loud.
In October, 2021, it was announced that Mitchell had been cast in the Broadway revival of The Music Man, which will star Hugh Jackman and Sutton Foster — marking Mitchell's Broadway debut.
For more information about Mitchell, visit:
Billy Elliot the Forum, Mitchell's Official Website, Mitchell Tobin Facebook Appreciation Page, Mitchell on Instagram
____________________________
To The Alphabetical Profile Index
To The North American Tour Profile Page
To the US Regional Productions Profile Page