Note: Benjamin's final show as Billy was in the US Regional production of BETM presented by Playhouse on the Square in Memphis, TN, on September 6, 2015.
Debut: 13-Aug-2015 (Playhouse on the Square, Memphis, TN)
Total Performances as Billy: 16 (No partial shows)
Benjamin Cheng was 13 years old (D.O.B. = 28-Jan-2002) when he played the title role in Billy Elliot The Musical in the Playhouse on the Square US regional production of the show, presented from Aug 13 (preview by invitation) to Sep 6, 2015 in Memphis, Tennessee.
Benjamin was a student at the Briarcrest Christian School where, besides the academics, he was active in the Middle School's performing arts program. In addition to the performing arts, Ben lists beatbox, magic and card tricks, and eating anything chocolate as favorite things to do.
His training in the performing arts includes dance classes (Hip-Hop, Jazz, Tap, Ballet) with Kara Marcum at Dance Dynamics, Voice and Master Dance classes at Broadway Connection, as well as private Tap classes from Whitney Branan and private Voice lessons from Daniel Spiotta.
In dance, Benjamin has been very successful as both a soloist and in group competitions.
As an example of his dance skills, in this brief video, at a National Dance Competition in 2015, Benjamin's group was awarded 1st Place Small Group Overall for their rendition of Another One Bites the Dust:
For someone his age, Ben had an impressive resume already. Some of the recent theatrical presentations he had been involved with prior to BETM include:
| | | |
| --- | --- | --- |
| Production | Role | Place/Production Type |
| Peter Pan Jr. | Peter | Memphis, TN – Community |
| The Boy From Oz (Dir. Jerry Chipman) | Young Peter | Memphis, TN – Regional |
| Beauty and the Beast | LeFou | Memphis, TN – Community |
| Little Mermaid | Flounder | Memphis, TN – Community |
| Peter Pan (Dir. Dave Landis) | Nibs | Memphis, TN – Professional |
| Les Miserables (Dir. Gary John La Rosa) | Gavroche | Memphis, TN – Professional |
In this short video, Benjamin displays his vocal skills as he performs as Gavroche in Les Miserables:
Benjamin auditioned for BETM on February 14, 2015. The audition process was lengthy and thorough. Benjamin and the other boys auditioning were asked if they knew what was going on during Billy's time and what they thought of Billy. They then played a game to get loosened up (and to see how well they acted with others). From there they learned a ballet routine, then performed in groups.
They also learned a tap routine and again performed in groups. Finally, they had vocal auditions. After that first phase was over, some of the boys were asked to stay. Those who stayed then did cold reads of the script. On February 24, 2015 Benjamin was offered the role.
As Benjamin had no gymnastics/acro training before this show, in May that was the first thing for which he began to get training. He also began to learn the tap and ballet routines specific to the show. Per his mom, Shelly, Benjamin couldn't do splits at the beginning but by July had them down. After that, rehearsals with the rest of the cast began and continued right up to the first preview on August 13, 2015.
And, when he set foot on the stage of the Playhouse on the Square theater that evening, Benjamin joined a very exclusive club. He became the 107th young actor in the world, since Liam Mower became the first in 2005, to professionally play the role of Billy Elliot.
Credit: Videos in this article by Benjamin Cheng/Production Photos by Chris Neely Photography
__________________________________________
Life After Billy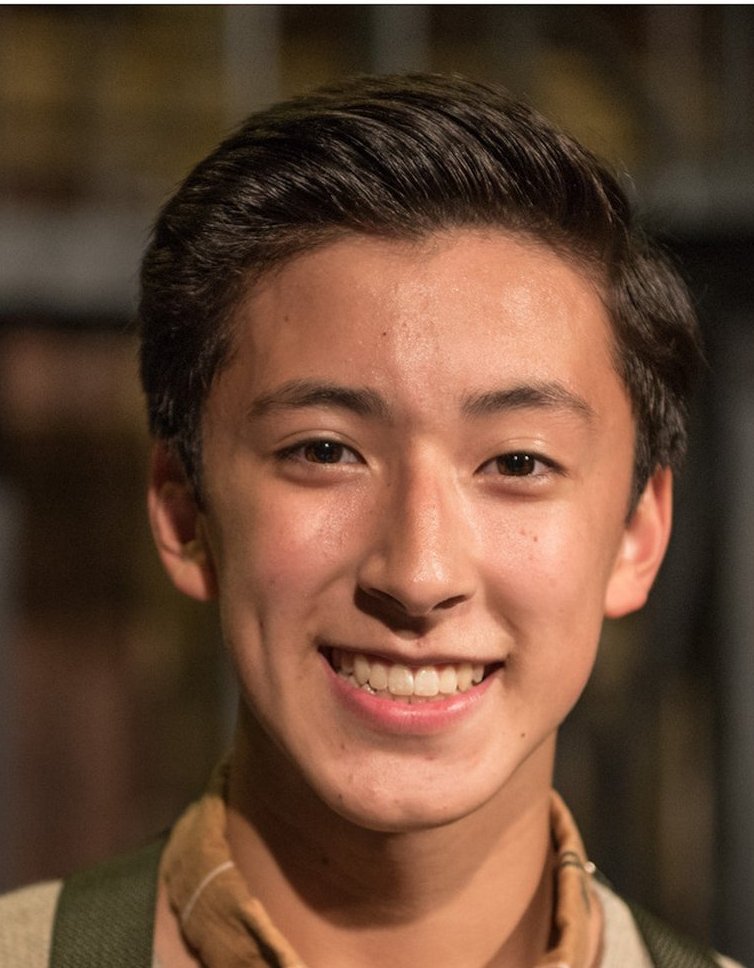 2015 – After Billy Elliot, Benjamin performed Electricity for the Rising Stars Concert, and in August for the 2015 Ostrander Awards at the Orpheum Memphis. He was a principal basketball player in a national TV commercial for Mazda called Mazda Drive for Good in December.
2016 – Benjamin continued to be active in the drama program at Briarcrest Christian School. He played "Nelius" (statue) and a "Chimney Sweep" in Mary Poppins in February, and in April Benjamin played the tile role of Aladdin in Aladdin Jr. He had a "wonderful experience" playing the "Artful Dodger" in Oliver in June/July at Theatre Memphis.
In Beauty and the Beast, September 2 to 25, 2016, Benjamin played "LeFou" (a fool) at Theatre Memphis where he was nominated for Best Supporting Actor in the High School Musical Awards. In October he played "Tumnus" in Narnia. Benjamin is classically trained by Carolyn Cansler in voice. He was also a member of the National Honor Society from 2016 to 2020.
2017 – In the production of Into the Woodsat at Briarcrest in February, Benjamin played "Jack" and later in that year he received a Memphis High School Musical Supporting Actor Nomination for his performance. He was "Mufasa" in Disney's Lion King Jr at the DeSoto Family Theatre in April. He performed "one of the most physically exerting" numbers (Shipoopi) from The Music Man at the DeSoto Family Theatre in July, as seen in this video:
Credit: Video by Benjamin Cheng
In Shrek (August/September) at Theatre Memphis, Benjamin was the "Pied Piper" and in the "Adult Ensemble".
Also in 2017, Benjamin earned a Memphis French Music Award for 1st place duet and a Joseph A. Clayton Academic Award for ranking in the top 10% in his class.
2018 – In February, Benjamin played "Lucas" in The Addams Family at Briarcrest.
Also at Briarcrest, in Beauty and the Beast, he played "Salt and Pepper" and was in the "Adult Ensemble". From June 8 to July 1, Benjamin was in the "Adult Ensemble" for 42nd Street at Theatre Memphis and was again in the ensemble of Newsies (Regional Premiere) in August/September.
OneVoice
Briarcrest Christian School is well known for its music programs. One of the most popular groups is called OneVoice. Under the direction of Dr. J.D. Frizzell, OneVoice has become a leader in the contemporary a cappella movement, performing popular music of many styles, and Benjamin has been a very active member of the group, often soloing during its performances. In 2018, OneVoice released Where the Streets Have No Name with Benjamin performing as an a cappella soloist and beatboxer for the recordings. In October, he performed in Los Angeles for the Emmy's 70th annual Governor's Ball with OneVoice. OneVoice received the A Cappella Music Award, Pop Group of the Year.
Benjamin played "Phil" in White Christmas at St. Mary's Episcopal School's Fall Musical.
Credit: Video by Benjamin Cheng
In other 2018 accomplishments, Benjamin was in the National French Honor Society 2018 to 2019. He received the National Association of Teachers of Singing (NATS) 1st place in regional musical theatre, and the Memphis French Music Awards (1st place solo). He also again earned the Joseph A. Clayton Academic Award for top 10% of the class.
2019 – Benjamin played "Quasimodo" in The Hunchback of Notre Dame (Regional Premiere) at the Briarcrest Theatre, in February/March. The performance earned Benjamin a 2019 High School Memphis Musical Theatre Lead Actor Nomination.
Credit: Video by Benjamin Cheng
March of 2019 saw the release of Flying with OneVoice, an a cappella song written by Nashville artist Cody Fry with Benjamin as soloist. The song would later be nominated for Best Religious Song by CARA. He was "Dance Captain" and in the "Ensemble" for Mamma Mia at Theatre Memphis in August.
2020 – In February, Benjamin performed at Briarcrest in Singing in the Rain, starring in the iconic role of "Don Lockwood", originated by Gene Kelly in the 1952 film of the same name. In these two video clips, Benjamin is seen singing and tapping in the show.
__________________________
Credit: Videos by Benjamin Cheng
He played "Gomez" in the sold-out show The Addams Family in 2020 for St. Mary's Episcopal School Arts Program.
Benjamin graduated from Briarcrest Christian School in June 2020 in the top 20 of his class. He also released the solo Underground on the album Someone to You with OneVoice, which focuses on the growth of a person. You can listen to the album on Spotify. Benjamin was also a soloist for a viral video singing A Cappella in It Is Well With My Soul.
In August of 2020, Benjamin began his first course at University of Cincinnati College Conservatory of Music (CCM), as a class of 2024 Musical Theatre Major. Currently he is receiving vocal training with Derrick Davis and was thrilled to perform for Lea Solanga during his first college year.
2021 – Benjamin aspires to continue "learning more on the piano, growing in his acting, and enhancing his dance abilities." He would also like to perform on Broadway. He will always have "music as a part of his life in some way." He would also like to "deepen friendships and create new ones through collaborative ideas in theatre."
For more information about Benjamin, visit:
Billy Elliot the Forum, Benjamin on Facebook, Benjamin's Instagram
___________________________
To The Alphabetical Profile Index
To The Playhouse on the Square Profile Page
To A Complete Listing of All BETM Articles on Skykid