Note: Jamie's final show as Billy was at the Fulton Theatre in Lancaster, Pennsylvania, on October 15, 2016.
Debut: December 9, 2015 (Maltz Jupiter Theatre, FL)    March 18, 2016 (Company Theatre, Norwell, MA)    June 3, 2016 (Palace Theatre, Manchester, NH)    September 20, 2016 (Fulton Theatre, Lancaster, PA)
Total Performances as Billy:  56  (Jupiter, FL = 5) (Norwell, MA = 15) (Manchester, NH = 16) (Lancaster, PA = 20)  No partial shows  
Jamie Mann was 12-years-old (D.O.B = 25-Jun-2003) at the time of his debut in Florida, and he is from Westport, Connecticut. He has been a student at the Bedford Middle School and he is currently mostly home schooled. Jamie is the eldest of four siblings. While Jamie loves to perform on stage, he also finds time to ski, swim, and play with his friends.
Jamie's love of dance began literally from the moment he could walk. He would dance any time he heard music being played.  That love was enchanced at three-years-old when he saw Swan Lake performed at Retiro Park in Madrid. He was only seven when he saw BETM on Broadway. Jamie began a formal study of ballet after seeing a performance of The Nutcracker in second grade.
His ballet training has been at the Greenwich Ballet Academy in Greenwich, CT, and subsequently with Alvin Ailey on Saturdays and with the School of American Ballet Theatre in NYC. Jamie has danced with the NY City Ballet in its productions of The Nutcracker, Swan Lake, and Harlequinade.  He has also honed his tap dancing skills with mentor Thommie Retter, who played Mr. Braithwaite in the Broadway production of Billy Elliot The Musical. In this video clip, Jamie demonstrates his tapping skills: 
Jamie has also received dance training at the Westport Dance Center and Center Stage Dance Academy.  In this video, Jamie dances with a group of female dancers in their version of Revolting Children from Matilda: The Musical:
Though Jamie loves all forms of dance and performing, his true love is ballet. He aspires to be like his all-time favorite dancer, Mikhail Baryshnikov.
"Right now I'm also a huge fan of Robert Fairchild, he's a dancer at the New York City Ballet, and he's kind of a role model," says Jamie. "He did 'An American in Paris' on Broadway, and I got to go backstage to see him. He's a nice guy, he was really cool, and I definitely look up to him because he does it all."
So while appearing on Broadway is one of his many dreams, joining a ballet company is his No. 1 goal.
When Jamie was nine, Nora Brennan, the casting director for Billy Elliot (as well as Matilda), came to Alvin Ailey, scouting for boys for the Broadway tour (the Broadway show sadly had closed). She later called and said Jamie was just the type of boy they looked for—he had the grace, focus and natural talent. With six months of more rigorous training, with the coaches in New York who had groomed the Broadway Billys, she thought he'd be ready to audition. Jamie began taking privates—ballet, tap (with Thommie Retter, who played Mr. Braithwaite on Broadway), acro—and upping his voice lessons.
What happened next is related by Jill: "As the six-month mark approached, we heard a discouraging rumor: the Broadway tour of Billy Elliot would close soon. We ran into Nora at an audition and she confirmed the rumor was true. "Jamie was on the top of our list," she said with a sigh."  Jamie was beside himself with disappointment.
During the summer of 2015, the Mann's were made aware of an audition for the production of BETM to be done at the Maltz Jupiter Theatre in Florida.  Once again here are Jill's words describing what happened at the audition: "The audition holding room was packed with eager Billys and Michaels (Billy's flamboyant best friend). We recognized one from the tour, others from Broadway shows. Oh boy, this would be no shoo-in. After several grueling hours of tap, ballet and singing, Jamie left forlorn. He beat himself up through dinner, repeating that he just wasn't good enough. The email with the callback details appeared on my phone partway through his diatribe."  But Jamie didn't feel any better after a three hour callback amidst very stiff competition. He thought he didn't have a chance.
But about four days after, the Mann's received a phone call during which Jamie was offered the role of Billy.
Jamie's debut on 9-Dec-2015 at the Maltz Jupiter Theatre made him the 118th young actor in the world to portray Billy Elliot on stage professionally.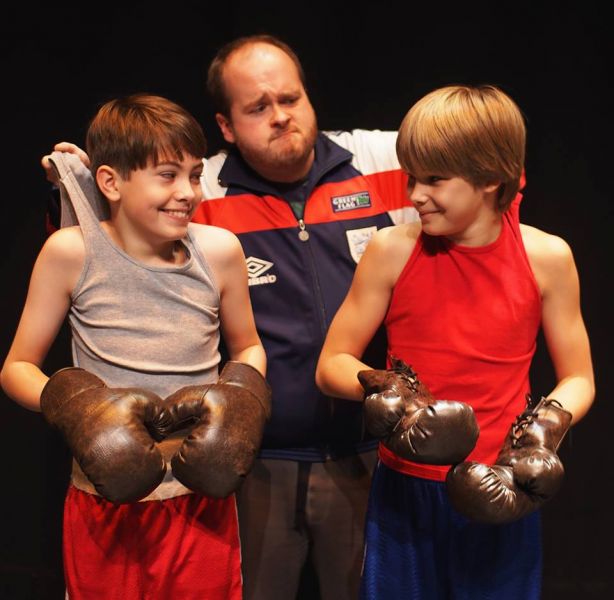 In mid-January 2016, the cast for a regional production of BETM that was to be presented at the Company Theatre in Norwell, Massachusetts was announced. Jamie led that cast from March 18 to April 10, 2016, for 15 performances as the sole Billy in the production.
Here's a video clip of scenes from the Company Theatre production, starring Jamie:
In April of 2016, it was announced that Jamie would star in a third production of BETM, this one another regional to be staged in Manchester, New Hampshire, at the Palace Theatre.  It was presented from June 25, 2016, and Jamie was once again the only Billy in the production.
In June 2016, Jamie received the news that he had been cast as one of two Billys in the production of BETM to be presented at the Fulton Theatre in Lancaster, PA, from September 20 to October 16, 2016.  This was particularly exciting for Jamie since Lancaster is his dad's hometown.
The Fulton Theatre production of BETM was Jamie's fourth time starring as Billy and, according to his mom, Jill, his last.
Credit: Photo by Kinectiv
Note: Videos in this profile are by Jill Johnson Mann.
For more information about Jamie visit:
Billy Elliot the Forum, Jill Johnson's Blog
______________________________________
To the Fulton Theatre Main Page
To the Palace Theatre Main Page
To the Company Theatre Main Page
To the Maltz Jupiter Theatre Main Page
To A Complete Listing of All BETM Articles