Note: Jamie's final show as Billy was at the Fulton Theatre in Lancaster, Pennsylvania, on October 15, 2016.
Debut: December 9, 2015 (Maltz Jupiter Theatre, FL) March 18, 2016 (Company Theatre, Norwell, MA) June 3, 2016 (Palace Theatre, Manchester, NH) September 20, 2016 (Fulton Theatre, Lancaster, PA)
Total Performances as Billy: 56 (Jupiter, FL = 5) (Norwell, MA = 15) (Manchester, NH = 16) (Lancaster, PA = 20) No partial shows
Jamie Mann was 12 years old (D.O.B = 25-Jun-2003) at the time of his debut in Florida, and he is from Westport, Connecticut. He was a student at the Bedford Middle School then and would, in fact, be schooled throughout his school age years in the Westport Public Schools in Connecticut, his hometown (except occasionally when he was working and needed to be provided with tutors at theaters/on set). His family has found the teachers and administration in Westport to be very supportive. He is the eldest of four siblings. While Jamie loves to perform on stage, he also finds time to ski, swim, and play with his friends.
Jamie's love of dance began literally from the moment he could walk. He would dance any time he heard music being played. That love was enhanced at three years old when he saw Swan Lake performed at Retiro Park in Madrid. He was only seven when he saw BETM on Broadway. Jamie began a formal study of ballet after seeing a performance of The Nutcracker in second grade.
His ballet training began at Ballet Etudes in Westport. It continued at the Greenwich Ballet Academy in Greenwich, CT, while simultaneously training with the [Alvin] Ailey Athletic Boys Dance Program in NYC on Saturdays. At the end of Grade 5, Jamie auditioned for and was accepted into the School of American Ballet in NYC. He has danced with the New York City Ballet in its productions of The Nutcracker, Swan Lake, and Harlequinade. Jamie was one of the boys featured in this video from the Wall Street Journal about the young boys who were dancing in the NY City Ballet's 2014 production of The Nutcracker:
Jamie has also honed his tap dancing skills with mentor Thommie Retter, who played Mr. Braithwaite in the Broadway production of Billy Elliot The Musical. In this video clip, Jamie demonstrates his tapping skills:
https://youtu.be/WFUlMewfKr4
Jamie has also received dance training at the Westport Dance Center and acting training at Center Stage, also in Westport. In this video, Jamie dances with a group of female dancers in their version of Revolting Children from Matilda: The Musical:
https://youtu.be/hxDPDqFZ1LI
Though Jamie loved all forms of dance and performing, his first true love was ballet. He aspired, in his younger days, to be like his all-time favorite dancer, Mikhail Baryshnikov.
"Right now I'm also a huge fan of Robert Fairchild, he's a dancer at the New York City Ballet, and he's kind of a role model," said Jamie. "He did 'An American in Paris' on Broadway, and I got to go backstage to see him. He's a nice guy, he was really cool, and I definitely look up to him because he does it all."
So in the days before he played Billy Elliot, joining a ballet company was Jamie's number one goal.
When Jamie was nine, Nora Brennan, the casting director for Billy Elliot (as well as Matilda), came to Alvin Ailey, scouting for boys for the National tour (the Broadway show sadly had closed). She later called and said Jamie was just the type of boy they looked for — he had the grace, focus and natural talent. With six months of more rigorous training, with the coaches in New York who had prepared the Broadway Billys, she thought he'd be ready to audition. Jamie began taking private lessons — ballet, tap (with Thommie Retter, who played Mr. Braithwaite on Broadway), acro — and upping his voice lessons. He also took additional private lessons from Finis Jhung.
What happened next is related by Jill (Jamie's mom): "As the six-month mark approached, we heard a discouraging rumor: the Broadway tour of Billy Elliot would close soon. We ran into Nora at an audition and she confirmed the rumor was true. "Jamie was on the top of our list," she said with a sigh." Jamie was beside himself with disappointment.
During the summer of 2015, the Mann's were made aware of an audition for the production of BETM to be presented at the Maltz Jupiter Theatre in Florida. Once again here are Jill's words describing what happened at the audition: "The audition holding room was packed with eager Billys and Michaels (Billy's flamboyant best friend). We recognized one from the tour, others from Broadway shows. Oh boy, this would be no shoo-in. After several grueling hours of tap, ballet and singing, Jamie left forlorn. He beat himself up through dinner, repeating that he just wasn't good enough. The email with the callback details appeared on my phone partway through his diatribe." But Jamie didn't feel any better after a three hour callback amidst very stiff competition. He thought he didn't have a chance.
But about four days after, the Mann's received a phone call during which Jamie was offered the role of Billy.
In the Fall of 2015, Jamie danced with the New York City Ballet in their productions of Swan Lake and Harlequinade.
Jamie's debut as Billy, on 9-Dec-2015 at the Maltz Jupiter Theatre, made him the 118th young actor in the world to portray Billy Elliot on stage in a professional, regional or community theatre production of BETM.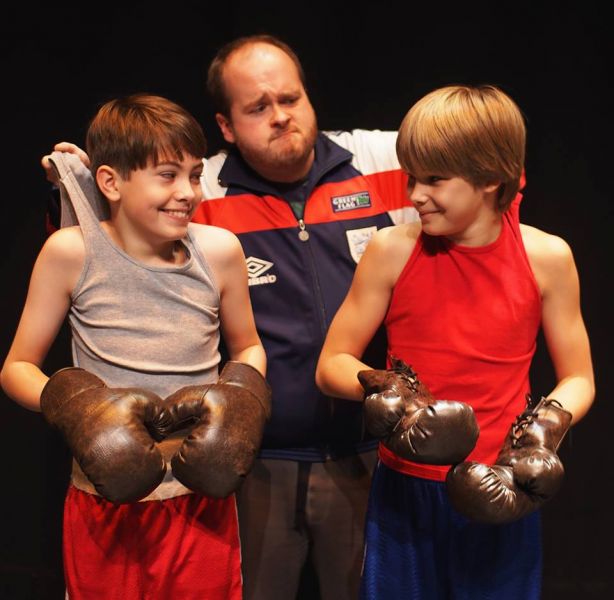 In mid-January 2016, the cast for a regional production of BETM that was to be presented at the Company Theatre in Norwell, Massachusetts was announced. Jamie led that cast from March 18 to April 10, 2016, for 15 performances as the sole Billy in the production.
Here's a video clip of scenes from the Company Theatre production, starring Jamie:
https://youtu.be/P5BG7_iePBs
In April of 2016, it was announced that Jamie would star in a third production of BETM, this one another regional to be staged in Manchester, New Hampshire, at the Palace Theatre. It was presented from June 25, 2016, and Jamie was once again the only Billy in the production.
In June 2016, Jamie received the news that he had been cast as one of two Billys in the production of BETM to be presented at the Fulton Theatre in Lancaster, PA, from September 20 to October 16, 2016. This was particularly exciting for Jamie since Lancaster is his dad's hometown.
The Fulton Theatre production of BETM was Jamie's fourth time starring as Billy and, according to his mom, Jill, his last. Jamie's last performance on October 15, 2016 ended his record-breaking career as Billy, being the first boy to ever play the role in four separate regional productions.
Subsequently, Jamie was offered two more opportunities to play Billy, one in Alaska and one in California, but having seen Braden King in a small BETM production, Jamie decided he'd had his turn to shine in BETM and recommended Braden to those productions.
As mentioned earlier, until Jamie reached the 8th Grade his goal had always been to eventually join a ballet company. But that changed after his experience playing Billy Elliot. Musical theater had won his heart and today his number one goal is appearing on Broadway. With the talent and ambition of Jamie Mann, there is little doubt in the days ahead he'll achieve his goal.
Note: Videos in this profile are by Jill Johnson Mann.
________________________________________
Life After Billy
2016 – Jamie won 1st place in Connecticut in the Dance Choreography for the PTA Reflections Contest The Ballerino, Dancing Through Life:
Credit: Video by Jill Johnson Mann
In 2016, Jamie also played "Wiener" in the New York Musical Festival's Camp Rolling Hills.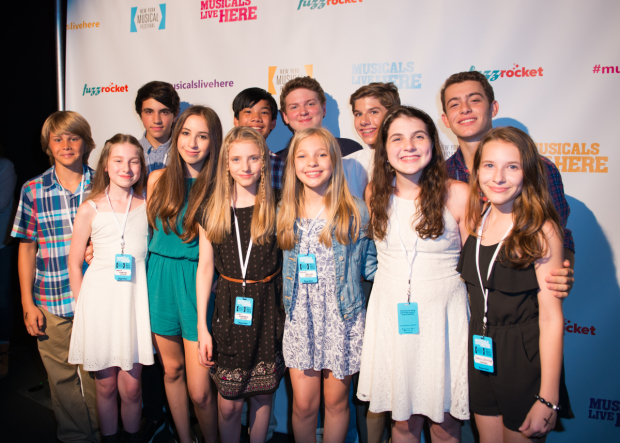 2017 – Jamie played the Newsie "Buttons" in the High School production of Disney's Newsies at Staples Players when he was a freshman in November. Staples High School was one of the first five schools that performed Newsies. In the Westport Playhouse production of the Nutcracker, Jamie played "The Prince" in December.
2018 – On September 15, Jamie was a finalist in CT's Got Talent's Audition Show with Dancing on My Own.
Credit: Video by Jill Johnson Mann
Jamie played "Carlos" in Legally Blonde with the Staples Players in Westport, CT November 9-17, 2018. And, in December, he once again danced the role of "The Prince" in the Westport Playhouse's the Nutcracker.
2019 – In February, Jamie performed Michael in the Bathroom, a song from Be More Chill by Joe Iconis at Green Room 42 in New York City, aided by Trapper Felides on piano. In March, Jamie was "Bobby Pepper" in Curtains at Staples Players in Westport, CT. Jamie sang with Tomaso Scotti in a funny take on What is This Feeling? from Wicked the Musical at the MISCAST concert in May.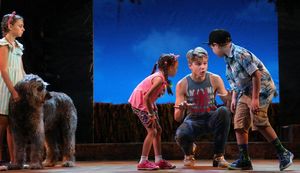 He played "Dunlap Dewberry" in Because of Winn Dixie at the Goodspeed Opera House during the Summer of 2019. He also particiapated in a reading for a new musical about Hunter S. Thompson composed by Joe Iconis in September. He played "Sky" in Mamma Mia with Staples Players in November. On December 16th, Jamie participated in the Triple Threat Academy for Performing Artists' premier of the film Mining An Asteroid. The film was presented at the first Independent Film Project (IFP) at BowTie Cinemas, and starred area teens.
2020 and beyond – In early 2020 Jamie got his first big break in TV/Film and began filming in Los Angeles for the new Netflix show, Country Comfort. Jamie plays the role of series regular "Brody" in the show, which airs for its first season on March 19, 2021. The show stars Katharine McPhee and Eddie Cibrian and is about "an aspiring young country singer who finds the band she's been missing when she takes a job as a nanny for a musically talented family." In this video, Jamie is interviewed about his role in the show by one of Country Comfort's writers, Julia Fowler, who is the creator and host of Youtube's Southern Women Channel
Early in December 2020, Jamie played "Fred Scrooge" in Staples Players' A Christmas Carol. December 19 & 20, 2020, Jamie and Natalia Mann performed Do You Hear What I Hear on Spotlight Kidz Virtual Holiday Cabaret supporting Malignant Hyperthermia Association of the United States (Mhaus). Jamie loves to sing and act. Here is a compilation of Jamie in Staples Players (his high school) productions:
Credit: Video by Jill Johnson Mann
For more information about Jamie visit:
Billy Elliot the Forum, Instagram, Facebook, Jamie's Website
______________________________________
To the Fulton Theatre Main Page
To the Palace Theatre Main Page
To the Company Theatre Main Page
To the Maltz Jupiter Theatre Main Page
To A Complete Listing of All BETM Articles