Note: Adam's Final Performance as Billy in London was on August 18, 2012
Debut: July 3, 2011  (London)
Total Performances as Billy: 107 (includes 6 partial shows credited @.5 ea)

On July 25, 2011,  the just turned 13-year-old Adam Vesperman (D.O.B. 11-Jun-1998) became the 60th boy world-wide to portray the title role in Billy Elliot the Musical, and the 27th to tread the boards on the Victoria Palace Theatre stage.  And with that first show as Billy, the American actor who hails from Kent, Washington (near Seattle), made his professional debut.  He thus continued a tradition of American boys being exported to London in the role.  Past Billys from America have included Colin Bates, Hogan Fulton, Corey Snide, Tanner Pflueger and Trent Kowalik.
Like many of the boys who have played Billy, Adam started dancing at an early age — in his case, seven-years-old.  His pre-Billy training was done at the Allegro Performing Arts Academy in Kent and included instruction in the following dance styles:  ballet, tap, lyrical, jazz and hip hop.  His training also encompassed proper stretch techniques and how to prevent dance related injuries.
And, like many of the other Billys, his pre-Billy days included winning many accolades in dance competitions. The most recent before he was selected to play Billy was in 2010 in the West Coast Dance Explosion (WCDE) Elite Dancer program in Las Vegas. There, pitted against many other 9-11 year olds,  he won the National Champion title, "Junior Male Dancer of the Year".
His final solo performance was at the Seattle Regional WCDE convention faculty show as 2010 National Junior Champion before leaving for London to play Billy Elliot.  The number was  choreographed by Tiffany Miles-Brooks.  His a video clip of that performance:
http://https://youtu.be/kIc2pAsBUsE
Credit: Video by smurfette0669
Adam is also a member of the Allegro Precision Dance Company which is an elite group of dancers that train, rehearse, perform and compete year round.  His group of five boys competed in that same Las Vegas competition in which he won his solo award.  The group placed third with their number called 'PURE Boyz'.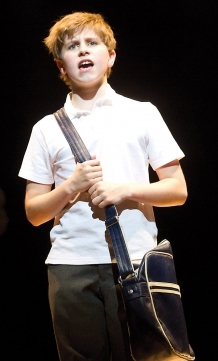 It was at that Las Vegas competition that Adam also auditioned for BETM.  He was later called back for a second audition in New York City and was then selected to play the role of Billy on the West End.
For Adam to be in the London production of BETM, he was a long way from home.  When asked about that he said, ""It's so hard being 5,000 miles away from my family and friends for so long, but it's worth it. Being Billy has changed my life so much – the training, experience, and best of all the wonderful people I get to work with. I miss my family a lot, but being in the show keeps us so busy that I don't really think about it too much."
On February 18, 2012, Adam helped celebrate the 175th Birthday of the Theatre Royal in Newcastle, England, by performing at the the gala celebration.
And he's also aware of the tradition, mentioned earlier, of Americans playing Billy on the London stage, "I am the sixth American Billy to star in the London production and I hope that I can maintain the high quality shown by my predecessors."
His instructors at Allegro Performing Arts Academy, his family and friends, and now countless theatre-goers at the VPT all know he has what it takes to measure up to his American predecessors and the other 21 boys who have played the role of Billy on the London stage.
On August 18, 2012 — a year and three weeks after he debuted as Billy, Adam played the role for the 107th and final time.  He is one of the lucky ones to have such success at such a young age.  And thus he returned to his home near Seattle to resume a more "normal" life.  One thing is for sure, the entertainment world hasn't heard the last of Adam Vesperman.
Photo Credits: Last two production photos by Alastair Muir
For more information on Adam Vesperman, visit:
Billy Elliot the Forum, Adam's Fan Appreciation Page on Facebook
 _______________________________