Note: Fox's final performance as Billy in London was March 27, 2010
Debut: June 23, 2008 (London)
Total Performances as Billy: Unknown (Unreported data from the period he was Billy, though rumored to be 205) (Recorded data: 182.5 — includes 3 partial shows credited @ 0.5 each)
At 14 years old (D.O.B. = 14-May-1995), Fox Jackson-Keen was the senior Billy on the London stage when he performed the role for the last time. He had been in the role for 20 months and had performed as Billy more than 200 times, since making his debut on June 23, 2008. He was the 16th actor to play the role at the Victoria Palace Theatre but the first actually from London (his West End predecessors all coming from other parts of the British Isles or the United States). Fox is from Hornsey, in the north of London.
His unusual first name stems from the fact that his parents were huge X-Files fans when he was born. Gymnastics was an early love and he has competed at the national level in several championship competitions in that sport. Fox has also appeared as an actor on TV and in both TV and print advertisements. Fox's acting credits include a role in the 2006 British TV adaptation of Terry Pratchett's novel "Hogfather". Here's a short video clip of his performance in that show:
http://https://youtu.be/V1983pc3UCw
Credit: Video by MusicalTalents
But like all the boys who play Billy, it was his love of dancing that was closest to his heart. At the age of nine, he started break-dancing and soon after expanded to tap and ballet. When he first tried out for Billy Elliot the Musical, while his dance and gymnastic skills were appreciated by the casting people, they told him he was too small and to reapply in a few years. Two years later, he did just that. And this time he was accepted into the "Billy School" where he spent a year in training and rehearsals before making his debut.
In an interview from the "We Are Billy Elliot" series of videos on the London show's official website, Fox gives some insights into how he got the role and what it's like for him to play Billy:
http://https://youtu.be/Xg3gIxegXBg
Credit: Video by WestEndTheatre
What is probably unknown to the average theater-goer is that when you see a performance of Billy Elliot the Musical it can be a very different experience from what the group of people sitting in those same seats saw in the performance offered the day before. That's because while the core of show is the same for every performance, the show is somewhat customized for each boy who plays Billy, based on his vocal range and strengths as a dancer.
That Fox's strengths are street dancing and gymnastics is apparent in his version of the musical's signature song, "Electricity", shown in this video:
http://https://youtu.be/o3MAni-mVds
Credit: Video by Kevin Jackson
Fox's last performance as Billy was on March 27, 2010 at the 7:30pm show. It was a pretty safe bet that when he left the Victoria Palace Theatre stage for the last time on that night, it surely wouldn't be the last we would hear of this talented young performer.
_________________________________
Life After Billy
2010 to 2011 – Fox performed as a part of the Billy Elliot 5th Anniversary Spectacular on March, 31, 2010 at the Victoria Palace Theatre in London. In 2010, he appeared on an episode of the Alan Titchmarsh Show, a British daytime chat show. Fox played "Jamie Parks", son of accused drug dealer in season 22, episode 50 of The Bill. Here are some excerpts:
https://youtu.be/caZSQ0g-DHw
Credit: Video by billyelliot05
2012 – Fox played "Mobbsy" in 25 episodes of My Phone Genie, a TV Comedy Series created by Lee Walters that premiered on January 1, 2012, on CITV. He also played "Kim Fieldman" in the episode Wide of the Mark of the TV series Doctors.
2013 – Fox played the leading role of "Roger" in the Teatro Kismet touring production of Philip Pullman's novel I Was a Rat! Or The Scarlet Slippers in the UK.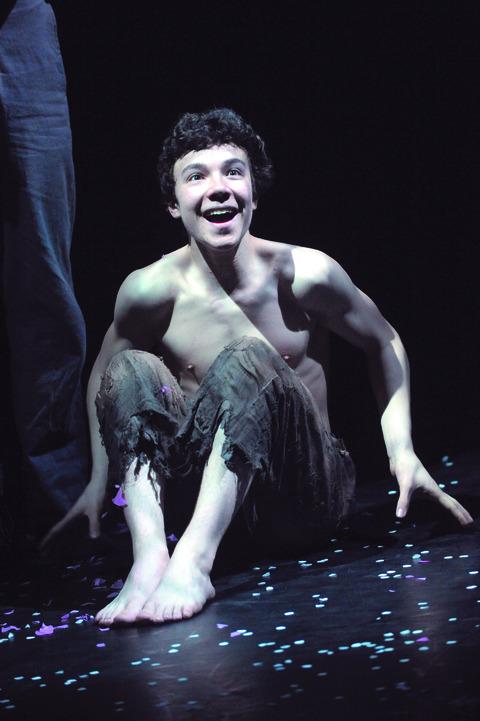 2014 – Fox played "Rufus Greensmith" in an episode of the BBC TV series Casualty (Episode – Falling: Part Two). He played "Spencer Rogers" in an episode of New Tricks (The English Defense). Fox returned to the Victoria Palace Theatre stage for Billy Elliot the Musical Live in the September 28, 2014 release.
2015 – Fox performed along with past and present Billys for a special Billy Elliot performance in ITV's Sunday Night at the Palladium which aired May 3rd, 2015.
2016 – From February 16-April 10, 2016, Fox toured the UK with Roald Dahl's The Witches. The following video shows Fox talking about playing "Boy" in the production, alongside Karen Mann, who played "Grandma":
https://youtu.be/t7v1j9r9qrE
Credit: Video by everymanplayhouse
Fox played "Tom" in the family short film Daisy, released on January 1, 2016, about the last days of a 13-year-old girl suffering from Epidermolysis Bullosa (EB) — Daisy meets "Stinky, aka Peter", a British Iraq war veteran with a drug addiction, and Daisy inspires him to change his ways.
2017 – On September 26, 2017, Fox was a guest performer on Natalie Shay & Friends at the O Bar in Soho, London.
2018 – Fox featured with JNAY & Friends in a show on Monday, 26 November 2018.
2019 to 2020 – Fox debuted the video Behind Closed Doors 2020 seen here:
https://youtu.be/9-j8WYgQzOk
Credit: Video by Fox Jackson
In August 2020, Fox's single was one of those featured in Atwood Magazine's Weekly Roundup. In September 2020 Fox did an interview with his friend babyfaceanderson, talking about his new single.
2021 – On 12th May, Fox's Kickstarter went live for his promo video to release his next single Like You In Every Way.
For more information on Fox Jackson-Keen visit:
Wikipedia, Billy Elliot the Forum, Twitter, Instagram, Facebook
_________________________________
To A Complete Listing of All BETM Articles on Skykid