Note: Nicolas's final show as Billy was at the Det Ny Teater in Copenhagen, Denmark on 2-May-2015.
Debut: 23-Jan-2015 (Copenhagen, Denmark)
Total Performances as Billy: 28 (No partial shows)
Nicolas Stefan Anker Markovic was 13 years old (D.O.B. 11-Feb-2002) upon his debut as Billy Elliot. He is from Nærum, a suburb on the northern outskirts of Copenhagen. Upon his debut on 23-Jan-2015, he became the 85th boy in the world to play the role of Billy on stage professionally.
Nicolas had been a student at the Eventyrteatrets Drama School, which teaches children and adolescents aged 7-19 years in the major disciplines of theater and musical theater. His dance education has included: Hip Hop, Dancehall, Step, Ballet (Education), Zumba, Show Dance, and Jazz.
His previous stage experience prior to playing Billy included having a leading role of "Rasmus" in "The Hanged Man's Tree" at the Nærum Local Theatre.
Glade Mona
Nicolas has produced and starred in a series of comedy videos called Glade Mona. The character even had her own Facebook Page at one point.
In January of 2015, Nicolas, along with castmate Helmer Solberg, one of the four boys who played Billy's best friend Michael in the show, appeared on the Danish morning show Go Breakfast (the interview is in Danish):
http://https://youtu.be/CmIwGo7xyAU
Credit: Video by Det Ny Teater
_________________________________
Life After Billy
2015 – After Billy Elliot, Nicolas started training at the Royal Danish Ballet School and continued there until Fall of 2020. With the family company, Kompagni B, he toured on stage from 2015 to 2018. In Fall of 2015, Nicolas was in the children's show Fabelmageren (The Fable Maker). He did multiple voice acting roles from 2015 to 2019.
2016 to 2017 – In the Summer of 2016, Nicolas continued his ballet training. While with the Royal Danish Ballet in 2016, he performed in Romeo & Juliet, Napoli and The Nutcracker. He continued performing in shows and tours with Kompagni B in 2016 and 2017. Nicolas also worked as a voice actor in a couple of movies and TV series.
2018 – Nicolas played "Francis" in the TV mini-series La Triperie in 2018. He was in the children's show Bamse – kom nu balletter vi from Fall of 2018 to 2019. He was a guest artist in CPH Culture Night 2018 and 2019. Nicolas performed at The Royal Opera during a private event for PFA in 2018. He graduated from the Royal Danish Ballet School in 2018 and was hired as an apprentice with the ballet that same year. The apprenticeship was a three-year degree, but he stopped attending after two years and five months.
2019 – Nicolas was a guest artist for Hübberietin.
2020 – In the Fall of 2020, Nicolas decided to pursue musical theatre and acting, which according to Nicolas is his "real passion", full time. In preparation for future gigs, since November 16th, he began taking acting with Maria Savery, Peter Gilsfort and Tomas Ambt Kofod; singing with Klaus Møller, Mia Karlsson and Matti Borg, and tap lessons with Joel Brekke and Susan Helmuth of Savery Academy in preparation for future gigs. Most of Nicolas' acting, singing and tap classes have been via Zoom due to Covid-19 restrictions in Denmark. Nicolas is also taking private master classes from Thure Lindhart. He has been taking ballet lessons from several instructors, including Cesar Corales' Mom, Taina Morales.
2021 – In January, he joined the cast of West Side Story with the Royal Opera which unfortunately, was closed due to Covid-19. In the Spring, Nicolas finished his final academic secondary exams. After that he plans on attending the Danish National School of Performing Arts to study Acting for a Bachelor's degree. Nicolas is now taking lessons with actress Lane Lind, and also taking part in both dancing and singing workshops at the Royal Opera with the West Side Story cast. He has been offered a big role with the West Side Story cast next year.
After that Nicolas would like to continue furthering his abilities and technique in London or America.

For more information about Nicolas, visit: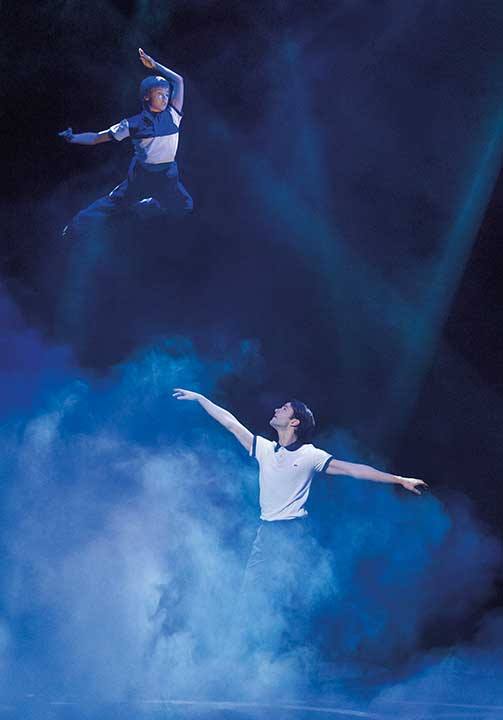 ______________________________________________