Note: Pablo Bravo's final show as Billy in the Spanish production of Billy Elliot the Musical (BETM) at the Nuevo Teatro Alcalá in Madrid was on July 11, 2019.
Debut: September 22, 2017 (Madrid, Spain)
Total Performances as Billy: 96.5 (Includes three partial shows credited at 0.5 each)
Pablo Bravo was 15 years old (D.O.B = 2-Aug-2002) when he debuted as Billy Elliot in Madrid. He is from Burgos, which is a city in northern Spain.
Pablo is a student at the Escuela de Danza. He has two younger sisters, twins Carmen and Daniela, who both also attend the dance school. Being a student at the Escuela de Danza involves 18 hours of dance studies a week, on top of academic lessons. Even though this means that Pablo often has to do school work in the evenings instead of seeing friends, he doesn't regret his decision to attend the school.
Pablo learned about the auditions for BETM in Madrid from one of his dance teachers at the school. He went home and asked his mother if she would take him to the audition. She agreed but warned that it would be difficult as many other children would also be going. However, this didn't put Pablo off and so he filled in the online application form and attended the audition.
The first audition was in March 2016, and Pablo was 13 years old at the time. He found out within a week that he had got through the first round, and then had to travel from his hometown to Madrid for nine consecutive weekends to attend training on Saturday afternoons and Sunday mornings. "It has been hard but in the end it has been worth it", Pablo says about the intense training. This was followed by a further training camp in July, and then Pablo had to make a permanent move to Madrid from September 2016 to begin full-time training. At this point he still didn't know whether he would be playing the role of Billy or Michael.
Unlike Billy Elliot, Pablo's family have always been very supportive of his dancing. But he is like Billy in another way. If he has a dream, he will sacrifice everything to achieve it.
Pablo is passionate about dance. He says, "When I dance I feel good, at ease, happy, I forget everything." Since becoming involved in BETM he has also discovered a love for musical theatre. "It's a super cool thing, you feel super good, people applaud you and it's a very good feeling", he recounts.
Pablo's debut as Billy at the first preview performance of BETM in Madrid on 22-Sep-2017 makes him the 219th actor in the world to play the role of Billy in a professional, regional or community theatre production of the musical.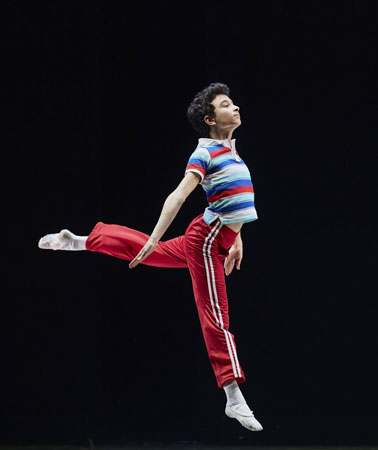 For more information about Pablo visit:
______________________________________
To A Complete Listing of All BETM Articles