Note: Dayton's Final Performance as Billy on Broadway was December 12, 2010
Debuts: May 24, 2008 (Sydney)    December 19, 2009 (Broadway)
Total Performances as Billy: Unknown (Because Sydney data not recorded) Recorded data: 114.5 [Melbourne = 37.5(includes 1 partial show credited @.5)]  [Broadway = 77 ]
Dayton Tavares came to Broadway from Australia. And while BETM was his debut on Broadway, he wasn't new to the role, having previously played Billy in both the Sydney and Melbourne productions of Billy Elliot the Musical. He is the youngest Australian ever to play a lead role on Broadway.
Born on March 10, 1996, unlike most of the other boys who have played Billy world-wide, Dayton didn't begin taking dance lessons at an early age. In fact, he'd only been dancing since the age of nine, when he began performing thanks to his sisters. "I wasn't going to dance, I was playing soccer at the time and my sisters had changed dance schools and there was a boys' class on, they're like, 'Oh just try it'," Tavares said. "So I was like, 'Alright, I'll just try it'." And the rest, as they say, is history.
Not only did he like dancing, he excelled in it — winning the 2007 Australian Dancer of the Year title and representing his country at the World Dance Championships in Las Vegas. He has been compared to talented Australian, Hugh Jackman. Oh and, by the way, don't get on his bad side because he is also a black belt in the martial art of Taekwondo.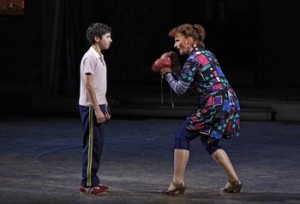 In an interview with news.com.au, Dayton said he couldn't believe he had been selected for the dream part in the Broadway production, "I had my last show in Melbourne and I thought that was it for Billy and then all of a sudden we got this big call saying, 'We want you to go New York', and it all just went from there," Tavares said.
Nora Brennan, the US Casting Director for the show, said in an interview in Australia's Herald Sun, "He was so outstanding and beautiful as Billy that when an opening came up here (in New York) they wanted to give him that opportunity. They just loved everything about him, to be honest."
Once Dayton arrived in the States in early November, it was a whirlwind of activity for him. Though he spent a year playing the role in Australia (first show: May 24, 2008; last show: June 13, 2009), Dayton had a schedule that included rehearsing almost non-stop, pausing only to sleep, study and eat. "I know most of the show, it's just getting used to some of the little changes they have here," he said at the time.
Dayton readily fit in with the younger cast members who, at the time, included five other Billys or Billys-to-be. They ranged from Tony award winners David Alvarez and Trent Kowalik, to veteran Tommy Batchelor (who is now one of four boys originating the role of Billy in Chicago), to Alex Ko (who recently debuted in the role himself but was sidelined with a knee injury) and Dayton's fellow newcomer, Liam Redhead.
In addition to all the rehearsals, Dayton was invited to the 12th birthday party for Trevor Braun (who played Billy's best friend in the show, Michael) and took part in the Billy Elliot the Musical – Broadway 1st Anniversary cast/crew party which took place on November 13th, after the milestone performance that evening.
Dayton made his Broadway debut on December 19, 2009 — a snowy night in NYC. Later in the week, after his second show as Billy, he commented to freezing fans at the Stage Door that he was having another new experience. He had never seen snow before and was loving it!
In early March of 2010, Dayton sustained a leg injury and was out of the NY Billy rotation for almost three months as he mended and underwent physical therapy. His return to the Imperial Theatre stage took place at the matinee performance on Memorial Day weekend, Sunday, May 30, 2010.
VIDEO: Aussie Billy Elliot rocks the White House Dayton's initial contract had him playing Billy through May, 2010, at which time it was extended into December. In early December, it was announced that his last show as Billy would be on Sunday, December 12, 2010 at the evening performance. At that show, a pre-curtain announcement was made that it was Dayton's last show after many performances as Billy in both Australia and on Broadway. Sitting in the audience was his family who has been so supportive of his journey as Billy and of his performing career in general. Beaming from a seat in the theatre that night was his proud dad Elvis who, due to many complications, had not been able to see his son perform on Broadway until his last two shows, while he was a half a world away in Australia.
In the days before his final performance as Billy, Dayton realized a life-long dream of meeting someone he is often compared with, his fellow countryman, Hugh Jackman.
After a year (and 77 performances) of playing Billy on the Great White Way, Dayton has made his mark on Broadway and is the pride of his Australian countrymen.
For more information on Dayton Tavares visit:
* Pictures from Trent Kowalik's blog used with permission by the family.
_____________________________________________________________
To The Alphabetical Profile Index