Note: Miles's final show as Billy in the Marblehead Little Theatre's production of Billy Elliot The Musical was on July 2, 2016.
Debut: June 25, 2016 (Marblehead, MA)
Total Performances as Billy:  5 (No partial shows) 
Miles Tardy of Byfield, Massachusetts was 14-years-old upon his debut as Billy. Formerly a student at Newbury Elementary School and Brookwood School in Manchester-by-the-Sea, where he appeared in several of those school's shows, Miles is about to begin the 9th Grade at The Pingree School in the Fall of 2016.
In a recent "spotlight" which the Marblehead Little Theatre does on its performers, Miles is quoted as saying that his performing experience actually dates back to his year in kindergarten where he played the role of a critic in a play about Aesop's Fables.
Miles does, indeed, have an extensive resume of previous theatrical experience including an appearance in the cast of the Firehouse Center for the Arts in Newburyport's production of 13. His most extensive performing has been in a variety of shows at the Boston Children's Theatre, where he has been a cast member nearly every summer since he was ten-years-old.
Boston Children's Theatre productions:
Legally Blonde (2012)
Pippin (2013)
Fame Jr. (2014)
Thoroughly Modern Millie Jr. (2015)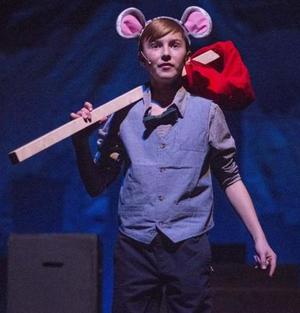 Perhaps Miles's biggest previous claim to fame was his portrayal in February of 2015 of the title character in the Boston Children's Theatre production of Stuart Little.  A Boston Globe review of that show called Tardy's delivery of the confident mouse to be "without affectation". The review went on to say "His clear, strong voice gives I'm Headed in the Right Direction just the right balance between Stuart's need to explore and his love for his human family. Wearing Stuart's trademark jacket and bowtie, and a headband with mouse ears, Tardy gently underplays his character, allowing room for everyone in this company to shine. Still, he embodies Stuart's sense of joy in life, whatever it may bring."
As rehearsals began, Miles found the choreography in BETM to be challenging, but fun. "I really had to work hard," Tardy said. "Our choreographer's done a great job of helping me out. I started to do some other tap lessons and ballet lessons."
Asked what his favorite parts of the show were, Miles responded "I like how they go through a lot of conflict but… they give Billy this chance to do something with his life. I like the accents a lot as well."
When asked what he hopes the audience will take away from seeing him in Billy Elliot The Musical, Miles said, "I hope that the audience enjoys themselves, thinks the performance was amazing, and that it challenges their thinking in some way." 
Miles became the 152nd actor worldwide to play the role of Billy Elliot when he made his debut performance on 25-Jun-2016.
For more information about Miles visit:
______________________________________
To the Billy Alphabetical Profile Index
To Marblehead Little Theatre's Main Page
To A Complete Listing of All BETM Articles