Note: John Gibbons's final show as Billy in Billy Elliot the Musical (BETM) at the Stars Theatre Restaurant in Bakersfield, CA, presented by Bakersfield Music Theatre, was on November 18, 2022.
Debut: October 28, 2022 (Bakersfield, CA)
Total Performances as Billy: 6 (No partial shows)
John Gibbons will be alternating in the title role in Billy Elliot The Musical when he debuts on the show's opening night in Bakersfield, CA. He will turn 13 years old during the run of the show.
John's performing arts training has mainly been at The Conservatory School for the Performing Art (CSPA), located in his home town of Stoughton, Massachusetts. He's been a student of the CSPA Pre-Professional Duel Program (Pre-Pro Musical Theatre & Dance) for nearly three years after starting his training at the CSPA in 2018 as a recreational musical theatre student.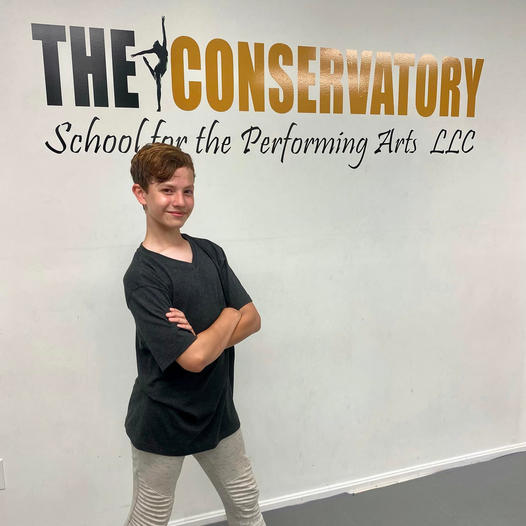 Along the way, John has successfully competed in several dance competitions, most recently being named as one of the "Junior Male National Outstanding Dancers" at the New York City Dance Alliance (NYCDA) nationals in Orlando, FL in July of 2022.
On the theatrical side, a year ago in October (2021), John landed the role of Ralphie in the Tuacahn Center for the Arts production of A Christmas Story in Utah. Rehearsals for that show began in late October and the production was presented in November and December. It was his professional stage debut. Here's some video footage of the show:
Credit: Video by Tuacahn Center for the Arts
Prior to that, John had important roles in local stage productions such as Charlie Brown in You're a Good Man Charlie Brown and Young Simba in The Lion King. He frequently auditions for shows on Broadway. He also has a TV credit, having appeared in one episode of the AMC supernatural thriller show NOS4A2 in 2020.
But his dream has always been to play Billy Elliot on stage.
Billy Elliot The Musical
According to John's mom, Karen, five years before the Bakersfield Music Theatre production, she took him to see a local production of Billy Elliot near their hometown in Massachusetts. That was the moment John knew he wanted to be a musical theatre performer. In the next four years, unbelievably, John was twice cast as Billy in regional productions of BETM in Connecticut and in Florida. Both of those productions were cancelled due to the COVID pandemic. But as she says, "Third time's a charm!"
Auditions for the BMT production of BETM were completed in August of 2022 after which John learned that he'd been dual cast as Billy and as Michael. So it was off to California to begin rehearsals in early October. He will alternate shows with Neo Del Corral in both roles. Here's a look at the boys at a pre-opening night performance, with John playing Billy and Neo as Michael in Expressing Yourself.
Credit: Video by 0707susy
With his debut in BETM, John Gibbons becomes the 328th boy in the world to play Billy Elliot on stage in a professional, regional or community theatre production of the musical since the first show in London in 2005.
For more information about John Gibbons, visit:
Billy Elliot the Forum, John's Instagram
______________________________________
To the Alphabetical Profile Index
To The Bakersfield Music Theatre Main Page
To A Complete Listing of All BETM Articles