Note: John Gibbons' final show as Billy was at The Broadway Theatre of Pitman, New Jersey, on March 26, 2023.
Debut: October 28, 2022 (Bakersfield, CA) March 3, 2023 (Pitman, NJ)
Total Performances as Billy: 21 (Bakersfield, CA = 6) (Pitman, NJ = 15) No partial shows
Twelve-year-old John Gibbons alternated with another young dancer in the title role of Billy Elliot The Musical when he debuted on the show's opening night at the Stars Theatre Restaurant in Bakersfield, CA. He turned 13 years old, two days later, on 30-Oct-2022.
John's performing arts training has mainly been at The Conservatory School for the Performing Art (CSPA), located in his home town of Stoughton, Massachusetts. He's been a student of the CSPA Pre-Professional Duel Program (Pre-Pro Musical Theatre & Dance) for nearly three years, after starting his training at the CSPA in 2018 as a recreational musical theatre student.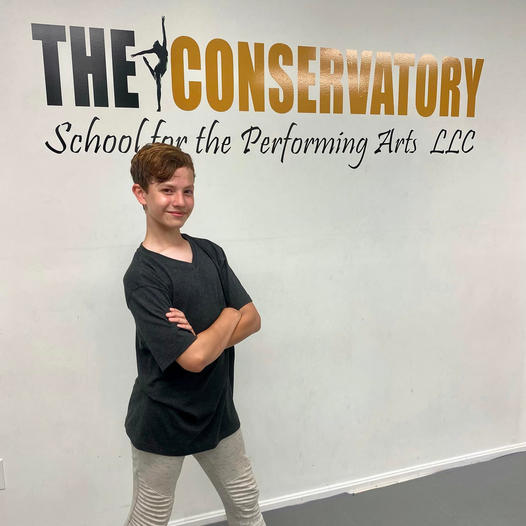 Along the way, John has successfully competed in several dance competitions, most recently being named as one of the "Junior Male National Outstanding Dancers" at the New York City Dance Alliance (NYCDA) nationals in Orlando, FL in July of 2022.
On the theatrical side, in October of 2021, John landed the role of "Ralphie" in the Tuacahn Center for the Arts production of A Christmas Story in Utah. Rehearsals for that show began late that month and the production was presented in November and December. It was his professional stage debut. Here's some video footage of the show:
Credit: Video by Tuacahn Center for the Arts
Prior to that, John had important roles in local stage productions such as "Charlie Brown" in You're a Good Man Charlie Brown and "Young Simba" in The Lion King. He frequently auditions for shows on Broadway. He also has a TV credit, having appeared in one episode of the AMC supernatural thriller show NOS4A2 in 2020.
But his dream was always to play Billy Elliot on stage.
Billy Elliot The Musical
Bakersfield, CA Production
According to John's mom, Karen, five years before the Bakersfield Music Theatre production, she took him to see a local production of Billy Elliot near their hometown in Massachusetts. That was the moment John knew he wanted to be a musical theatre performer. In the next four years, unbelievably, John was twice cast as Billy in regional productions of BETM in Connecticut and in Florida. Both of those productions were cancelled due to the COVID pandemic. But as she says, "Third time's a charm!"
Auditions for the BMT production of BETM were completed in August of 2022, after which John learned that he'd been dual cast as Billy and as Michael. So it was off to California to begin rehearsals in early October. He would alternate shows with Neo Del Corral in both roles. Here's a look at the boys at a pre-opening night performance, with John playing Billy and Neo as Michael in Expressing Yourself.
Credit: Video by 0707susy
With his debut in BETM, John Gibbons became the 328th boy in the world to play Billy Elliot on stage in a professional, regional or community theatre production of the musical since the first show in London in 2005.
____________________________
Pitman, NJ Production
The Gibbons family learned of the auditions for the Pitman show while they were still in California doing Billy in Bakersfield, but being on the west coast, John couldn't attend those auditions live. So they sent in an audition on tape. The creatives in Pitman saw John's tape and, soon after they viewed it, they offered him the job.
Unlike in Bakersfield, where John alternated in the role of Billy with another young actor/dancer, John would be the only Billy in the Pitman production, but would have an understudy. When John finished his run as Billy in Bakersfield, the family was able to return to their home in Massachusetts for Thanksgiving and the Christmas holidays. John went back to his school and his dance classes there.
John and his dad, Neil, drove from their home to Pitman on January 29, 2023 and he has been rehearsing every day since. During the rehearsal period, on weekend days they've averaged 8 hours each and on weekdays 4.5 hours each weeknight. At first, rehearsals were in a dedicated rehearsal space, but starting Friday (24-Feb-2023) they moved onto the Broadway Theatre's main stage to begin Tech Week.
Neil and John took a break from rehearsals on President's Day (20-Feb-2023) and visited Philadelphia, which is about a 1/2 hour drive from Pitman.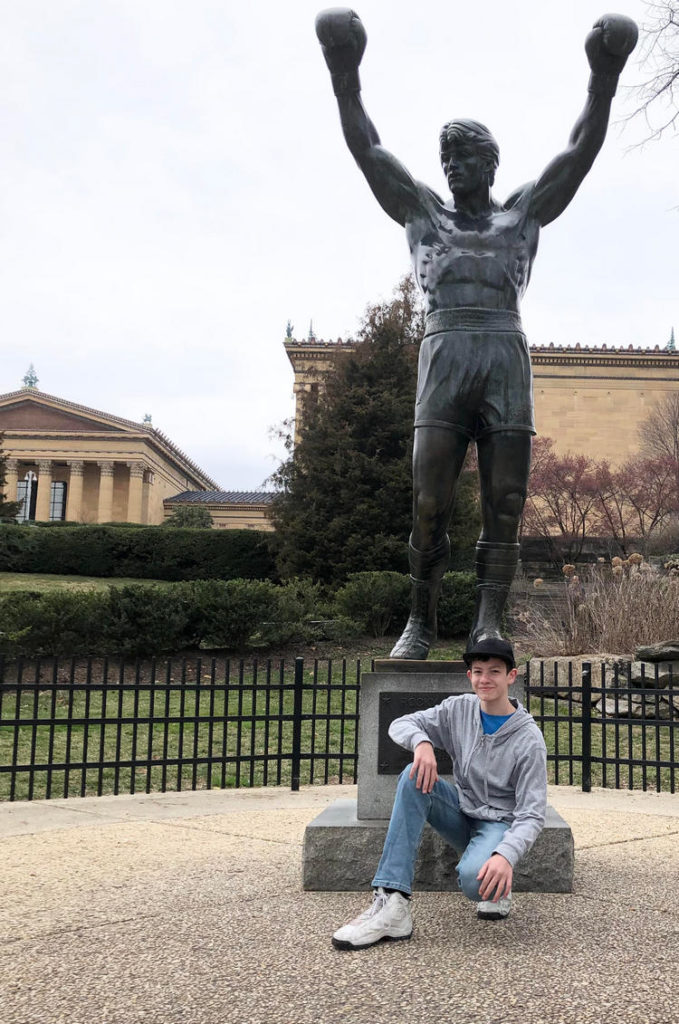 Credit: Photo by Neil Gibbons
In an interview just before opening night in Pitman, John was asked some questions about his experiences playing Billy Elliot.
1. Having already played Billy once in Bakersfield CA, what is the biggest difference with the Pitman production.
John: Both casts are amazing and I love working with both. The biggest difference now is the new choreo[graphy] I have to learn and I love the challenge.
2. Can you share about the friendships you have made in Pitman in the last four weeks.
John: It's been really fun meeting new kids from the cast and learning about them; I have also been able to learn so much from the adult cast and am enjoying the learning opportunity.
3. What are you looking forward to most on opening night?
John: I am looking forward to the energy of the crowd, which the cast thrives off of.
4. Does performing in front of 1,000 people make you nervous?
John: No. I just look forward to bring them joy.
5. After Billy, what role are you dreaming about next?
John: Definitely Riff from West Side Story. It's a movie I grew up watching with my dad and Riff was just amazingly talented and a role I would love to be challenged with someday.
When asked, after a 12 hour rehearsal day on the Sunday before the show opened, if John was stressed with the long days of rehearsals during "Tech Week", Neil Gibbons, John's dad who is with him in Pitman, replied: "He's ok. He's loving the preparation and ultimately getting on stage. It truly is his home."
For more information about John Gibbons, visit:
John's Instagram, The Billy Elliot Forum
Note: More information about John can also be found by clicking on the articles about the two productions he's appeared in as Billy, below.
______________________________________
To the Alphabetical Profile Index
To the Broadway Theatre of Pitman Main Page
To The Bakersfield Music Theatre Main Page
To A Complete Listing of All BETM Articles