From April 26 to May 26, 2019, the Garden Theatre in Winter Garden, Florida will host a production of Billy Elliot The Musical (BETM). Due to popular demand, the production was extended to June 2, 2019.
Originally built in 1935 as a single-screen cinema, the Garden Theatre was the first in Central Florida built for "talkies", and was a gathering place for locals to watch the latest newsreels and films of the day.  Constructed in the Mediterranean Revival style, the interior of the theatre was modeled after a Spanish courtyard with "Romeo & Juliet" balconies, Spanish tile roof, and a dark blue ceiling resplendent with "stars".  The theatre underwent several renovations until closing in 1963.  Soon after, the interior was completely removed and the sloped floor was covered with cement to level the surface to be used by a farm supply store.
Through the tireless efforts of the Winter Garden Heritage Foundation, the restored Garden Theatre reopened in February 2008, bringing a cultural performing arts center to Winter Garden.  This achievement is revitalizing the downtown historic district, and bringing a nostalgic sense of community back to the citizens of Winter Garden.
The Garden Theatre hosts live plays, concerts, movies, and more to the residents of and visitors to the city of Winter Garden.  The Garden Theatre's Mission Statement: Inspire a discovery through theatrical experiences that are innovative, impactful, and inclusive.
Typically, the Garden Theatre's theatrical schedule includes five or six plays and musicals each year.  Besides BETM, the next scheduled productions are: Flashdance the Musical (Jul), Ragtime the Musical (Aug/Sep), Deathtrap (Oct), A Christmas Carol (Nov/Dec), Violet (Jan/Feb), Ben Hur (Feb/Mar), Matilda the Musical (Apr/May) and Grease (Jul/Aug).
BETM began rehearsals on April 4, 2019.  It was an intense three week rehearsal period for the 26 member cast — five hours every evening, Tuesday through Friday, and nine hours on Saturday and Sunday.
In the days before the show opened, the Garden Theatre produced this promotional video featuring members of the cast:
Credit: Video by gardentheatre
As an interesting aside, many of the adult cast members work at Walt Disney World in Orlando during the daytime hours.
The cast will be led, for a fourth time in a regional production of BETM, by Parker James Fullmore playing the title character of Billy.
To learn more about Parker, click on the Billy Profiles button (below) to be taken to his detailed profile.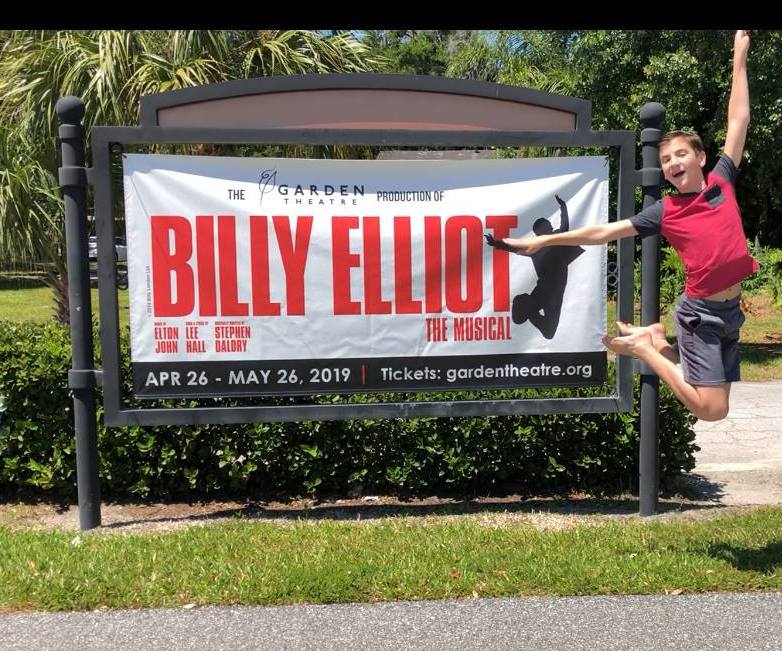 Credit: Photo by Ann-Marie Fullmore

To see a complete listing of the rest of the Garden Theatre cast, just click on the Cast Information button.
To A List of All Billy Elliot The Musical Articles at theskykid.com
Back to Billy Elliot Dances Around The World