Goodspeed dates its beginnings to 1963 when it opened its doors as a professional musical theatre in an historic building (originally built in 1857) on the banks of the Connecticut River in East Haddam, CT.
Under the direction of Michael Price from 1968 to 2014, Goodspeed transformed from a struggling entity into a non-profit arts organization with a mission. At first, Goodspeed's commitment was to discover rarely produced musicals, reworking them and bringing them to life. They were also intent on adding to the repertoire by discovering and nurturing promising new musicals presented at both the Opera House and the Norma Terris Theatre in neighboring Chester.
In its history, the organization has produced over 250 musicals, including over 70 world premieres, and exported 21 productions to Broadway. Goodspeed stands as the first regional theatre in America to earn two special Tony Awards, one in 1980 for outstanding contributions to the American musical and a second in 1995 for distinguished achievement for a regional theatre.
Today, Goodspeed mounts both new and newly revived musicals each year on its main stage at the Opera House and on its second stage in Chester – a total of more than 400 performances during the April to December season, attracting 130,000 patrons to the Connecticut River Valley. They pride themselves in standing at the forefront of producing and preserving the American musical, simultaneously reinventing the classics and inventing new ones.
Well-known icons of the theatre world are attracted to work on shows there, while simultaneously fostering emerging talent among composers, lyricists, and librettists. Each year, thousands of actors, directors, choreographers, and technicians aspire to come to Goodspeed to practice their craft. Among millions who know and love this art form – and those who appreciate its history and enduring appeal – Goodspeed is widely recognized as "The Home of the American Musical".
Throughout the year, and intensively during the winter months, Goodspeed addresses issues unique to the field by offering innovative theatre education programs. You can learn more about them here.
The 2019 season at Goodspeed, like every year, includes a mixture of new and established musicals. To see the whole season's offerings, here a short video:
https://www.facebook.com/GoodspeedMusicals/videos/294468584476515/
Billy Elliot The Musical at Goodspeed Musicals
Billy Elliot The Musical, the fall production on the Goodspeed Opera House stage, will be presented from Sep 13 to Nov 24, 2019. The show will be directed by Gabriel Barre, who has previous experience directing BETM, having helmed the production of the musical in Mexico in 2017.
In a piece called Director's Vision, prepared by Goodspeed Musicals to outline Barre's thoughts about BETM at the theatre beside the Connecticut River, Barre explains, "One of the main reasons I was excited about directing this production at Goodspeed Musicals was that we are not doing a replica production of the show, but creating our own set design, costume design, lighting design, and, especially, all new choreography by Marc Kimmelman."
The show there will feature two boys, Taven Blanke and Liam Vincent Hutt, both new to the role of Billy and who will lead a cast of 27. Barre relates that his two Billys are approximately the same age as the character. He said that they're great, and each has a different take on the role, so it's interesting to see how that plays out.
In a recent interview, Barre said: "We have two Billys because it's an extremely demanding role. The person has to not only sing and act well, but most importantly, dance really well. We auditioned people from all over the country." They ended up choosing two young actors from opposite ends of the country to play the lead role — one from California (Blanke) and the other from Florida (Hutt).
In an interview for theday.com about BETM at Goodspeed, Choreographer Kimmelman talks about his approach with the two boys who play Billy, "When you're dealing with two boys playing the same role, it really has to be their own. So I've given them some license and freedom to make sure it lives within them," he says. "We don't have a ton of time, but we do have time to play with things and talk them through. When Gabe (Barre) and I first met, we discussed what each song needs to do for the character. So I've used different words and mantras to try to internalize the movement so that they understand why they're doing the steps. And I think that has helped because our kids are such amazing actors."
Full cast rehearsals began on 13-Aug-2019 with a read through of the script and then continued six days a week right up until the opening week of the show.
To learn more about the Goodspeed Musicals Billys, click on the Billy Profiles button (below) to be taken to their detailed profiles.

To see a complete listing of the rest of the Goodspeed BETM cast, just click on the Cast Information button.
Director Barre has said whether you're familiar with the movie or the play, you need to see this production. "It's entertaining, moving and powerful — everything you want a theater piece to be, with great music and a stunning cast."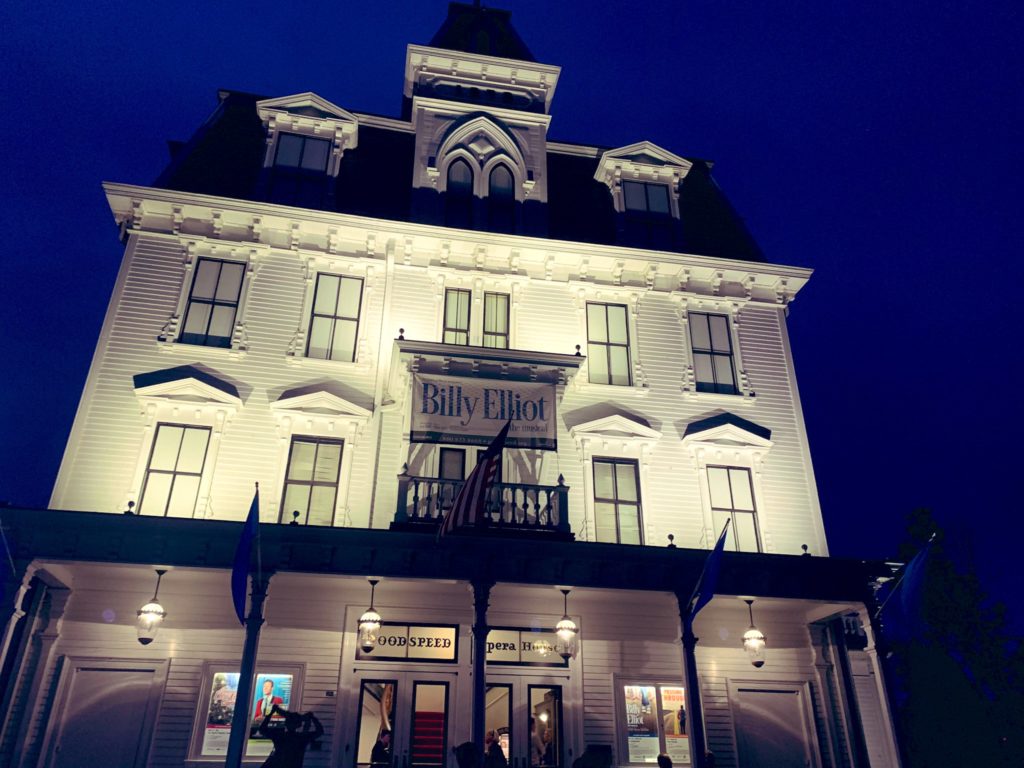 To A List of All Billy Elliot The Musical Articles at theskykid.com
Back to Billy Elliot Dances Around The World