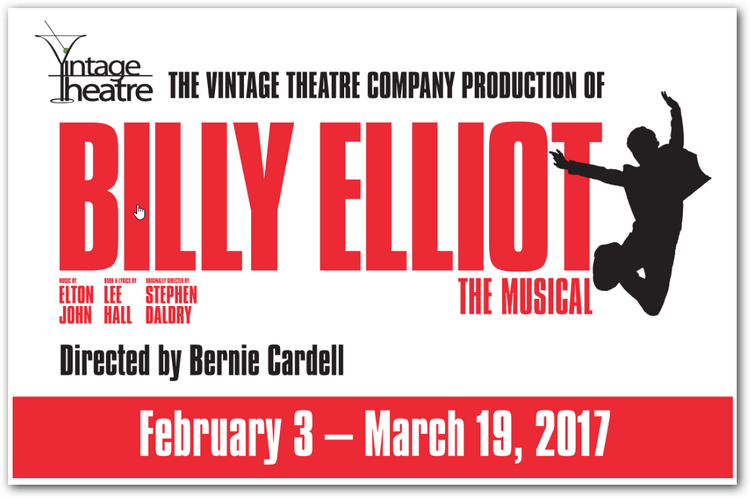 Vintage Theatre presented Billy Elliot The Musical in Aurora, Colorado, from February 3 to March 19, 2017, directed by Bernie Cardell, who is also the Artistic Director of the theatre.
Vintage Theatre Productions, Inc. (VTP) presents classics and cutting edge theatre, classes, improv, and staged readings. Vintage Theatre Productions was founded by Craig Bond, Debbie Laureta, Chris Goranson, Lindsay Sanders Goranson and David Trimble in August 2002, over martinis (and thus the martini in the theatre's logo). This evening spent with friends launched its mission to bring the best quality theatre to the area! The new theater group entered its original space in 2008 and remained there for four years as the company grew artistically. In March 2012, it decided to purchase its present location in Aurora, joining the Aurora Arts District.
During its creation year of 2002, the theatre group staged two shows. Once the organization moved to its current building in 2012, it produced nine shows in its new space that year. To get an idea about past productions at Vintage Theatre, go here. In addition to its professional theatre productions, a Vintage Youth Program is offered to enrich the lives of children by offering classes, workshops, private coaching and touring shows with professional actors, directors, choreographers and more. This brand new program was created to provide students and schools with an array of educational workshops, artist in residency programs and professional touring shows.
In 2017, Vintage Theatre presented 11 shows. BETM was the only musical and was the second show on the 2017 schedule, being presented weekends from the beginning of February to mid-March, 2017.
A cast of 27, featuring local talent, was headlined by a young actor who was making his debut in the role of Billy during this production of BETM. He is Kaden Hinkle.
During the run of this show, Benjamin "Benji" Dienstfrey played the role of Billy's best friend, Michael, for most shows. However, Benji was also the Billy understudy and thus had the chance to perform in the title role a few times during the run.
To learn more about the Vintage Theatre Billys, click on the Billy Profiles button (below) to be taken to their detailed profiles.

To see a complete listing of the rest of the Vintage Theatre cast, just click on the Cast Information button.
To A List of All Billy Elliot The Musical Articles at theskykid.com
Back to Billy Elliot Dances Around The World
________________________________